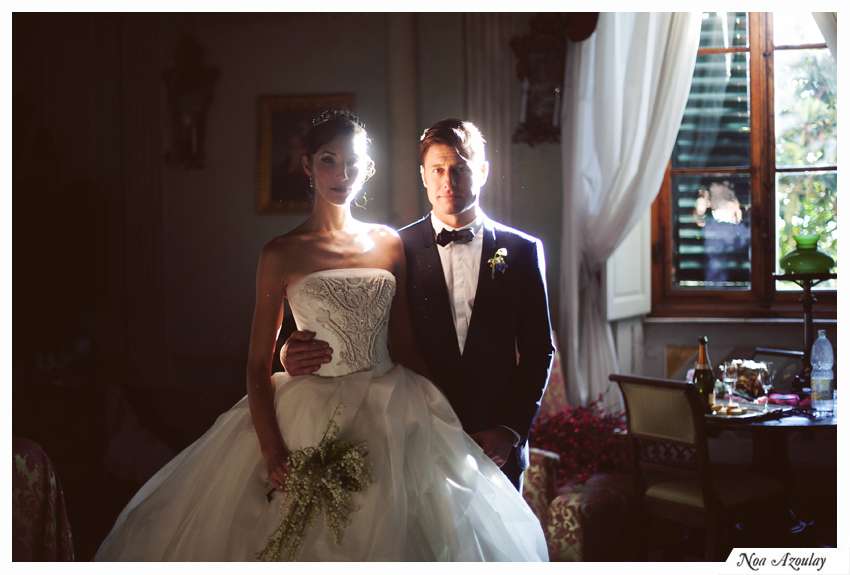 I've been waiting forever to share this wedding online, and today we finally got it published in New York Magazine! To read ALL of the fascinating (and funny) details, check out NYM's interview with Alexandra & Scott plus a feature of my photos by clicking the image below: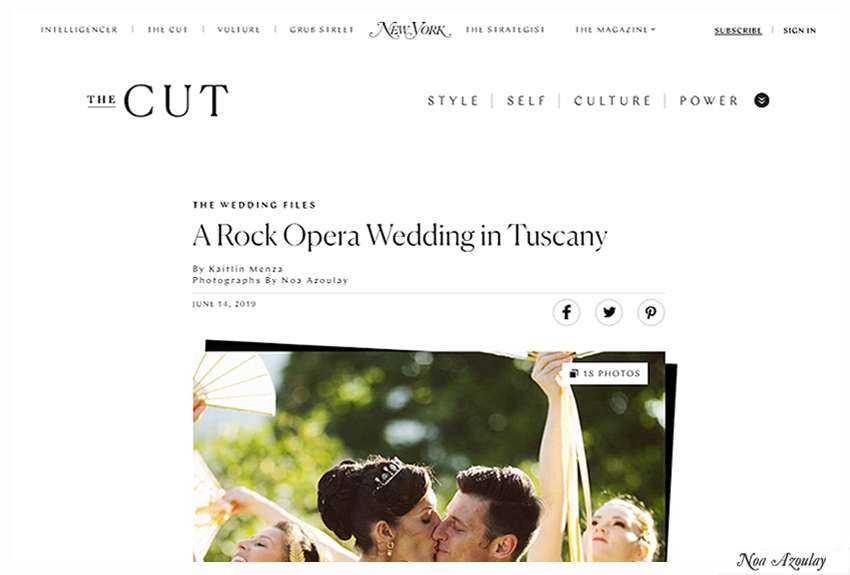 I have way too much to say about this week-long explosively joyous and incredible event at the most beautiful place on earth, Borgo Stomennano in Tuscany, that I was fortunate enough to be hired by my dear old friends Alexandra & Scott to live in with them and a slew of other beautiful, colorful freaks and friends for a week and take photos and eat and dance and drink and sing etc etc… So instead I will just post the open love letter I wrote to Alexandra & Scott when I returned back to the states after that week (at the bottom of this post), and that may give you an idea of what the entire spectacle was like… Certainly one of the best times of my life…
Also I spent so much time trying to edit which images to share that I finally gave up and decided to do something I've never done before – I'm sharing the link to my client gallery if you click HERE so you can see ALL of the images from the entire week including the tea party, rehearsal dinner, water ballet, meals, skinny dips, the entire magical property, live opera, dancing, singing and celebrations, and of course, the CEREMONY which was a surprise live musical rock-opera directed by Kristin Hanggi (Director of Rock Of Ages on Broadway) and the list of other talents involved can be found on the NY Mag link including actors, singers, dancers, performers, producers, and other friends and more… I'm usually reasonably succinct with my blog post edits, but these images demand to be verbose! There was overall just too much to share so I'm showing ALL the images from the entire week HERE on my client site, and just posting the love letter I wrote to them at the bottom of this post in an attempt to describe the absolute INEFFABLE IMMENSITY of the whole thing… Here are a few teasers, click the images to be taken directly to the gallery to view ALL of the photos!
(ALL IMAGES ARE COPYRIGHT © 2019 AND CANNOT BE USED WITHOUT PERMISSION).
The love letter written upon my return to the states after this incredible experience:
June 4th, 2014:
An open LOVE-letter to the freshly-wedded Alexandra Anthony and Scott Anthony.
Your ineffable Tuscan Week-Long-Matrimonial-PORTAL-OF-LOVE was hands-down the most magical incident Across The Universe! I can't even begin to describe the effect it had on all of us.
As an artist: I was consistently faced with the most scrumptious visual, auditory, olfactory, gastronomical and sensual delights. I shot the fuck out of the entire week. I was mesmerized. Overwhelmed. In the best way possible. EVERYTHING. Was ALWAYS. BEAUTIFUL.
As a friend: I was astounded by the splendid exquisiteness you surround yourself with, bringing all of the most fascinating, warm, vibrant, colorful and talented people- all of your family and friends- to the Heaven-On-Earth that is Borgo Stomennano Italy, for absolutely the most spectacular and exhilarating realm of extraordinary LOVE in its ultimate form… Every single detail was thrilling. Mind-blowing. You two together are your own planet. Your own star. "This little light", shining, burning, exploding with glitter, rainbow and song.
The experience was a swirly psychedelic dream-machine; gears constantly in motion from morning til the break of dawn, continuously cranking out heart-bursts and mind-blows and soul-eruptions and spirit-gasms. My third-eye exploded, my heart expanded, and my aura was touched by everyone around me. It was outrageous: Huge, bright, bold, loud, joyous. Bacchanalian in its food, dancing, singing, nakedness, colors, ribbons, sequins, flags, costumes, glitter, balloons, flowers, wine, entertainment and in its grandness of production. It was sweet: intimate, deep, genuine in its conversations, warmth, speeches, meals, table-dancing, wails, tears, karaoke and laughter.
I cried tears of joy 1000 times thinking: "I love of your life! I love my life!"
I spent precious time with incredible old friends. I made beautiful new friends. I revered in the rare art of Being In The Moment.
I am, on my knees, hand to heart, thanking you for the most cathartic and preciously therapeutic trip that my spirit could ever ask for. I came home healed. I came home closer to my soul.
Alexandra, I have known you for 22 years. You are beyond beauty. You are beyond reality. You have always been the most fantastical kook! Full of color and light! To see the person you have developed into -unabashedly 120% truly your own unique self, soaring as your freak flag flies – sprinkling metaphorical (as well as literal) glitter and flower petals over everyone around you; taking the time to tell each one of us that you love us; injecting glamour into every scenario; bestowing ultimate beauty- a force to be reckoned with, sans any self-consciousness- upon each of us; living each moment at the highest and most entertaining artistic level; loving life; being kind, intuitive, generous, intelligent, intensely humorous, always childlike… You have a JOIE DE VIVRE that gives the term "Joie De Vivre" a run for its money. Anyone who comes into contact with you gets affected. You are the magical unicorn that explodes and erupts and ejaculates sequined rainbows of color and life and youth and exuberance and pure bliss down everyone's throats, and we love it! You are akin to a child; open, sensitive, feeling all the time. BRAVE. All of these things make you into the actual goddess that you appear to be on the outside.
Mr. Scott Anthony. The fact that you can handle the unbelievable size of Alexandra's soul, her layers upon layers, says much about you. You actually flame her fires, you adore her spirit and her otherworldly inner and outer beauty. The immense size of your heart is boldly stated in your actions with those around you. An incomparable person, you are vastly admirable and strong and you extend ultimate kindness. Your openness, generosity, your loving and sweet nature, the fun and peace and groundedness that you radiate, your lust for life, the loveliness of the person that you are is something we should all attain to. And you are THE role model for all Great Men. You make everyone feel so goooood. You are a walking and living and breathing, all-encompassing and literal description of "HYGGE" —The amazing Danish word that you taught me. YOU Sir, are the very definition of Hygge, embodied into a stunning human being and an incredible friend, a truly beautiful person.
It doesn't surprise me that the two most wonderful souls who drink in this grand life so passionately would find each other, fall in love, get married, and bring all of us other loving freaks together to surround you and sing to you and celebrate you whilst bathed within that unique sweet golden light that is Tuscany. That week was the definitive symbol of LOVE and BEAUTY in the highest form! It took a village, a community to build this event, this incredible live musical performance, this ultimate retreat, this insane and gorgeous wedding. Each moment, every piece of song, bite of delectable food and grand dance gesture, every single detail… Yes, a village. But it took two astounding and mythical creatures and the love they exude to CREATE it.
For all of us who were fortunate enough to witness and be a part of the most epic experience from which all dreams are woven from, I offer my pure Gratitude and Love.
A great God married a great Goddess. I was there. I will never forget this.
From every corner of my soul, my love for you is deep and wide. Thank you for opening the portal and LETTING THE SUNSHINE IN!
YES! YES! YESSS!!!
x Noa
———————-
Here's a little clip of us all singing to the newlyweds the day after, bathed in that Tuscan sunset on that perfect 1000-year old property that folks like Francis Ford Coppola & Stanley Kubrick would just fall over and die to death for… Not to mention that Fellini stayed here and was the lover of the owner, or that Dante stayed here and wrote about this property, or that there's an entire suite that was Egyptian-themed-built for Napoleon's visit… I mean, like I said, it's too much to cover. I just want to go back to the PORTAL, and with all of my beautiful peoples again! (Cell phone vid taken by the glorious Kalimba Bennett Tuck, that I literally recorded onto my cell phone whilst watching it on my computer, hence the poor quality). There are also a couple of films made about this wedding that I will hopefully be able to update this post with soon…
Here's another video taken by the bride's mother Diane on one of the other nights before the wedding, the "karaoke night"– this is what karaoke looks like for these magical creatures!! <3 (Again sorry for the poor quality- I recorded it on my cell phone off of my laptop).
———————-
Alexandra's magical vintage costume rental shop in LA, The Last Follies Closet can (and should!) be seen HERE / ceremony director: Kristen Hangi / creative director: Christopher Lee Daniels / art director: Johnny Cubert White / musical director/composer: Kyle Puccia / wedding planner Chic Weddings / caterer, Galateo / florist, Sheer Flowers / Shout out to my incredibly talented second-shooter Andres Holm for providing such excellent coverage and for allowing your mind to be blown 😉 xx