I went to Spain a few weeks ago with my husband's band ASTRA (see here for some previous photo entries). They were flown out to play in a beautiful tiny town at this INCREDIBLE festival at the foot of an old Spanish castle: Festival de Psicodelia de El Castell de Guadalest. Needless to say, I went to take pics! Another major plus is that our friends Earthless played the festival too, so it was like a little piece of San Diego psychedelia found it's way out to a small town in Spain to offer up it's own brand of weird heavy freaky awesomeness. In fact, the guy who put the festival together & who took such great care of us (we love you Alvaro!) plainly asked the bands: What do they put in your water out there in San Diego? The festival was INCREDIBLE: 2 days, very specialized and specific in it's sound. Bands from all over Europe (and the world) and fans from all over the world as well. I think the tickets were like 100 Euro or so! So you had to be a major fan of this type of music, and if you were- you TOTALLY hit a goldmine. Anyways, here's a little bit of our wild, fun, sleepless journey.
It was early, really really early when we left.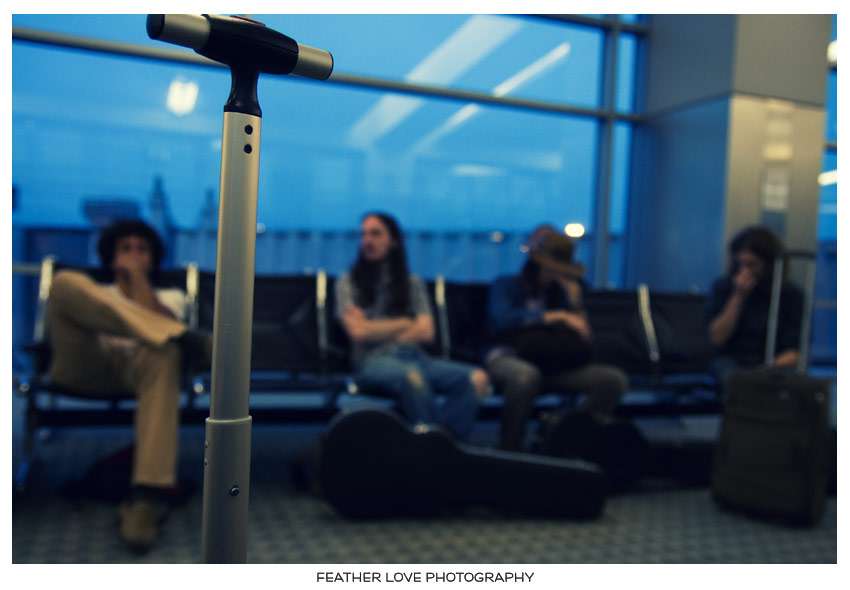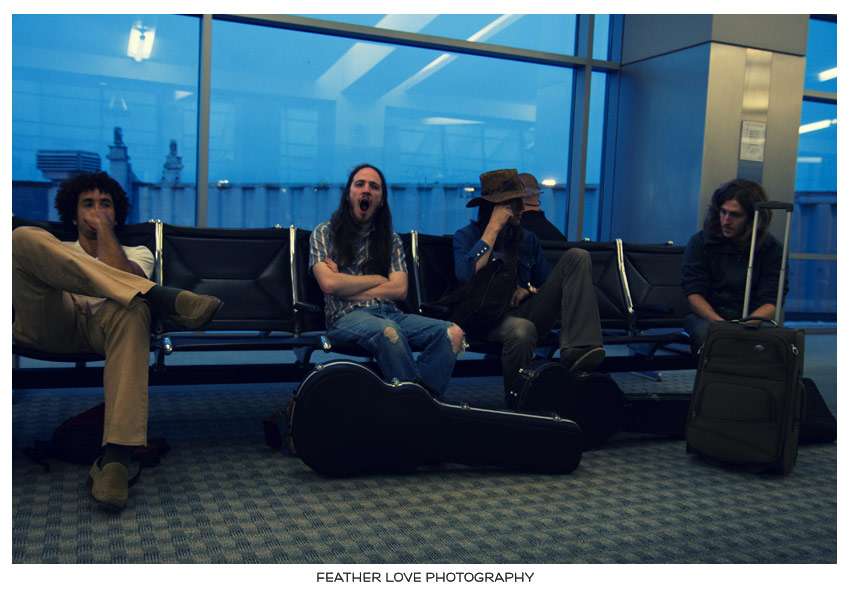 ; )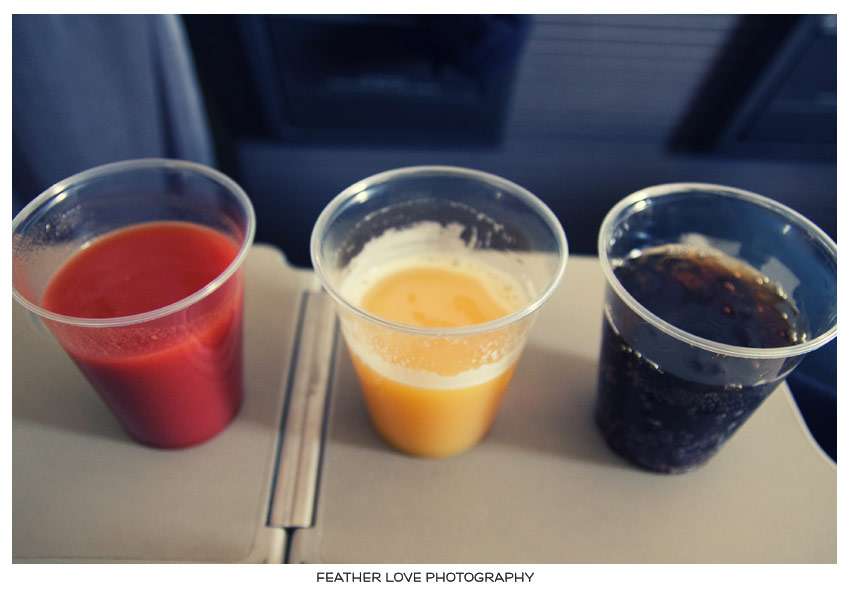 A very LONG and very HOT and very HUMID 7 hour drive from Madrid to Alicante after flying for about 24 hours.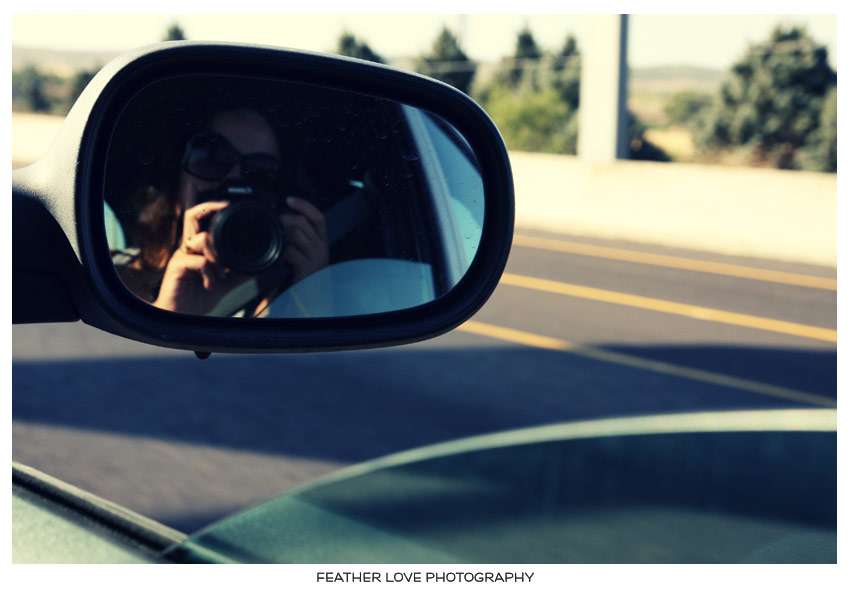 At the hotel in Benidorm, Alicante. Hotel Rambla, where all the bands stayed = party central.

It was awesome when we got there that they had rooms for us but the rooms had no beds. So then we had to get them to get us rooms WITH beds. That took a little while with the language barrier 'n all.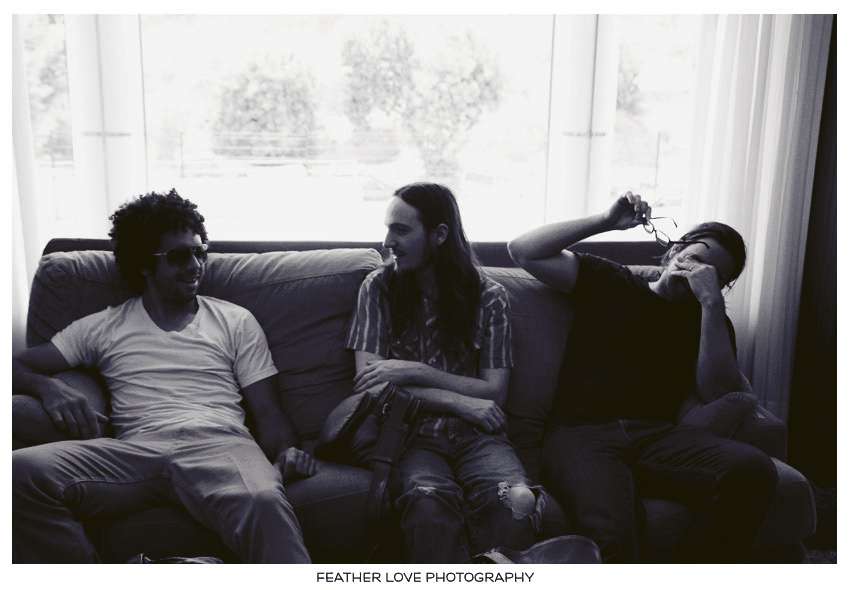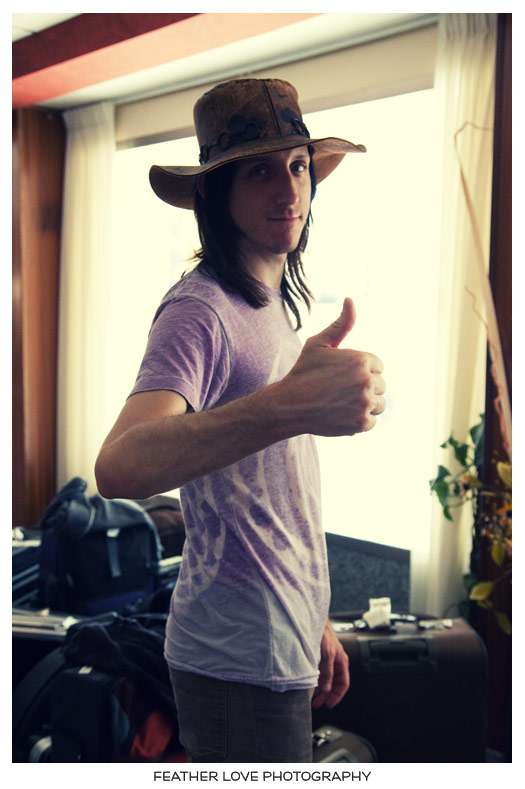 The wonderful people who drove us all the way from Madrid to Alicante where so incredibly awesome and cool. Here is one of them, Alicia.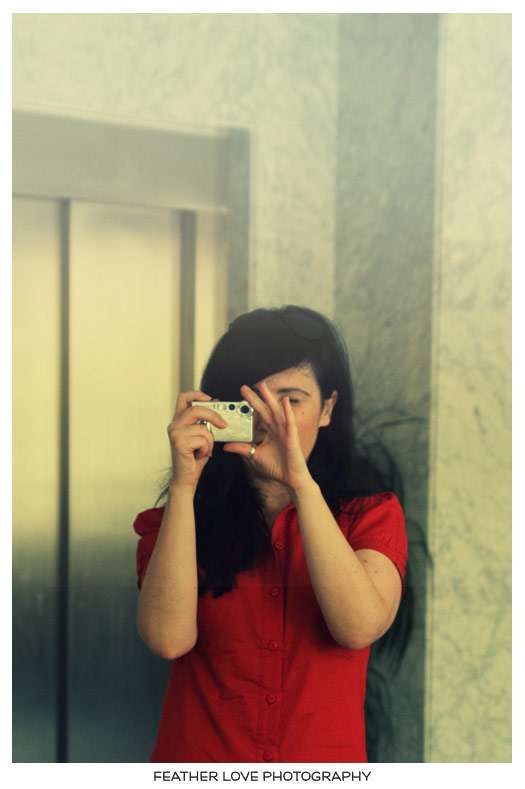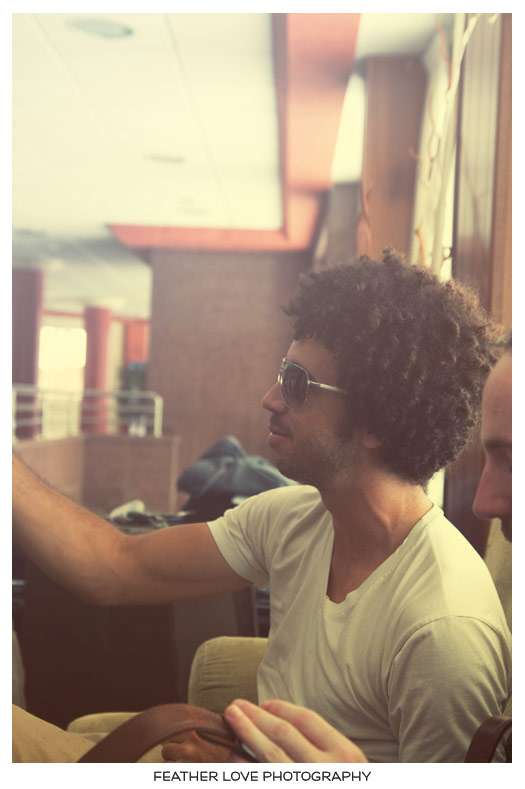 The town of Benidorm.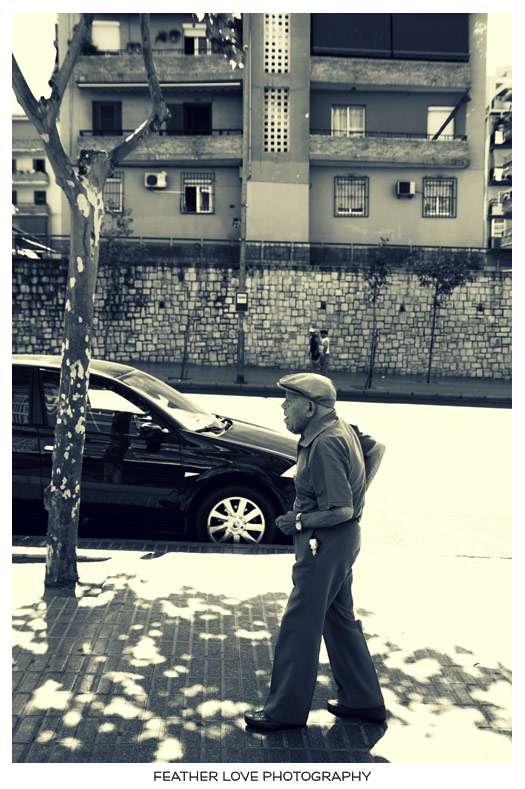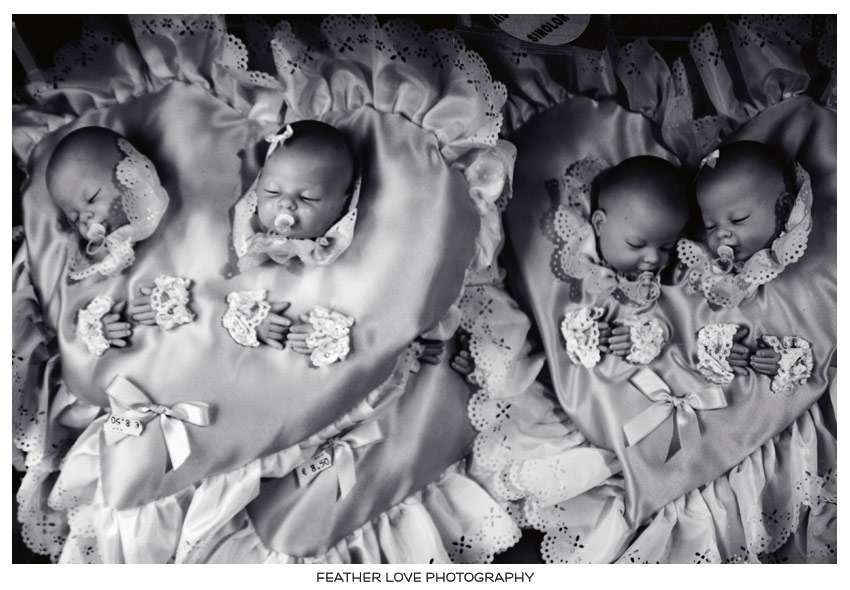 Oh HELLS no, you di-in't!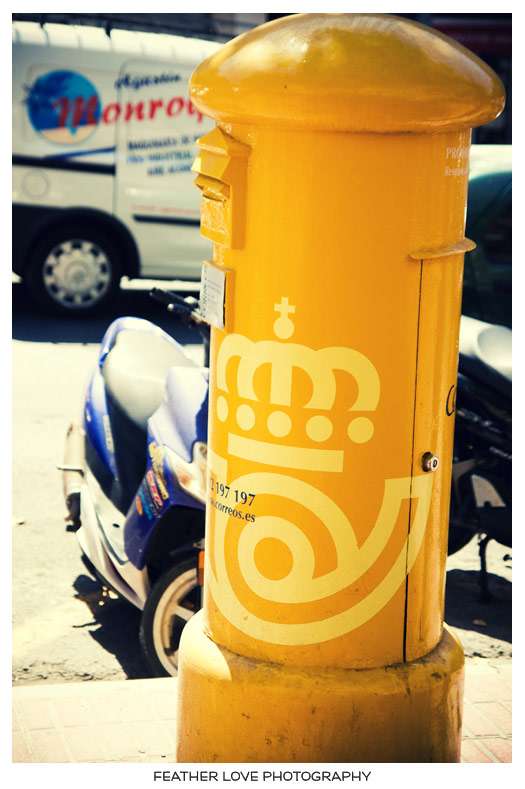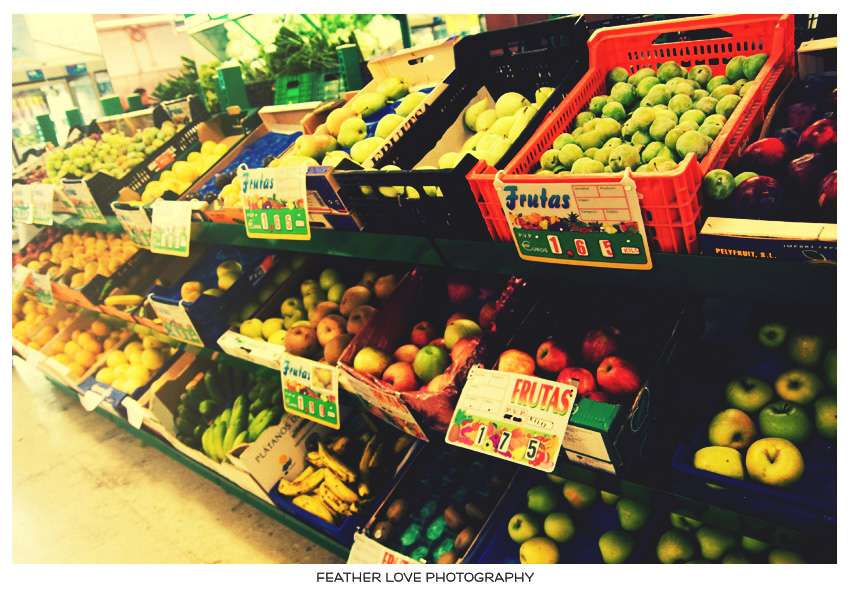 That's our hotel on the left.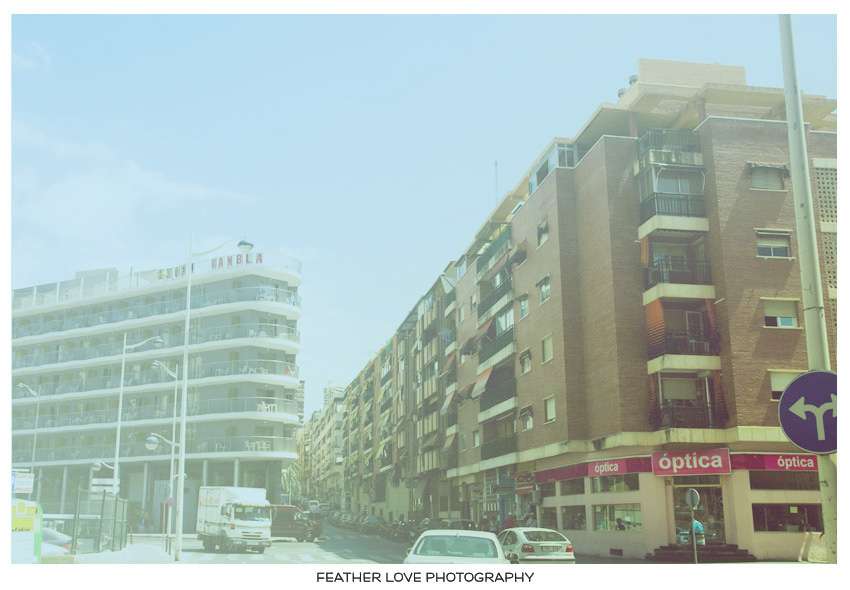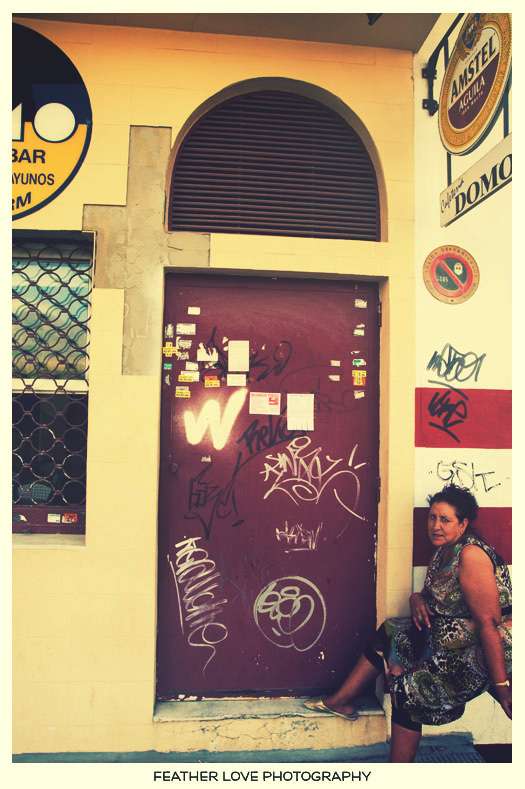 Holga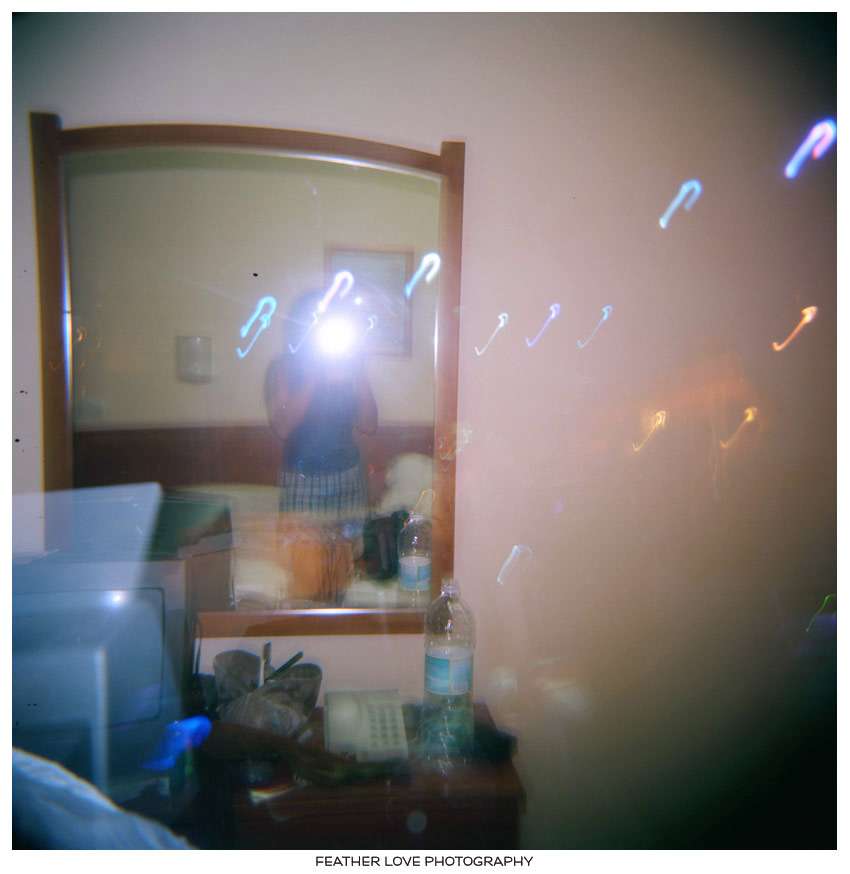 Drinks with some of the guys from Witchcraft…. AWESOME band. We love the Swedes!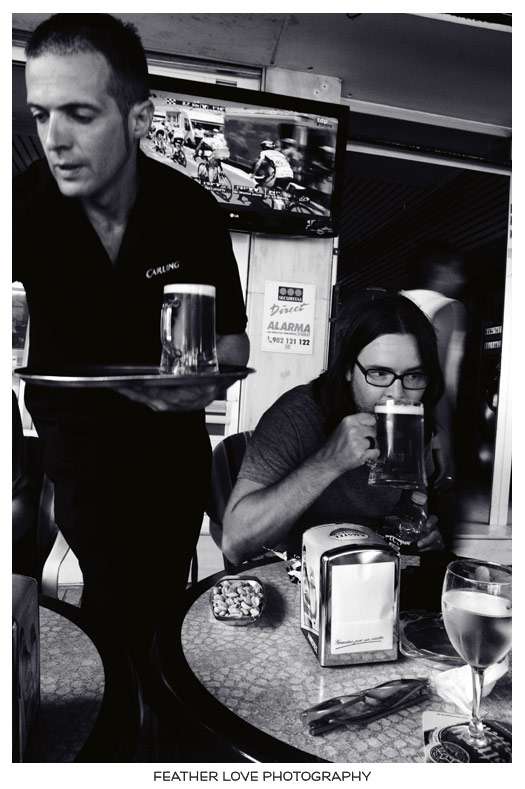 So this is the little town of Guadalest (population 200). Before the festival, we decided to walk up to the top of the castle so I could take some pics, and also, because it was like, a freaking castle, in Spain. Gorgeous.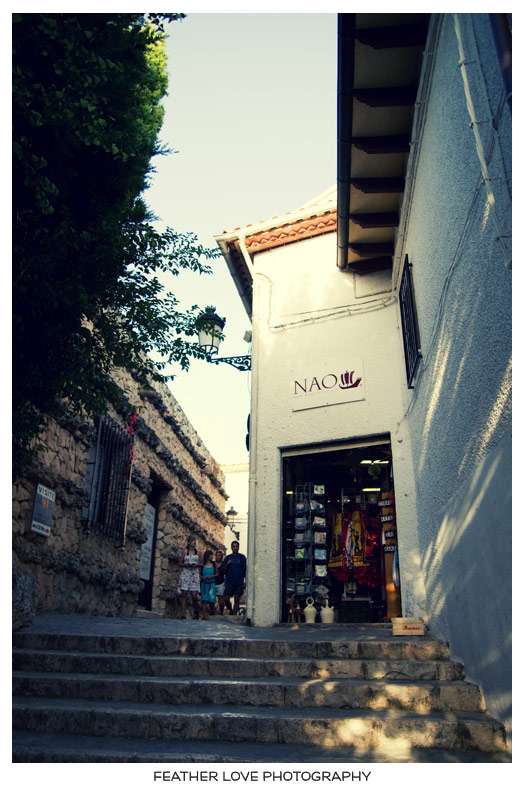 Of course, we walked the whole thing with drinks in hand because WE COULD.
The climb up to the top.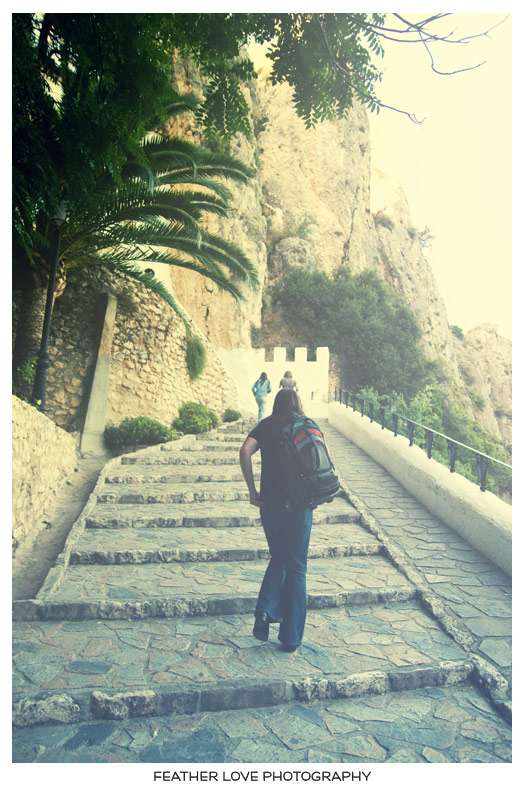 And then this thing snuck up on us out of nowhere and left us awe-struck. Sometimes it's hard to believe things like this are real.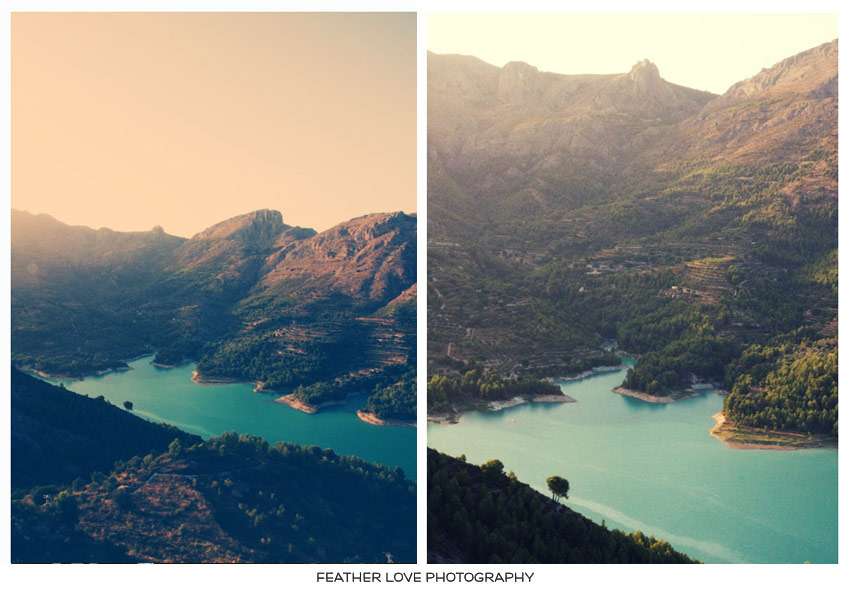 Here's looking at you kid.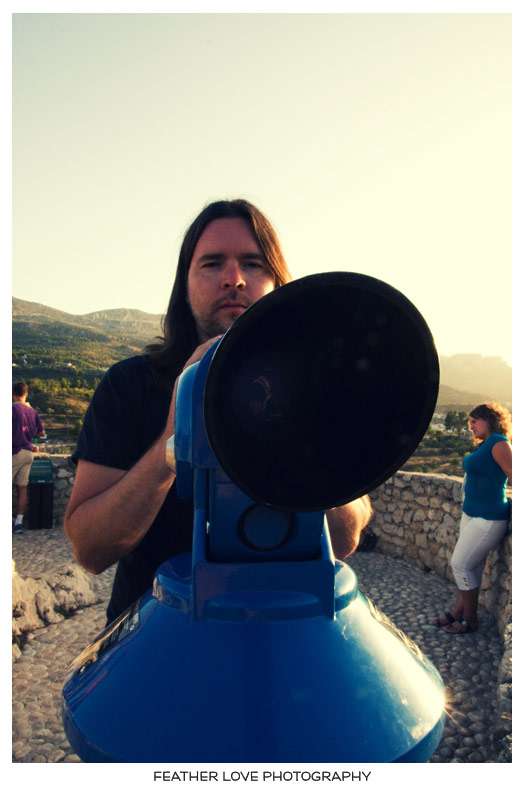 The castle.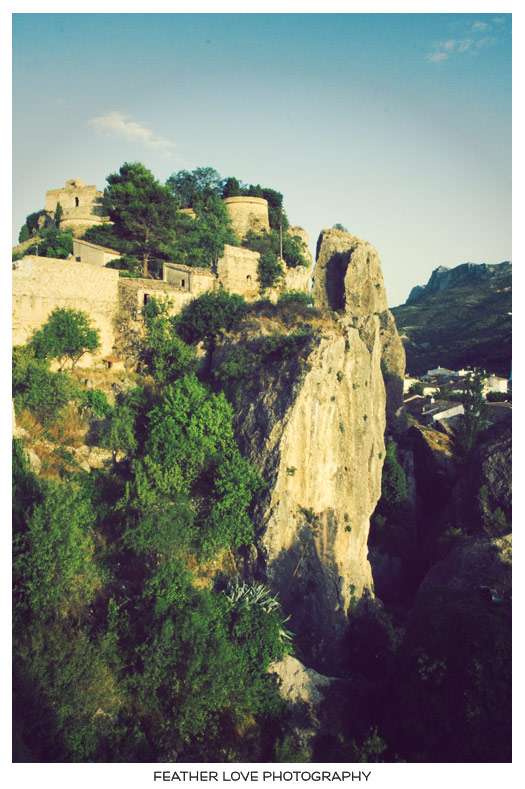 Inside there were all these awesome little rooms with great acoustics… so the guys did some weird throat-singing/monk-chanting stuff which sounded really amazing and had a bunch of people walking in looking all terrified.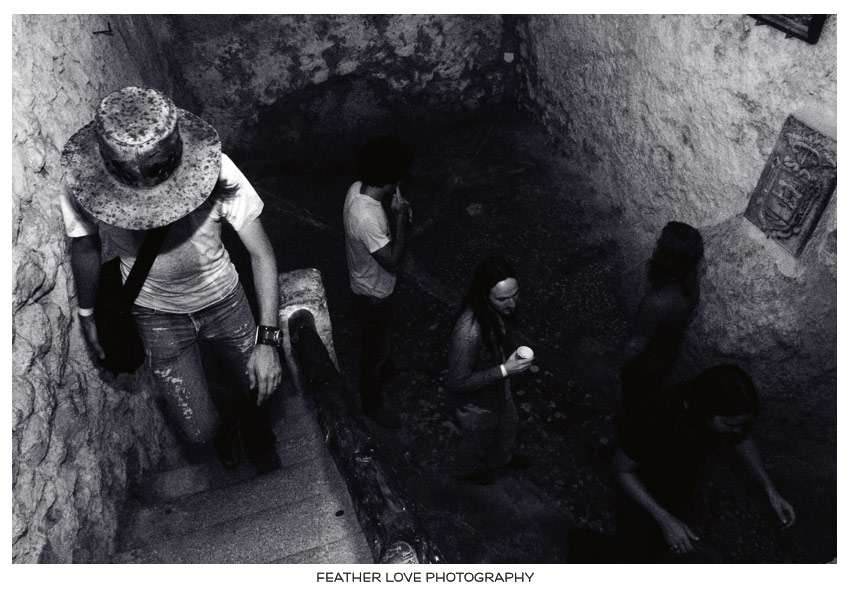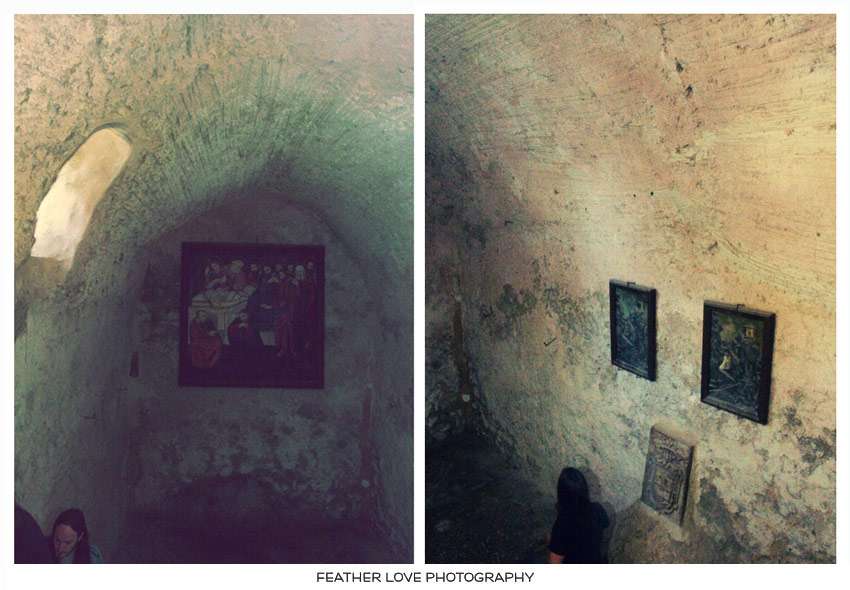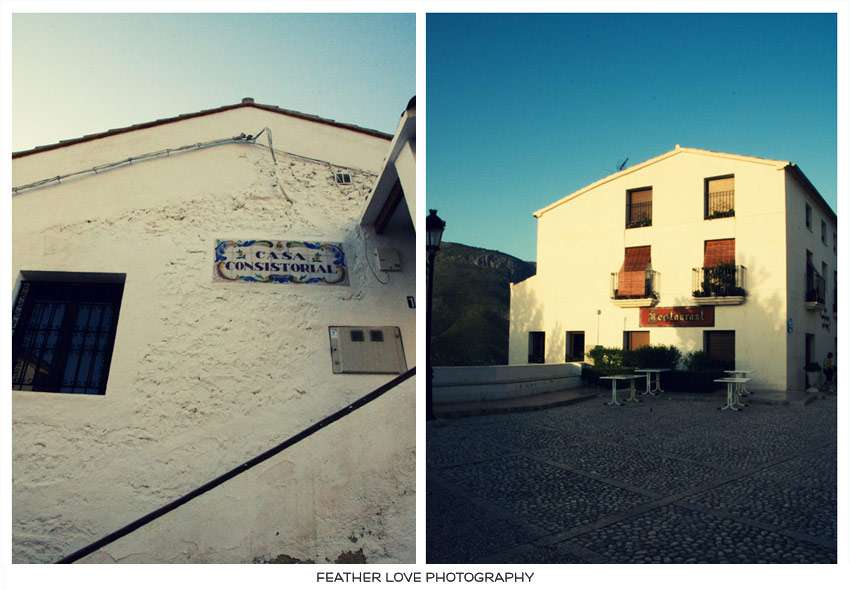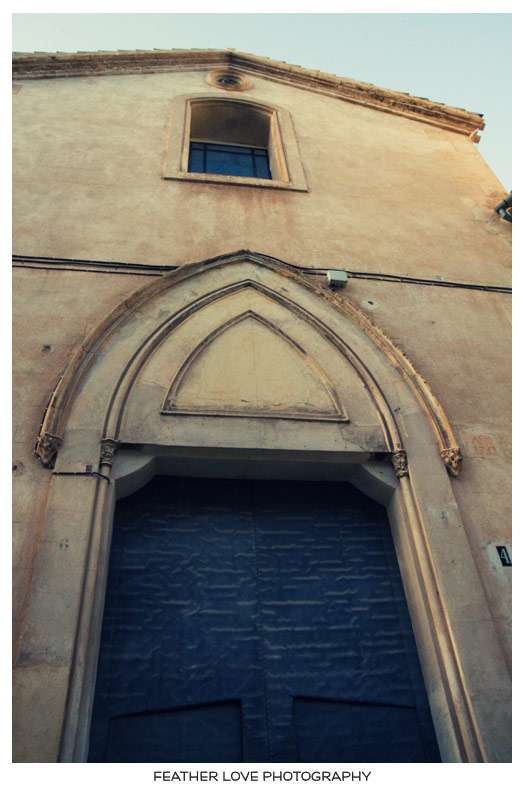 The "bag lady" photos.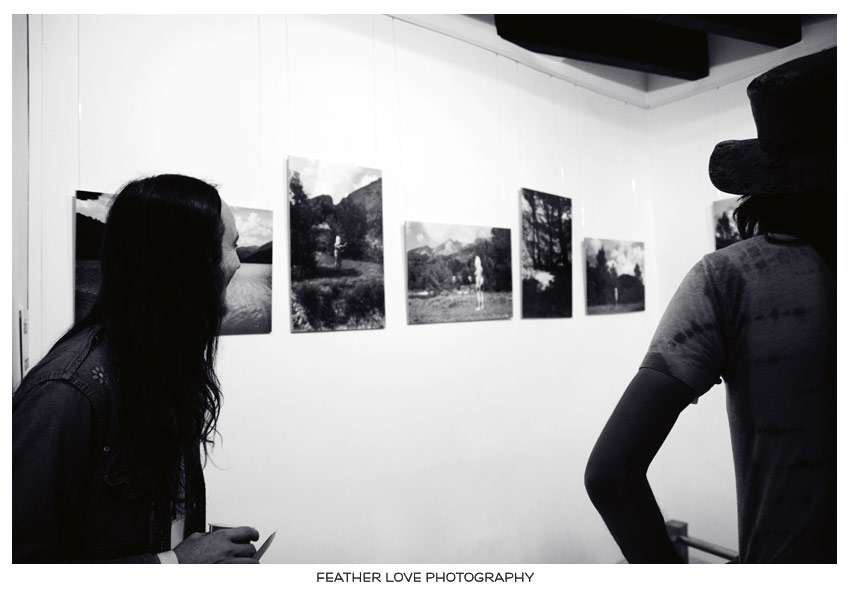 I was seriously in stitches the WHOLE trip. They were being stupid and funny the whole time. i <3 them.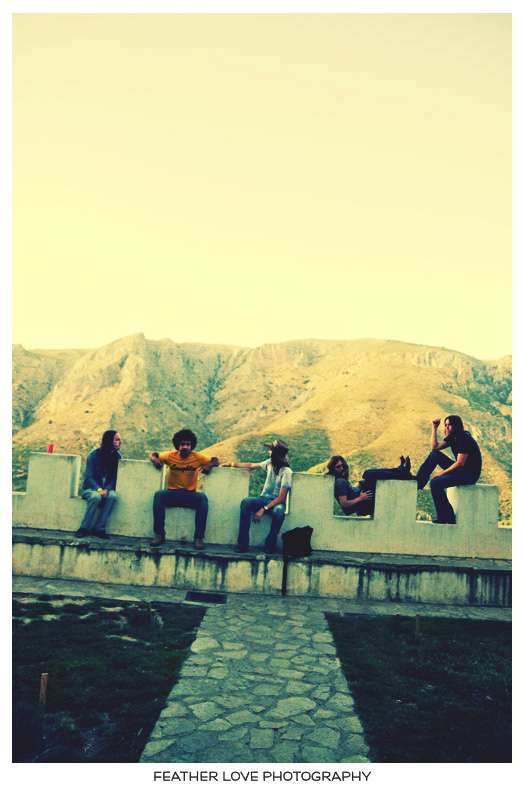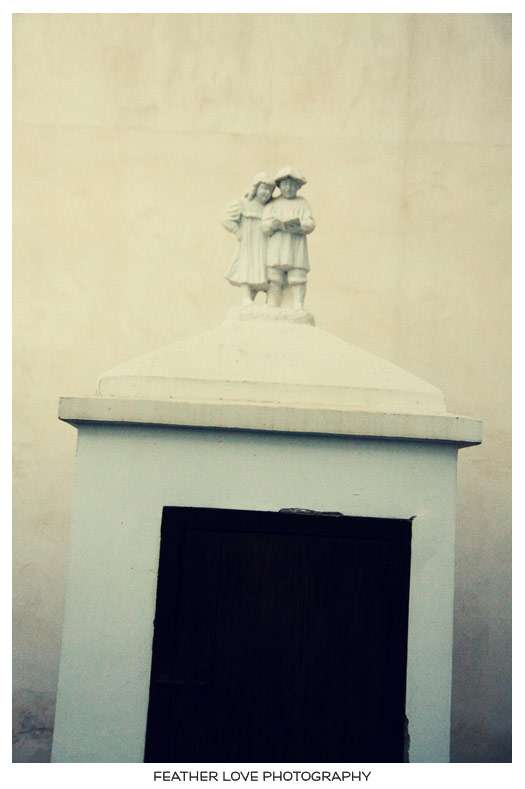 On the way up.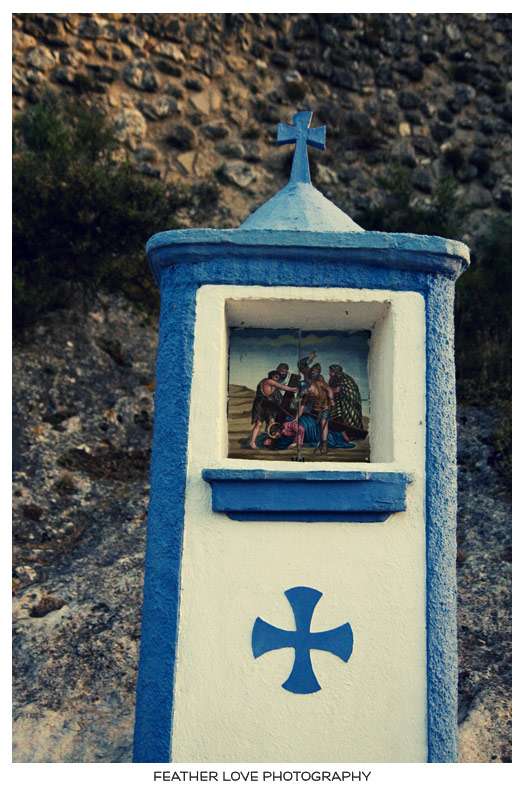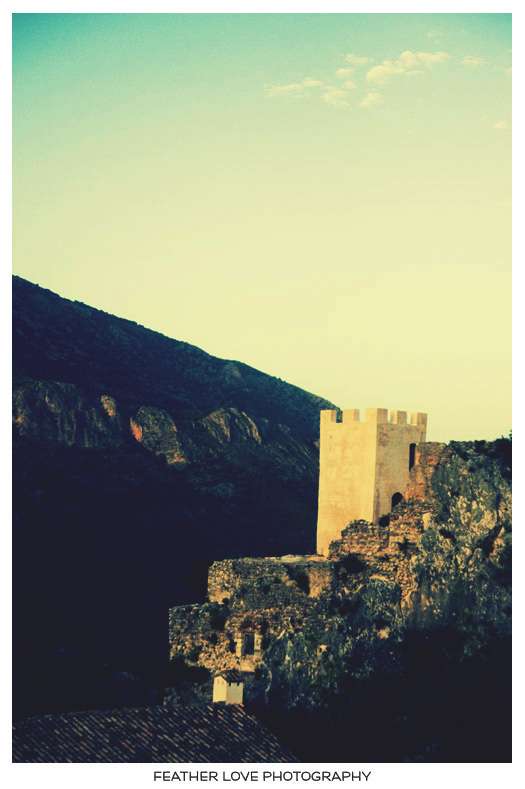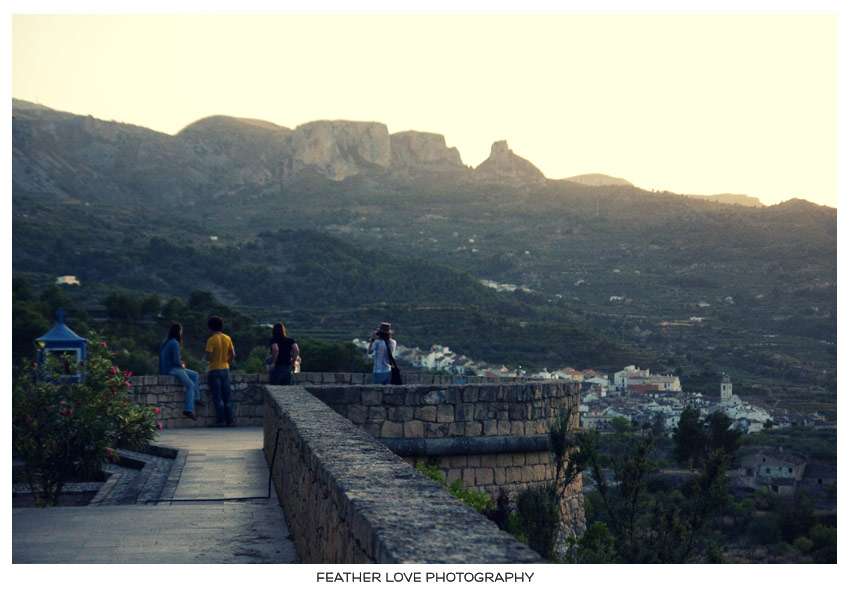 View from the top of the castle down, of the festival starting to gather.

Panoramic of the lake.


Old graveyard at the top of the castle.

Headless praying gravestone. Certainly one of my favorite pics from this entire trip. I srsly want to start a goth band just so this can be the album cover.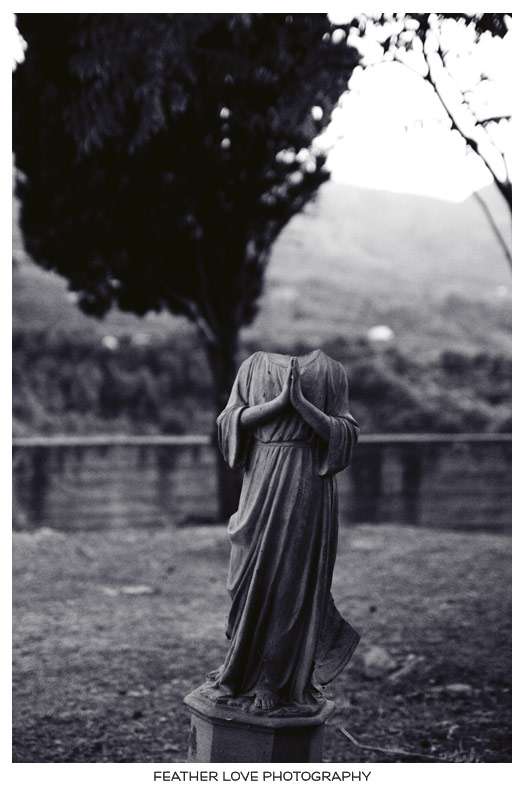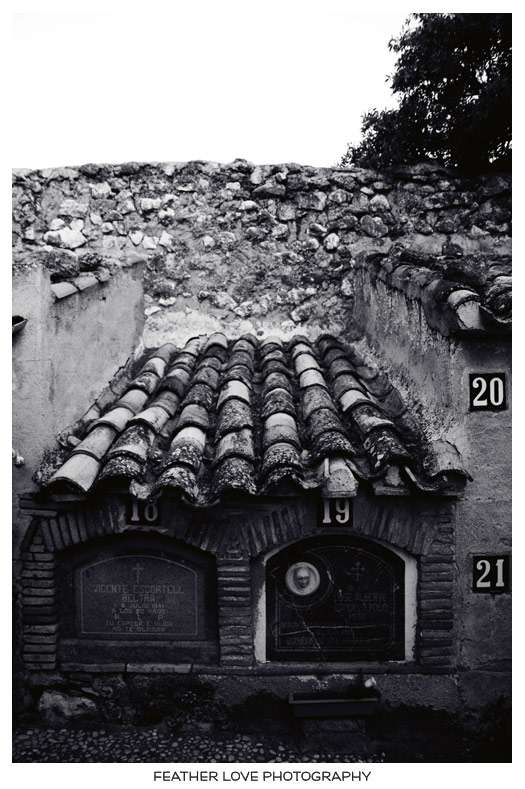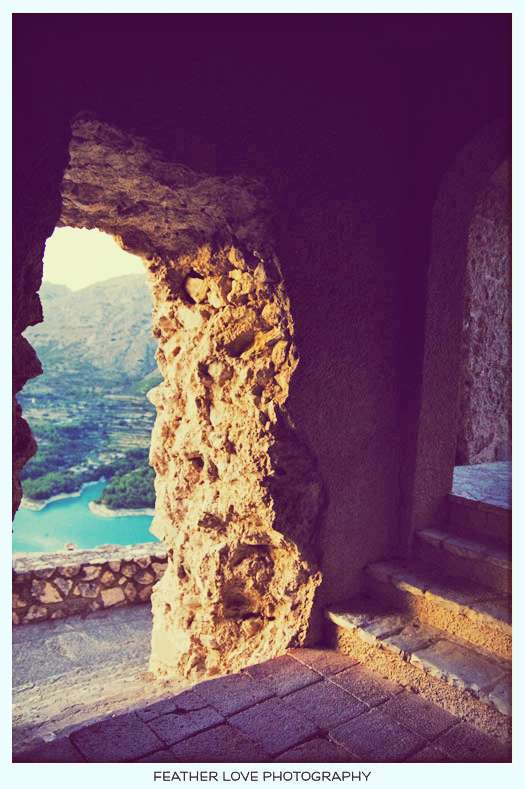 I still can't believe I was here.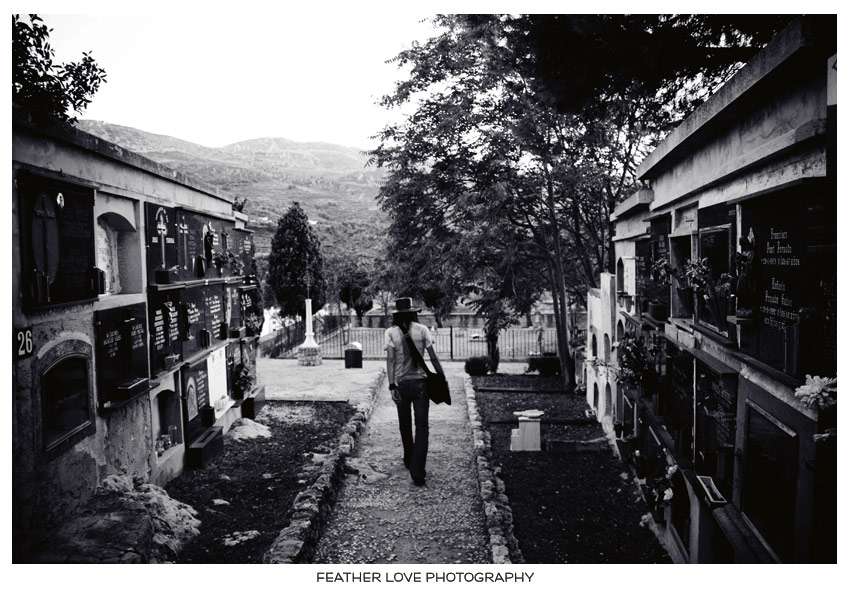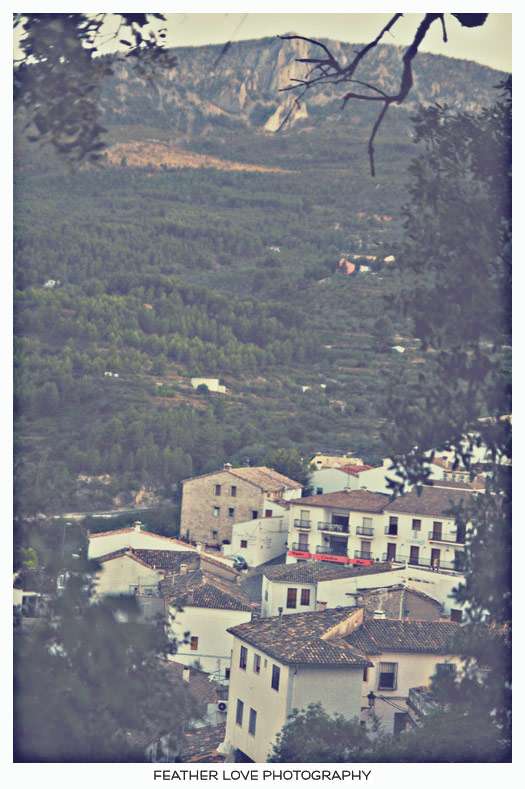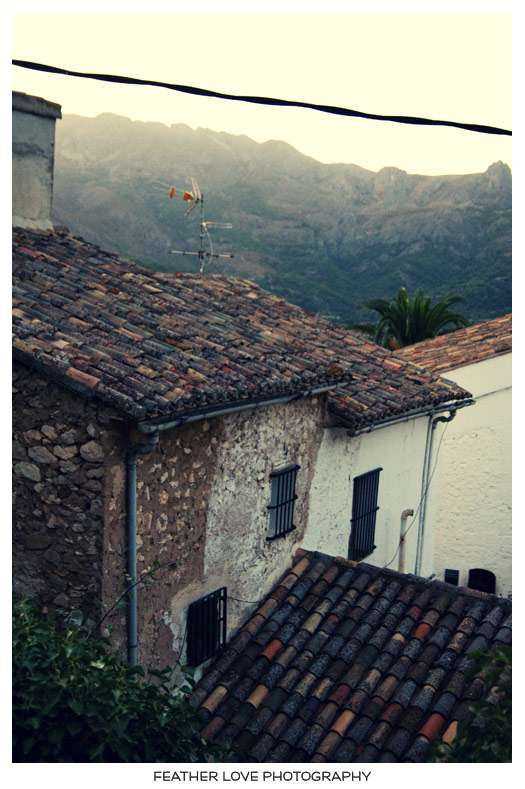 Another one of my faves from the trip…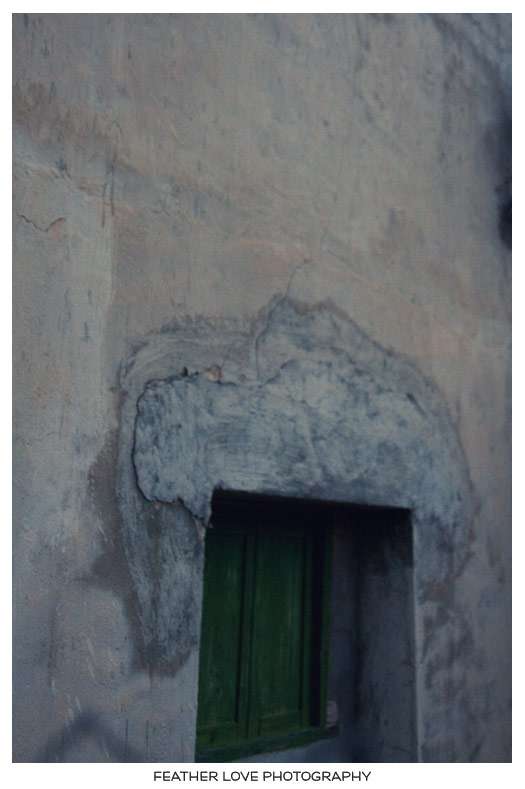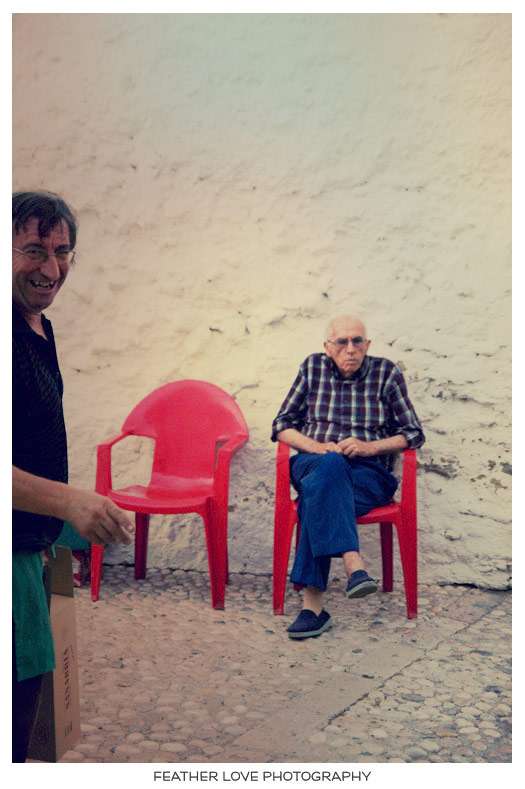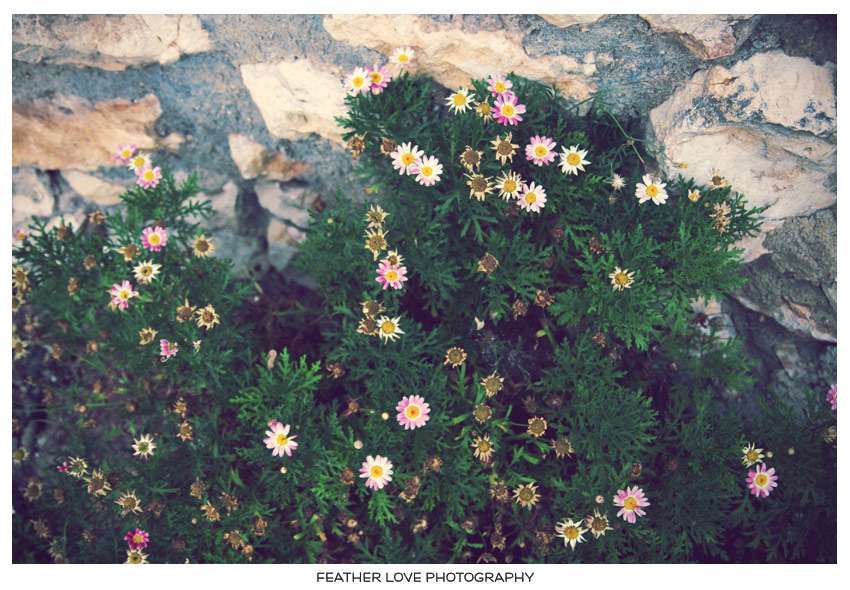 Stuart took these of me…. Coppin' majuh 'tude outside a Spanish Castle.

This is Stuart's too.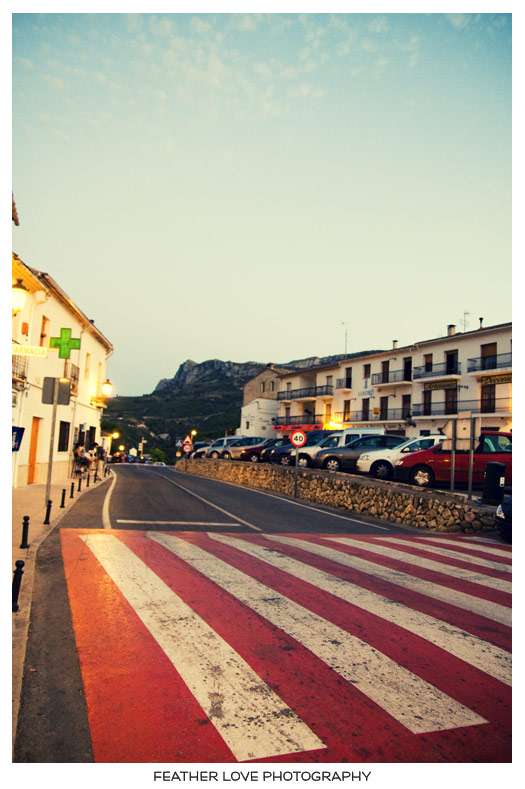 Separated at birth: my husband & Lee Dorrian. I was totally blown away watching these two talk! Twins!
Lee Dorrian came from England to see ASTRA play. They're on his label: Rise Above Records. Also, Mr. Dorrian (Napalm Death, Cathedral) made me blush when we met and he kissed my hand like a true English Gentleman! We had the best conversation too…. it was awesome to meet you sir!

Back down from the castle, at the festival. It was so beautiful out there.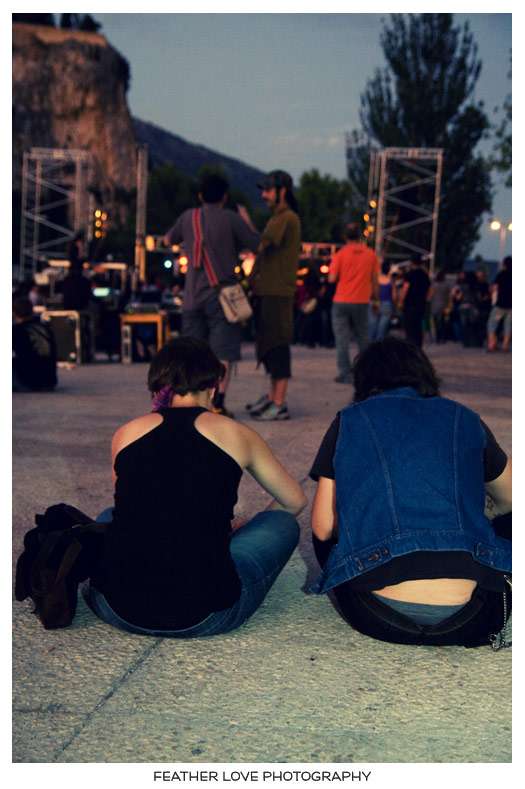 Our friend Mike Eginton of Earthless (he also owns the awesome San Diego record store Thirsty Moon) & Solana.

Isn't she lovely?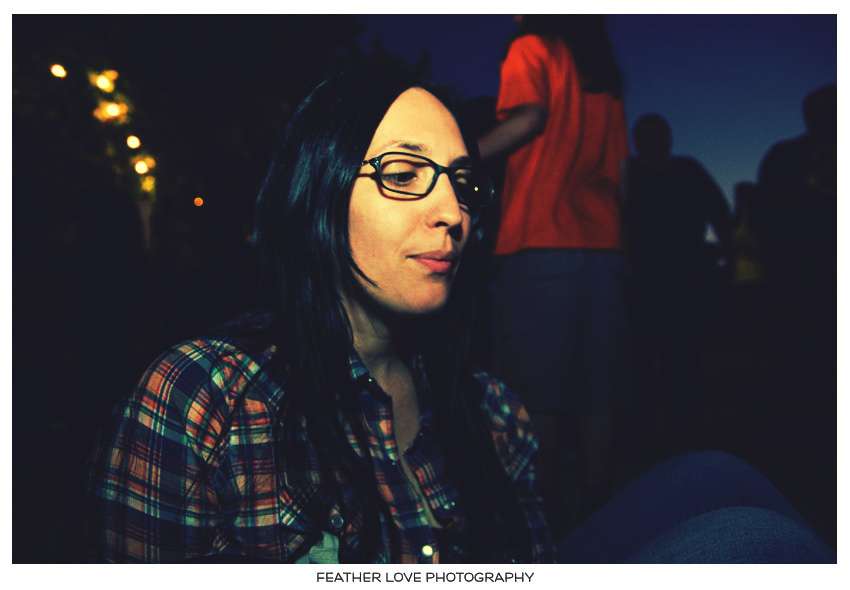 Cheers baby.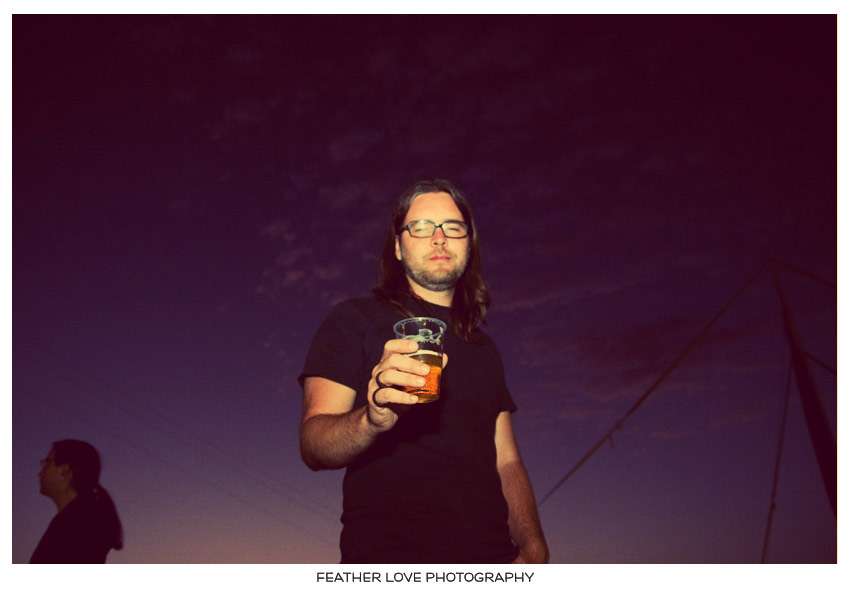 Over on the left, some of our hotel-mates, the awesome crazy Swedes with Witchcraft!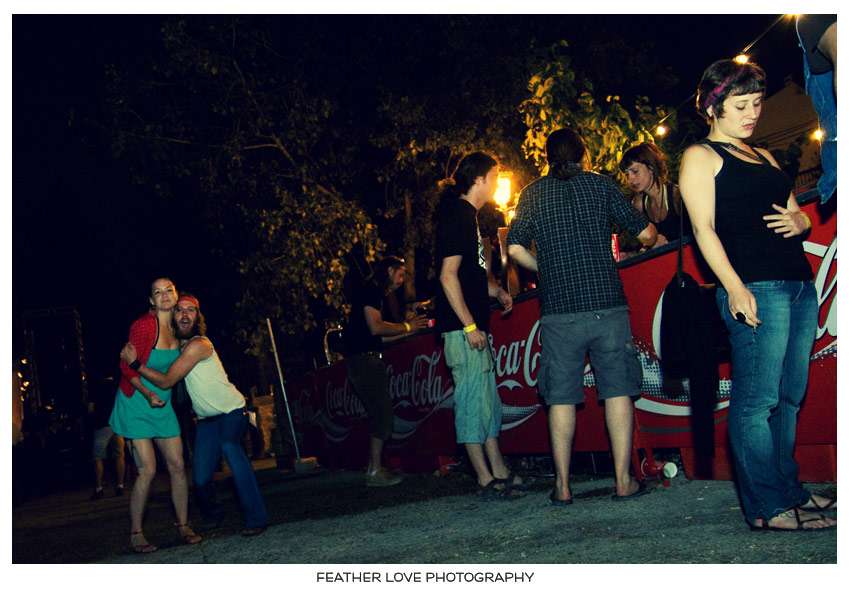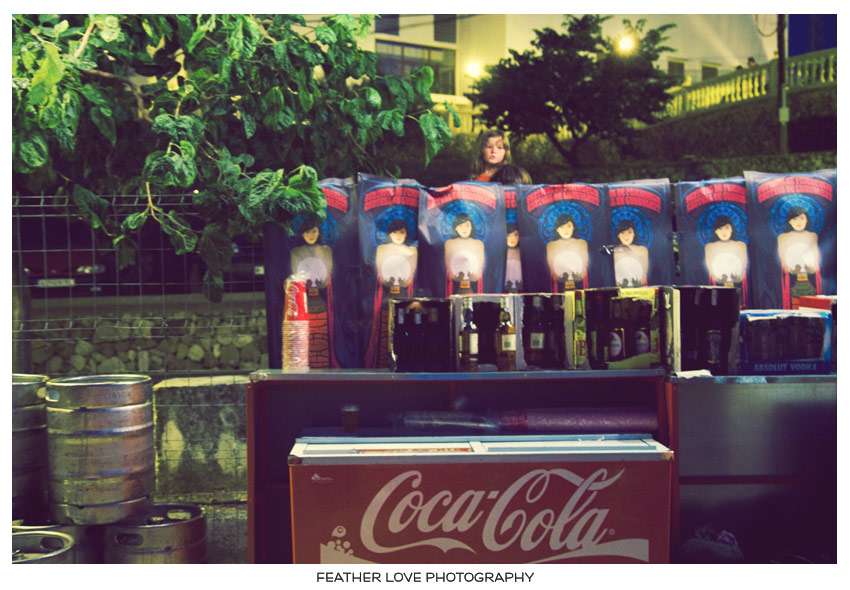 Isaiah Mitchell. (Earthless).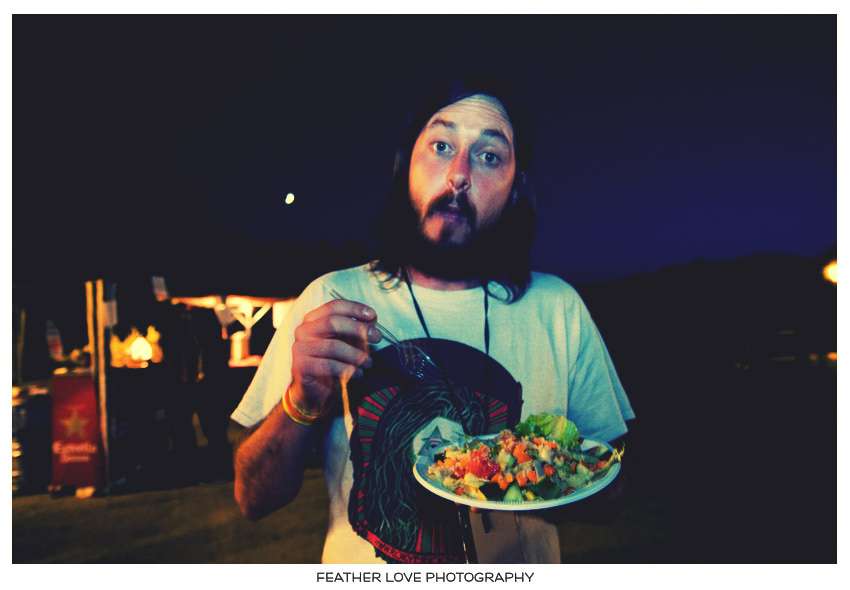 Witchcraft, before their set.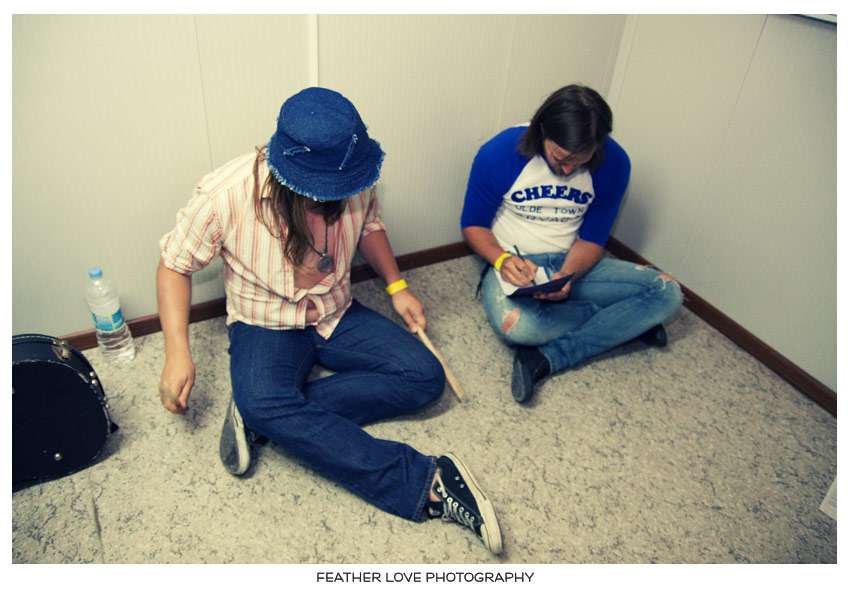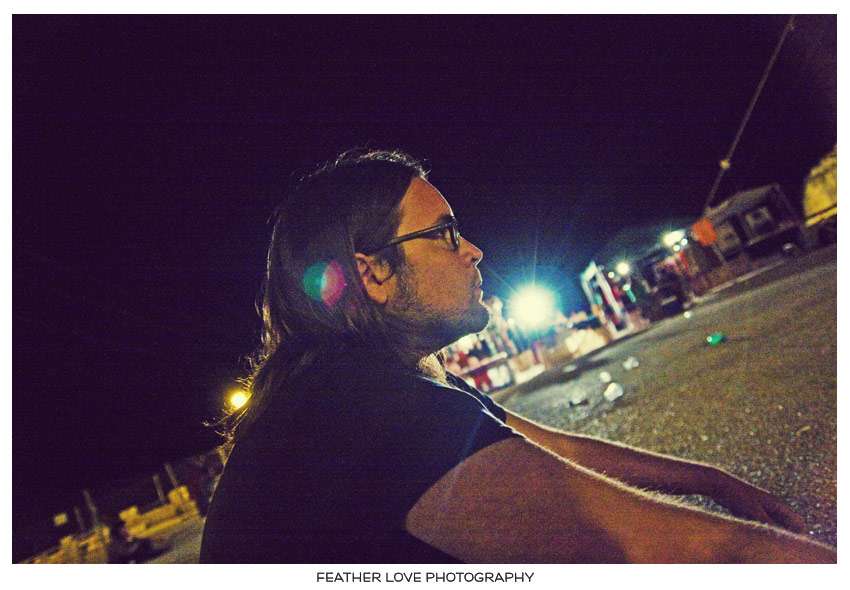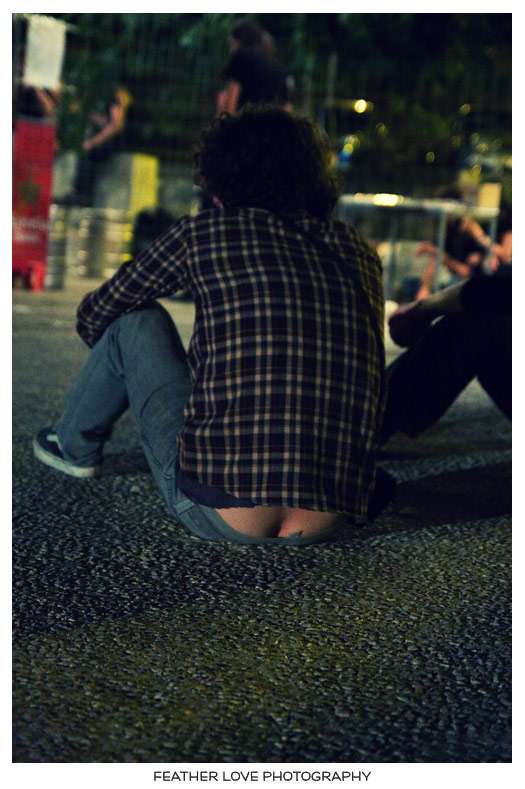 I love these guys! <3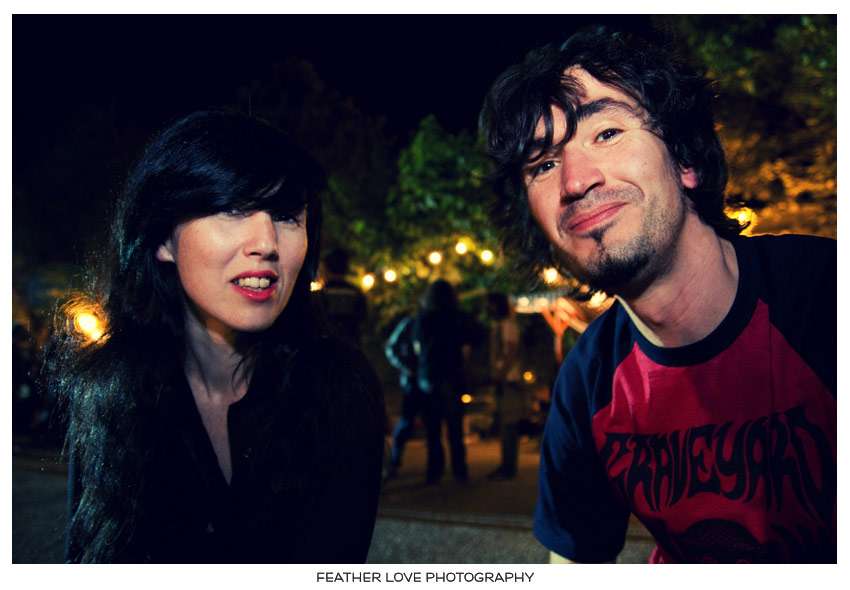 And the amazing, sweet, incredible & genius guy behind the ENTIRE festival: Alvaro. xoxo!

Mario Rubalcaba (Earthless)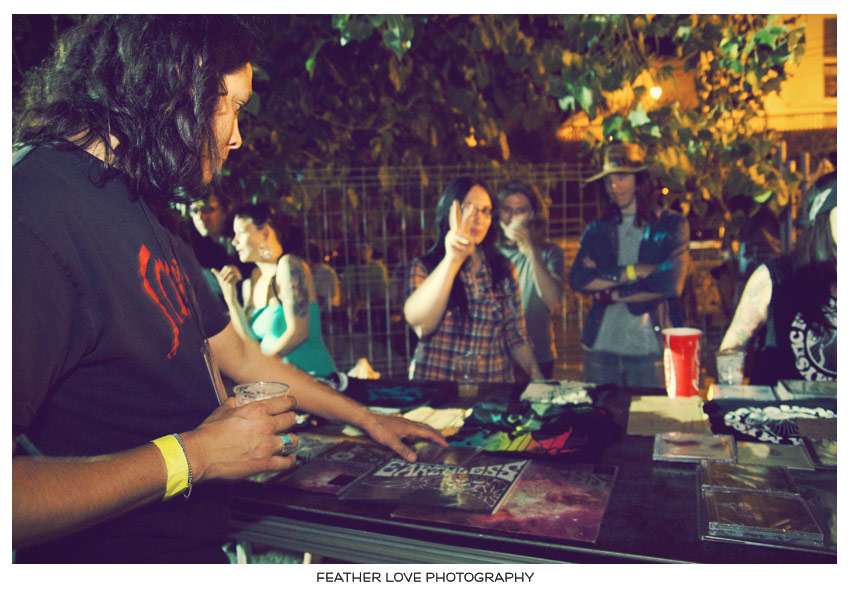 Bubble boy!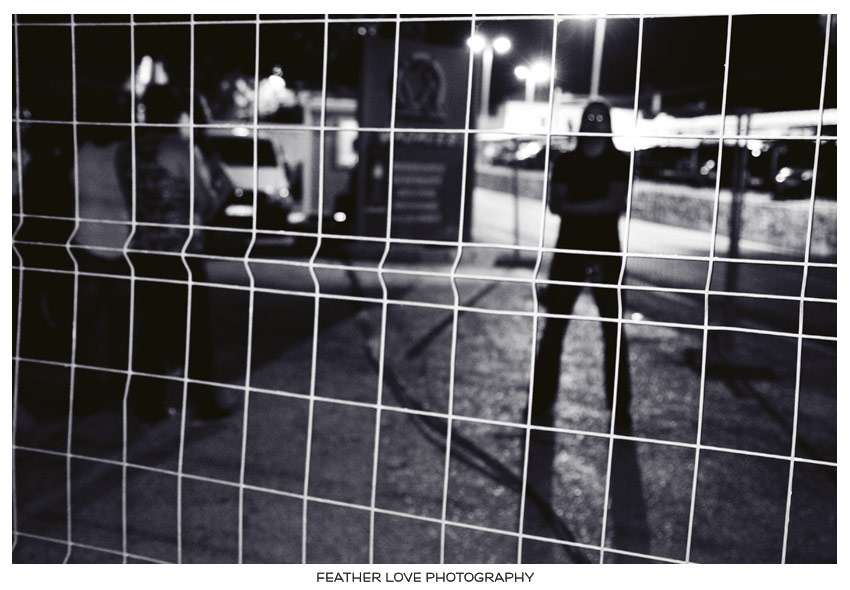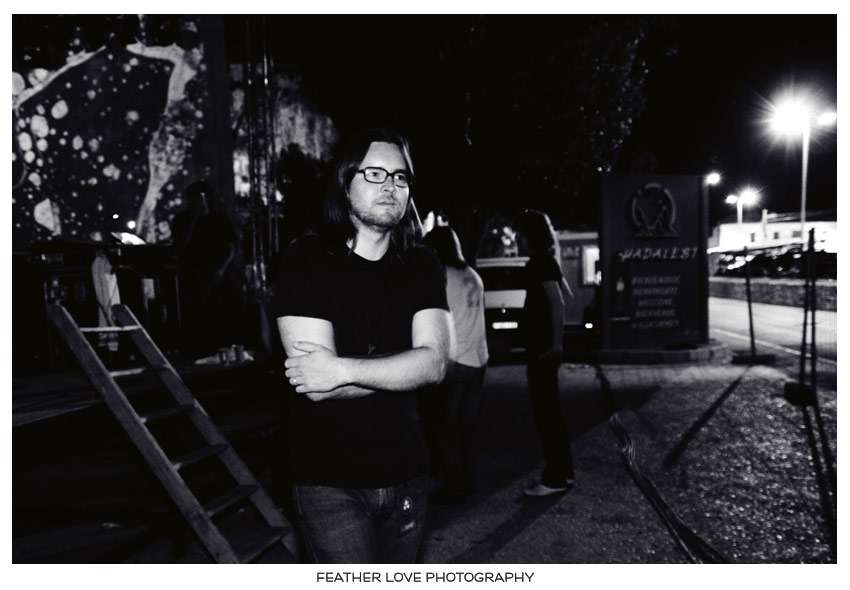 Self-portrait.

Some more friends from San Diego!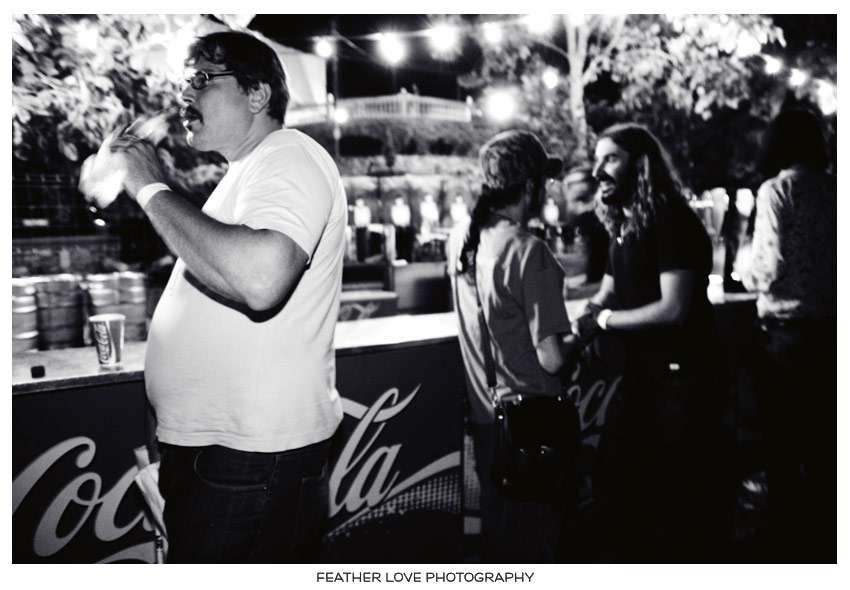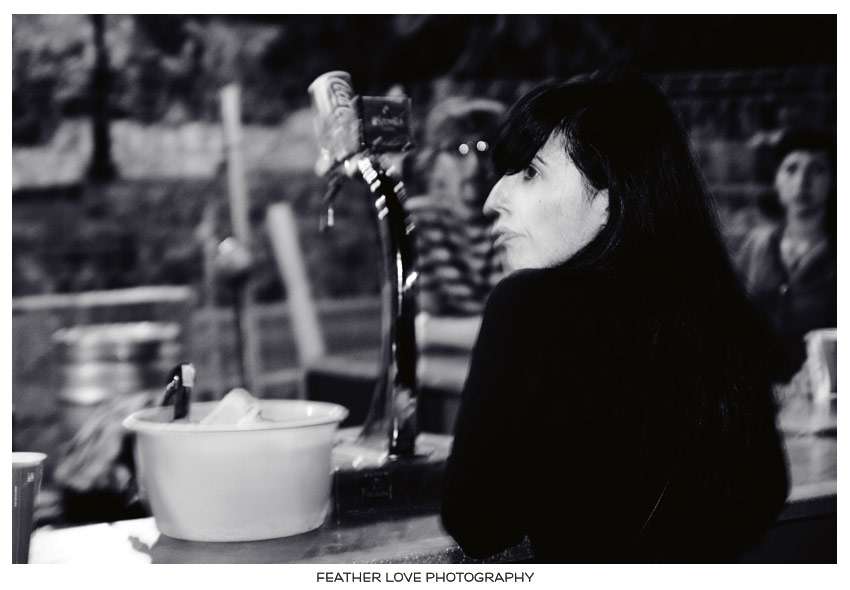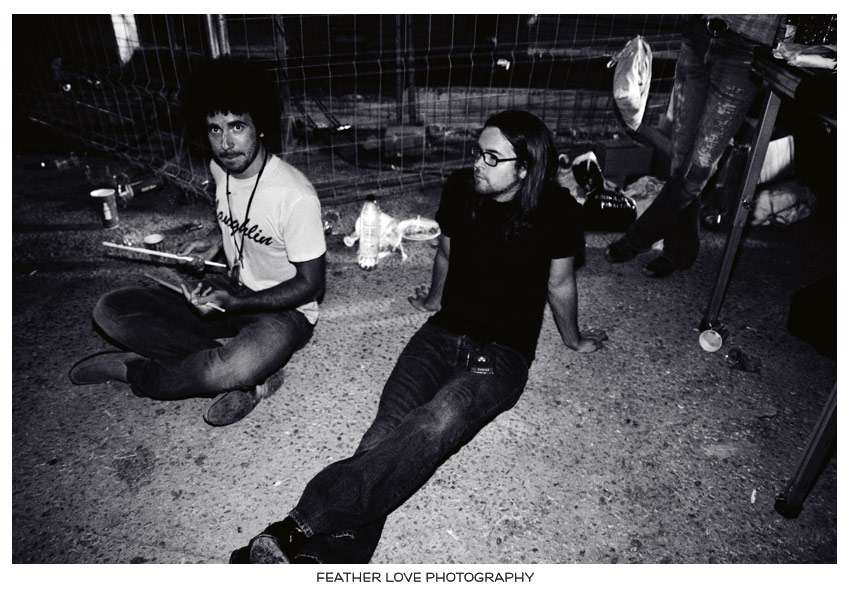 This was one of the best locations I have ever seen live bands play at.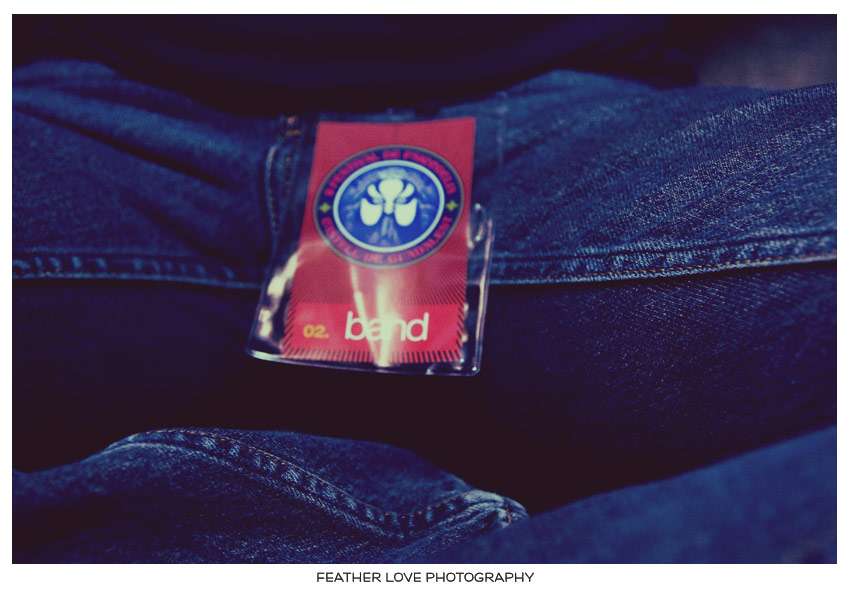 Stuart took these…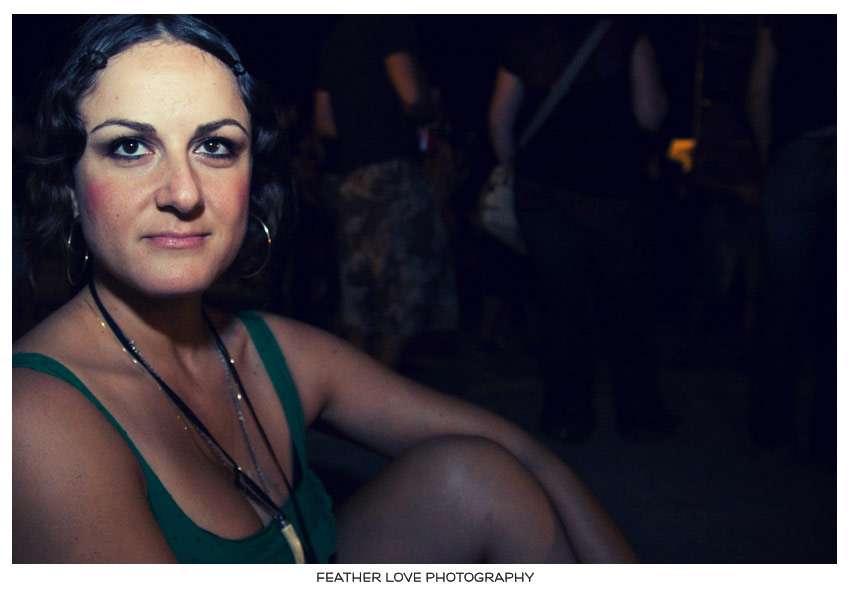 The beautiful Italian creature serving the booze… so many people had the drullet thing going on, I don't get it. I guess it's a euro-thing. But whatevs, check out that mug!

Withcraft! mind-blowing!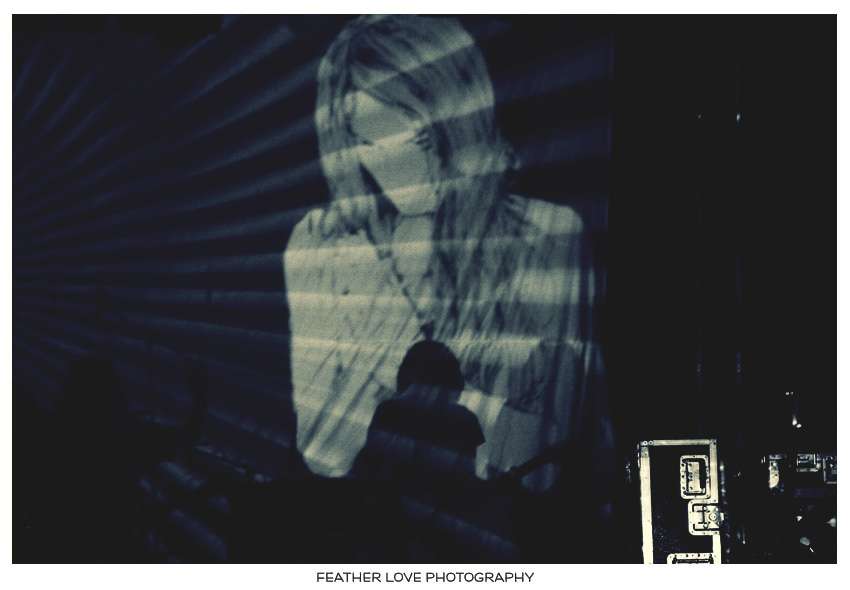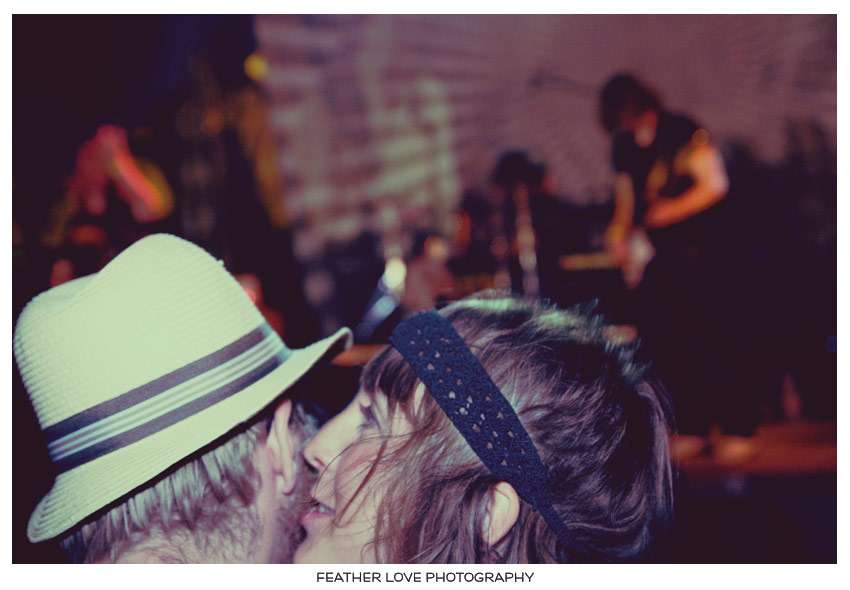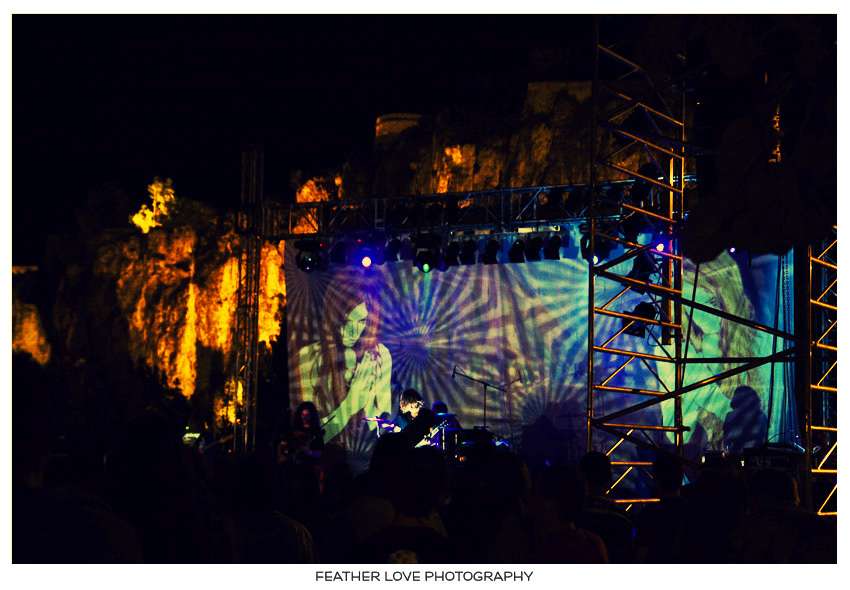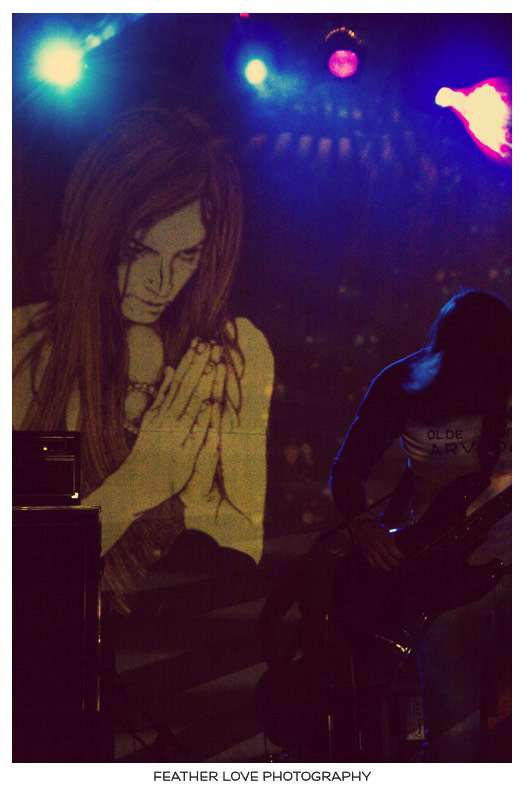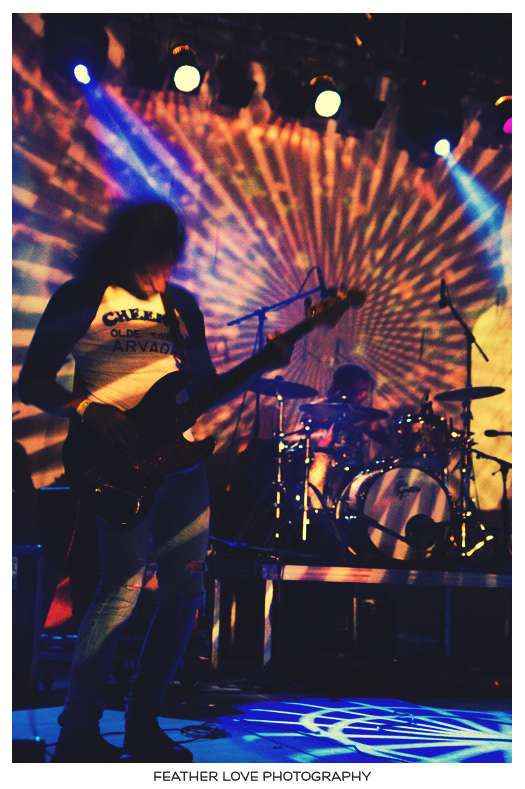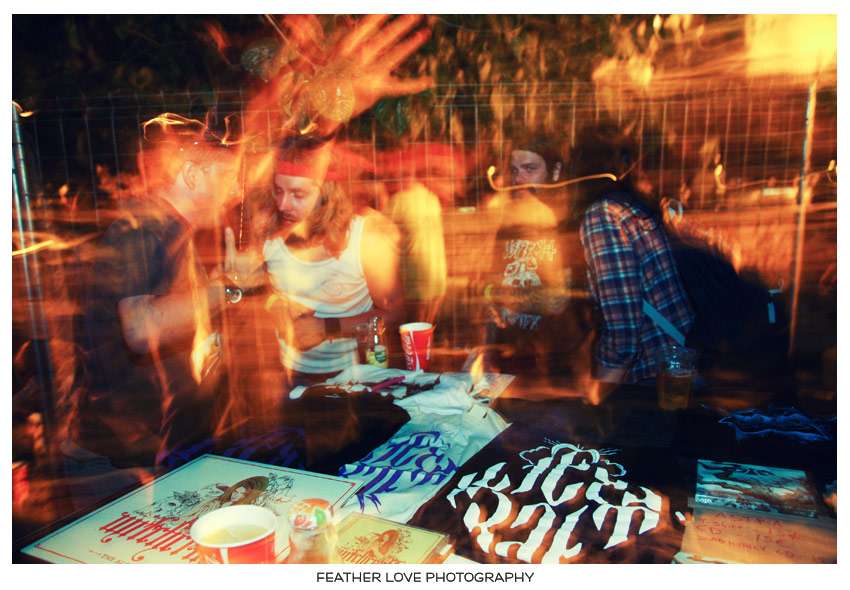 This poor dude was the life of the party…

Everyone had a go at him.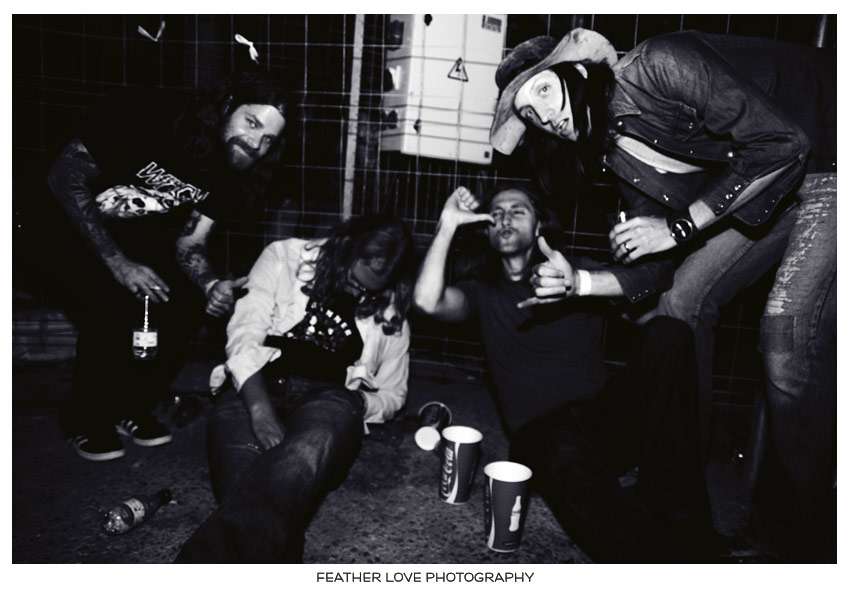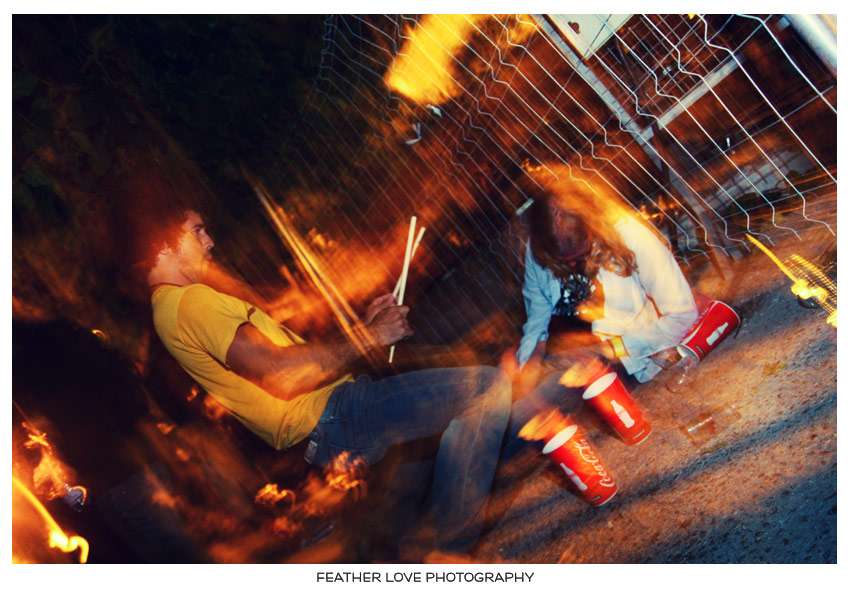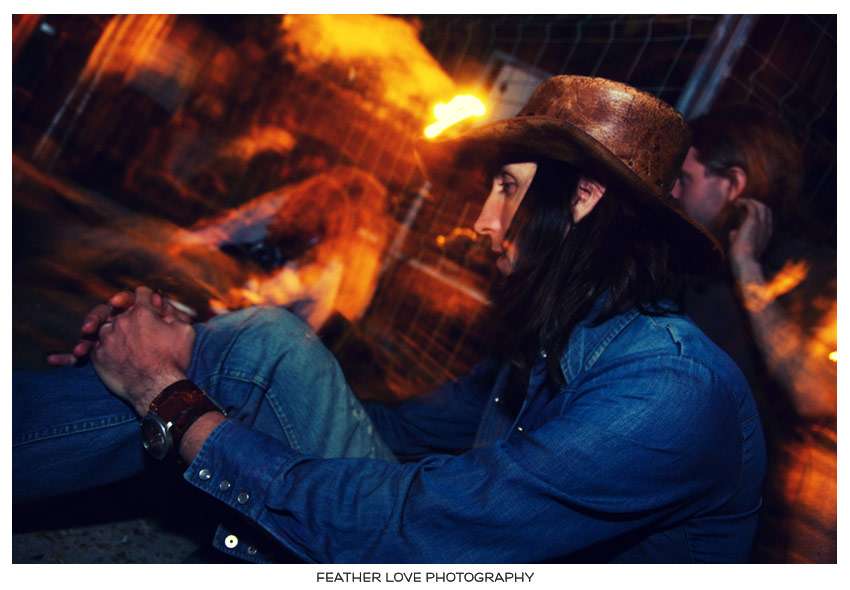 "Can we get a picture with Lee Dorrian?"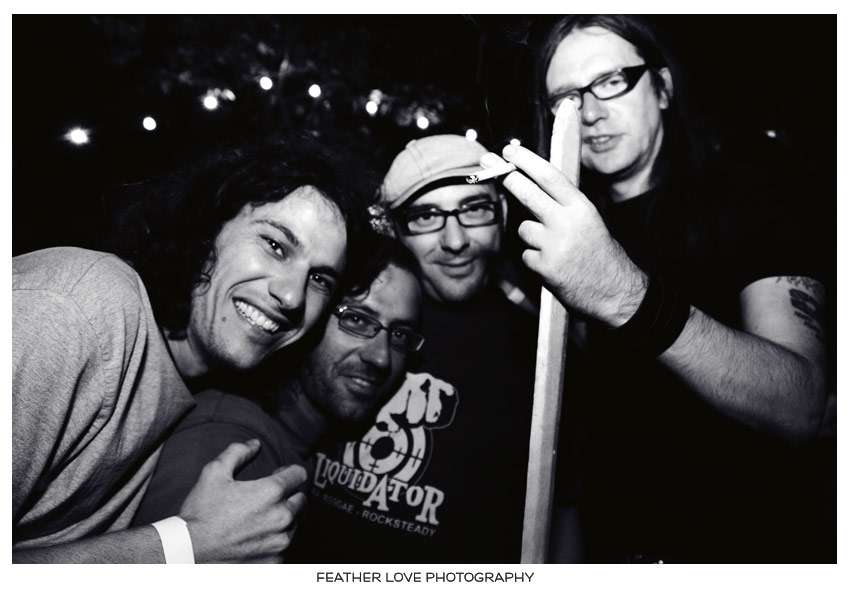 And then… ASTRA!  F'ing BEST SHOW EVER!!!!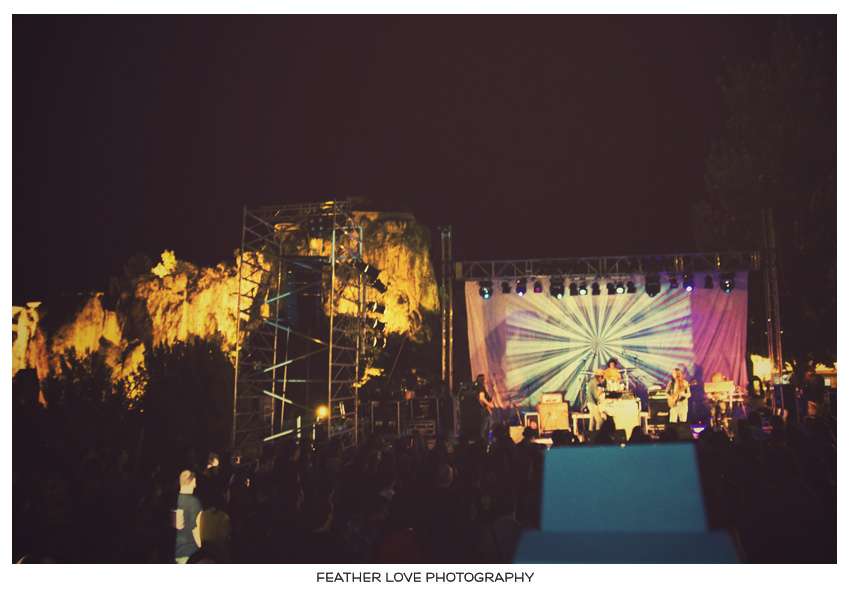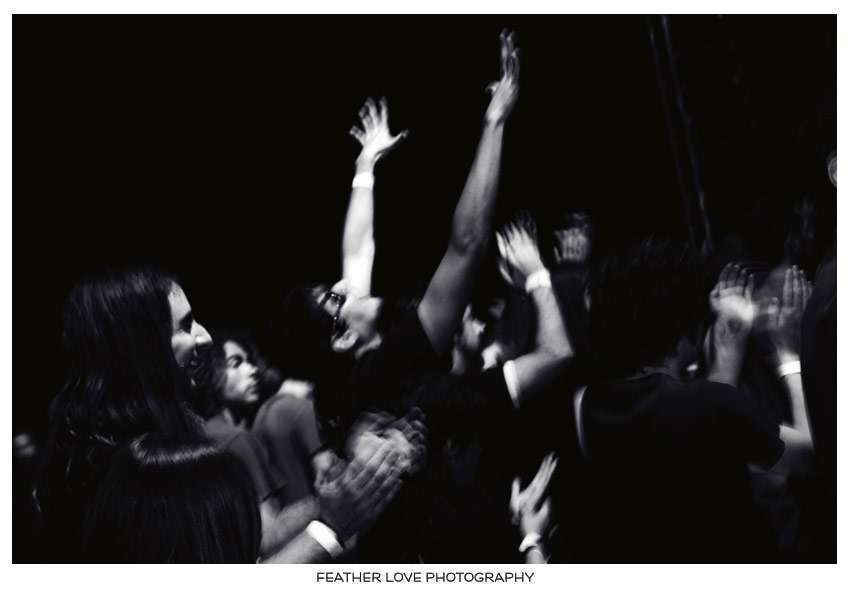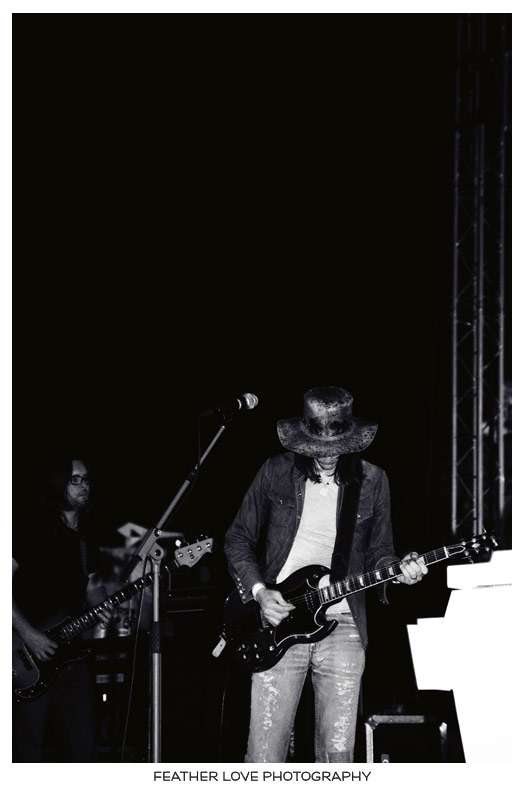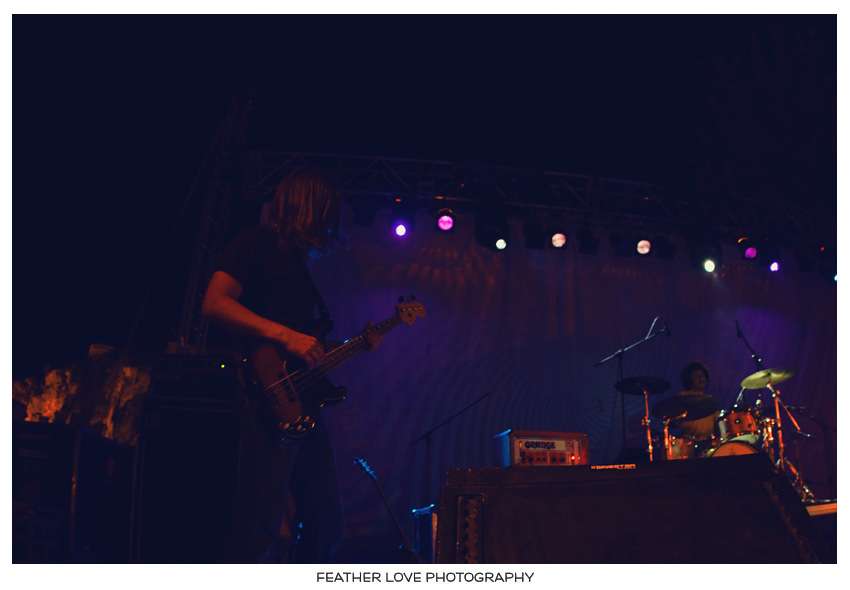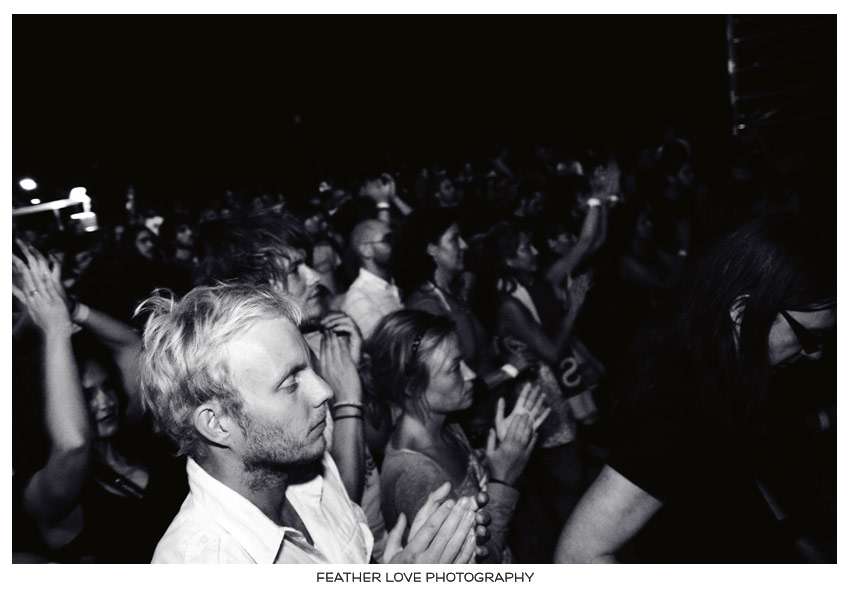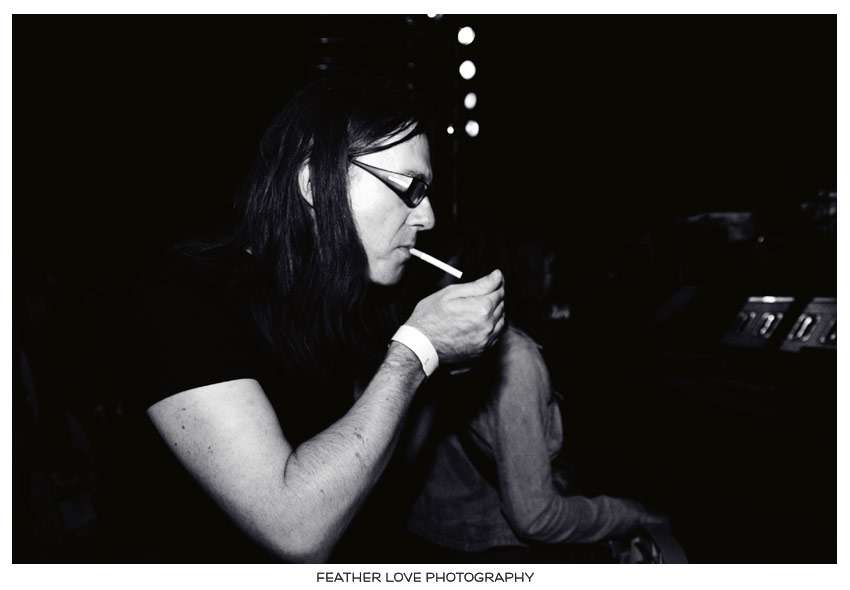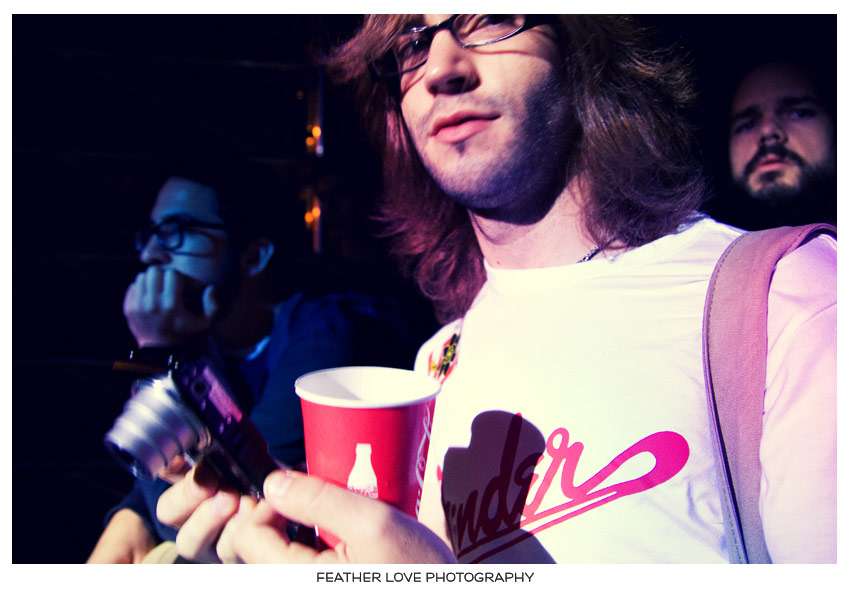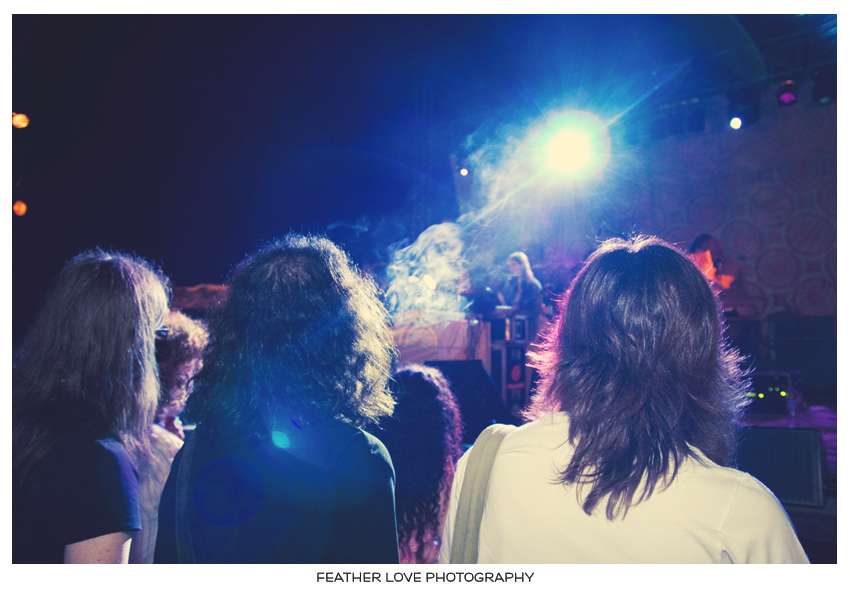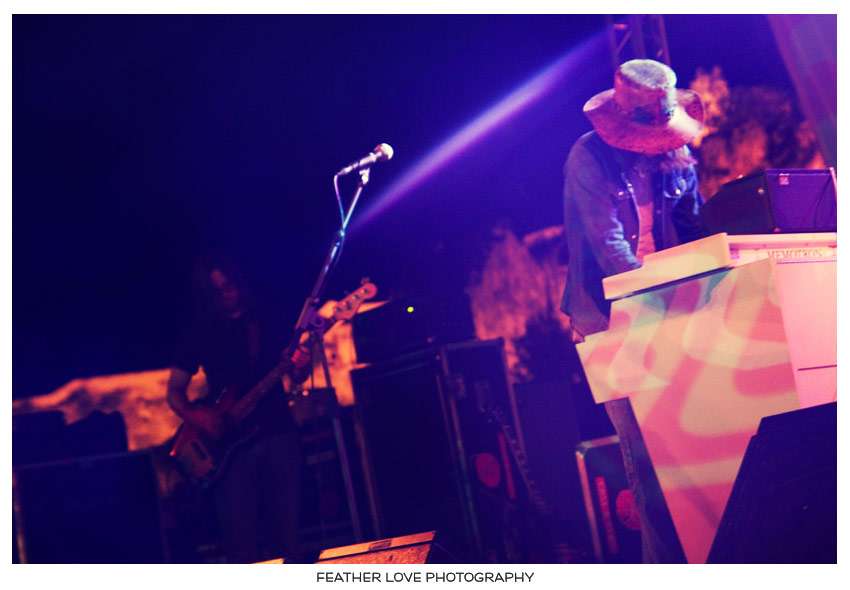 I love this one.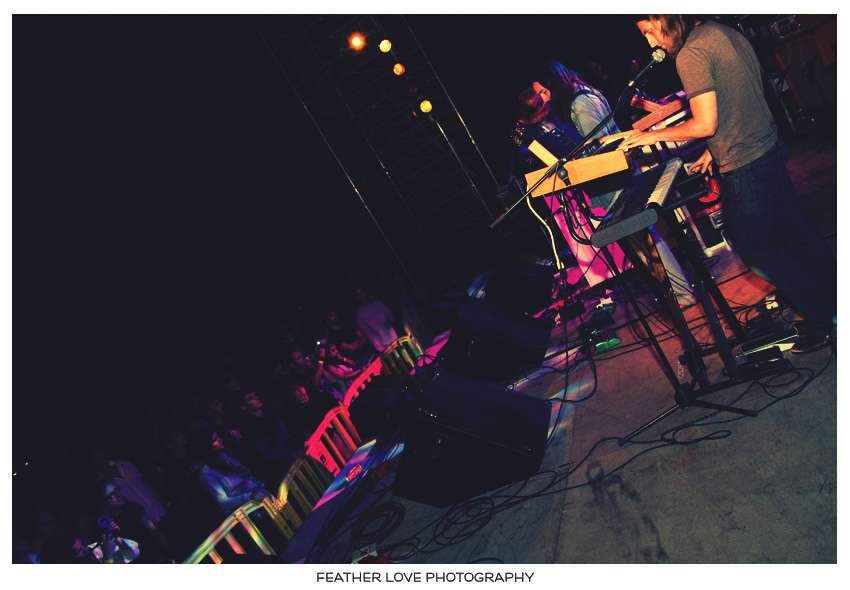 Uhm, honey…. there's, like, a CASTLE behind you!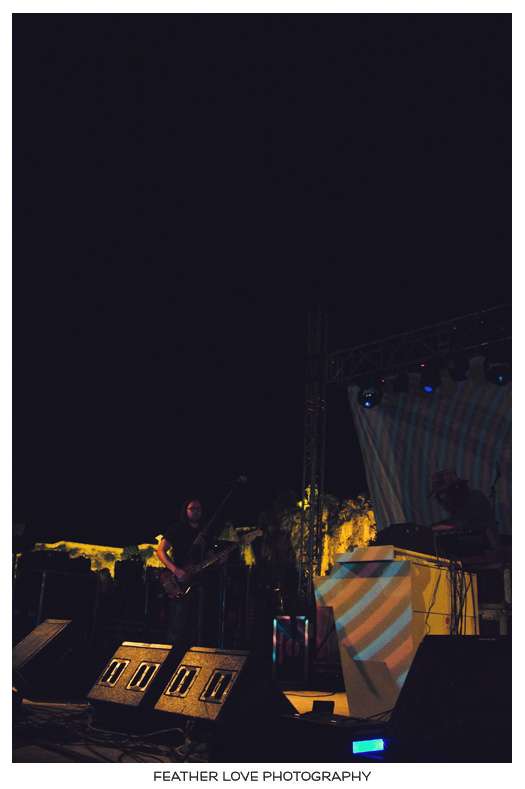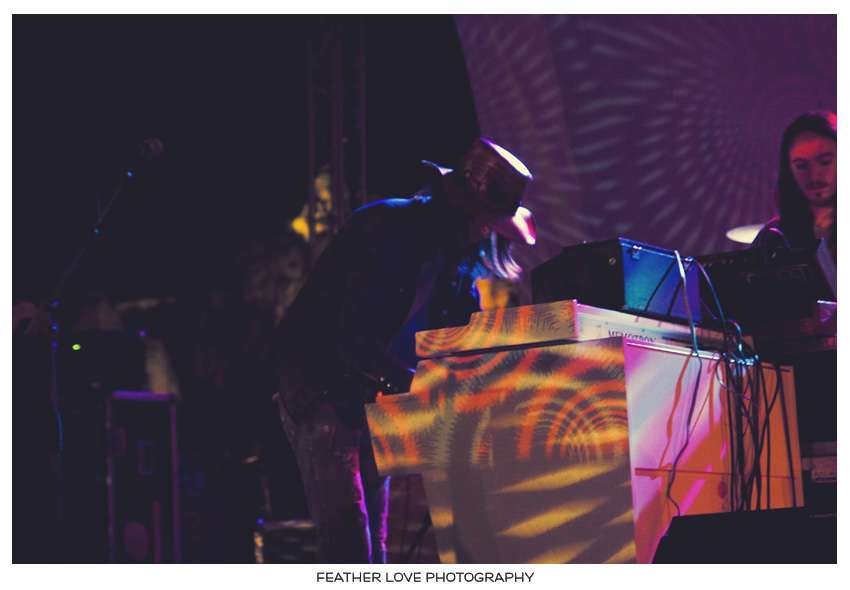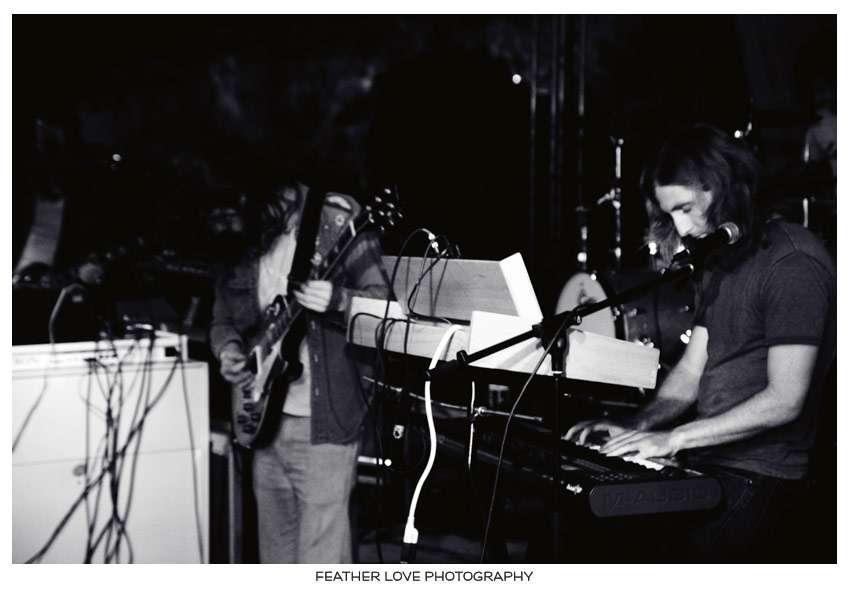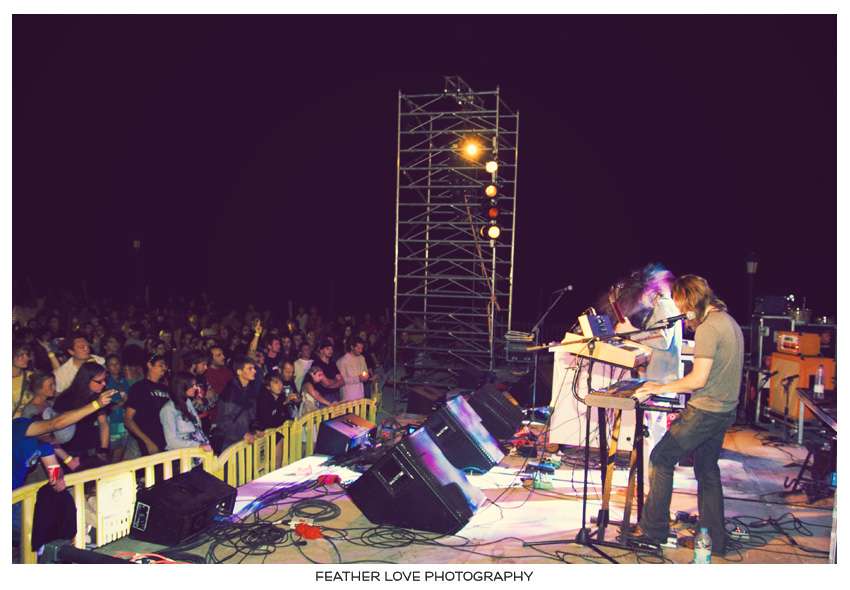 Yes, yes, Exactly.

Some Holgas.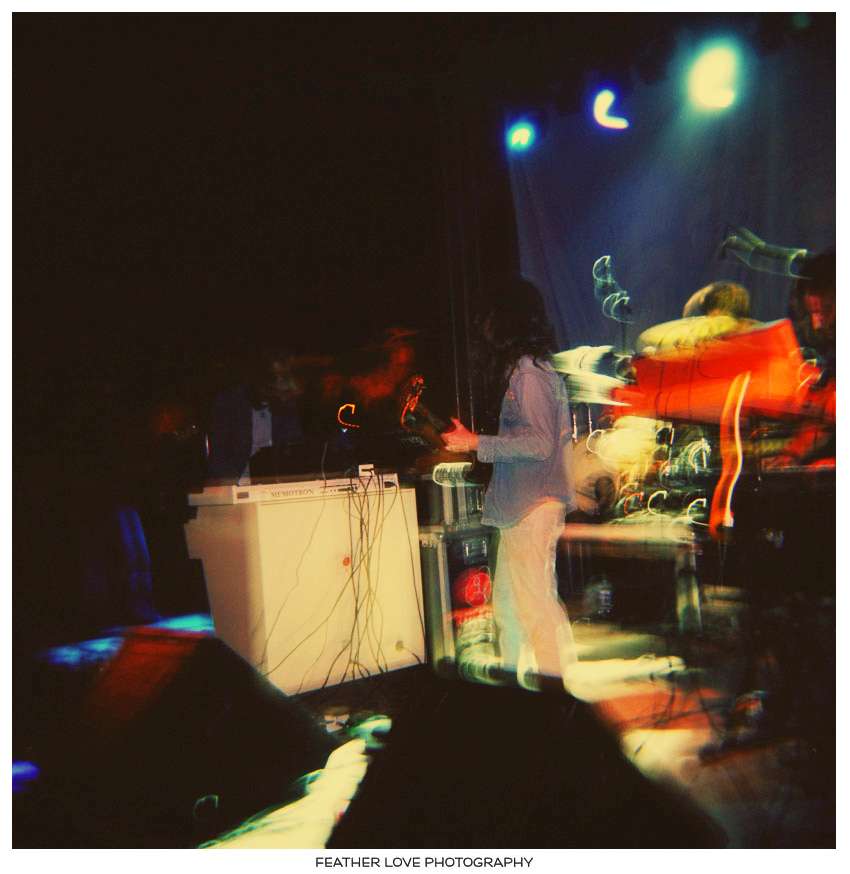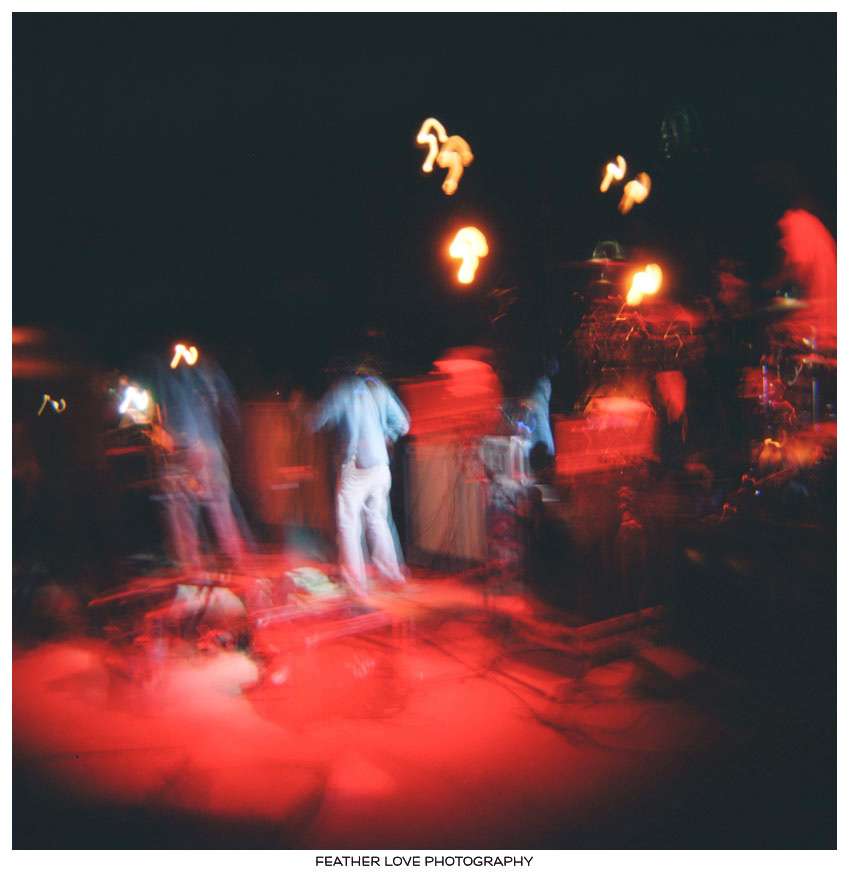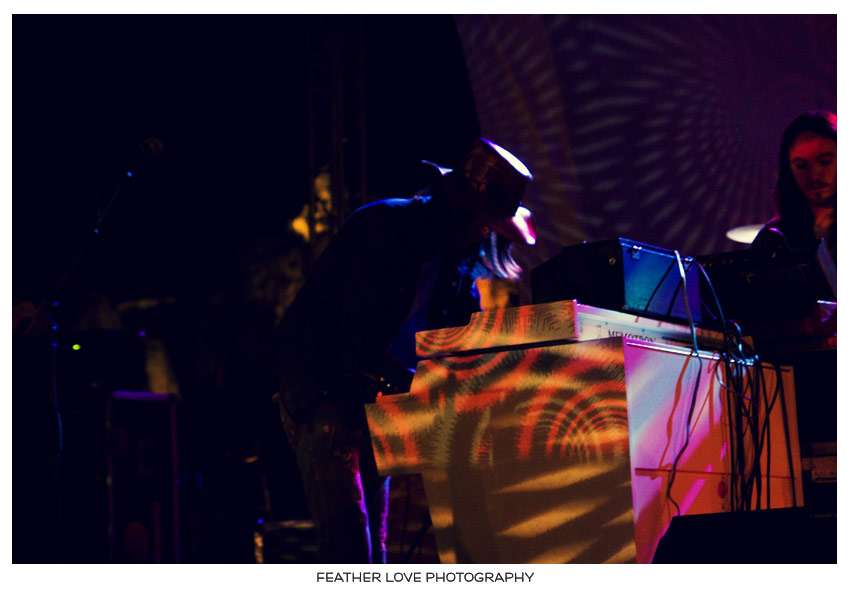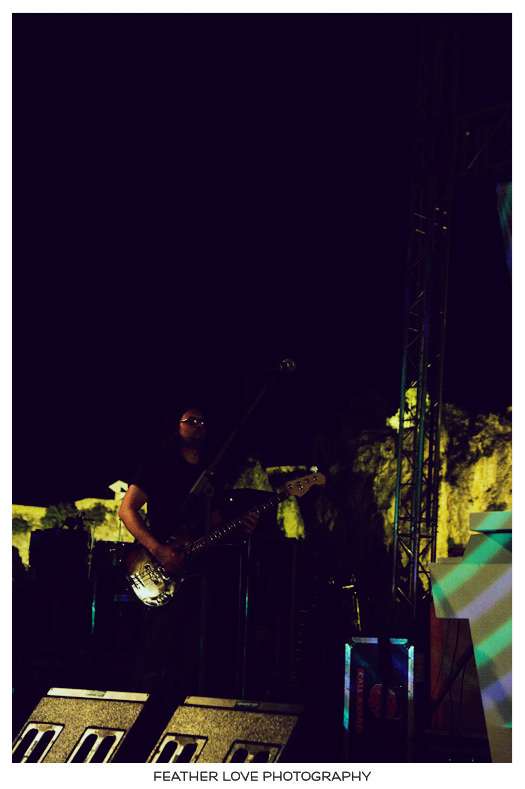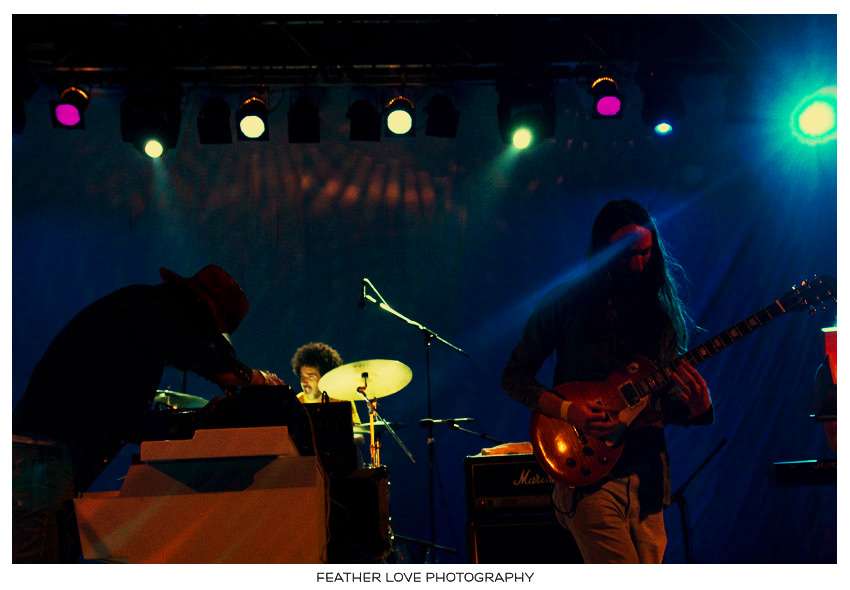 Dreamy bass player…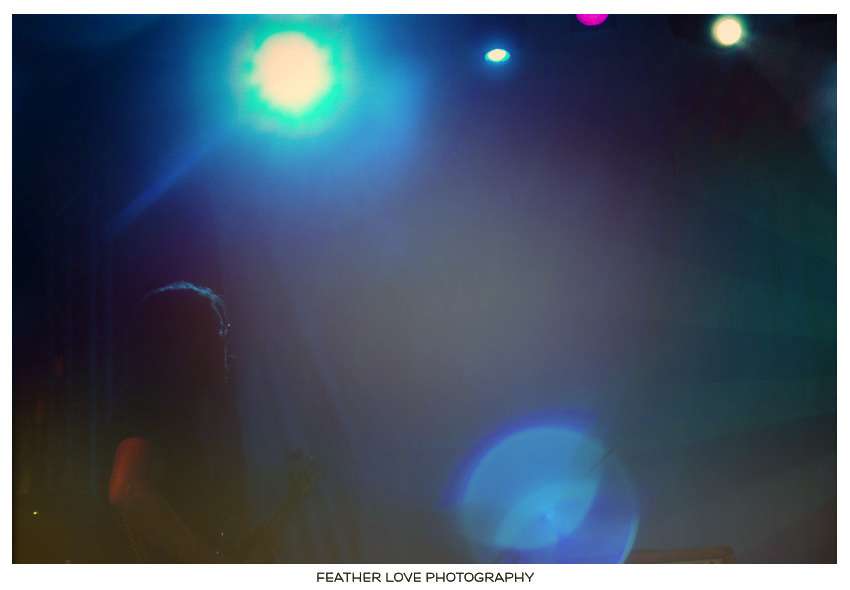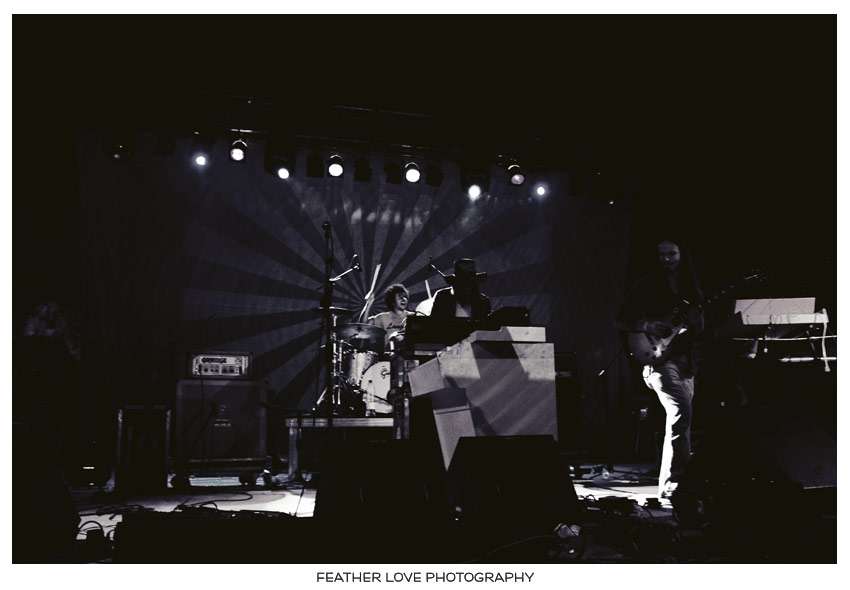 Primo!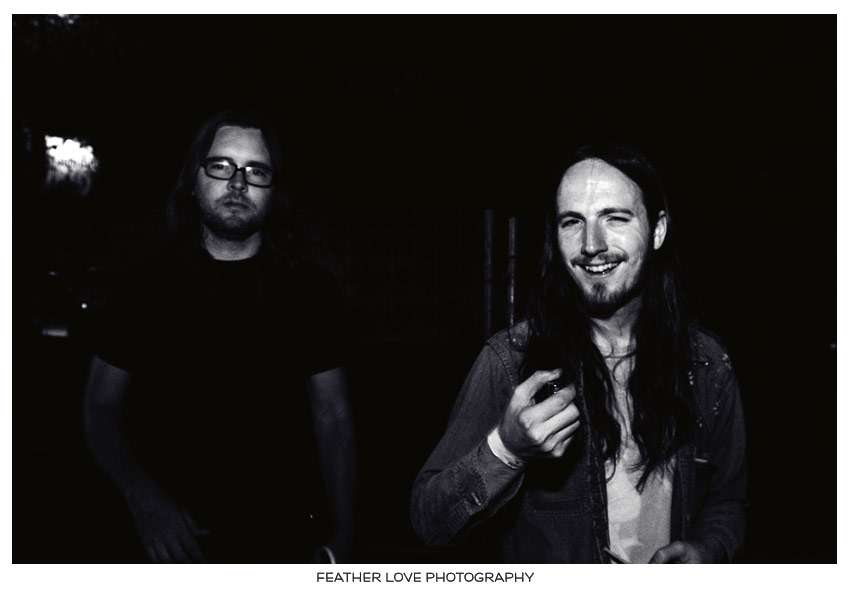 Earthless!!! I've seen them play a hundred times, but this was the best show of theirs I had ever seen! They played until 5 am or something!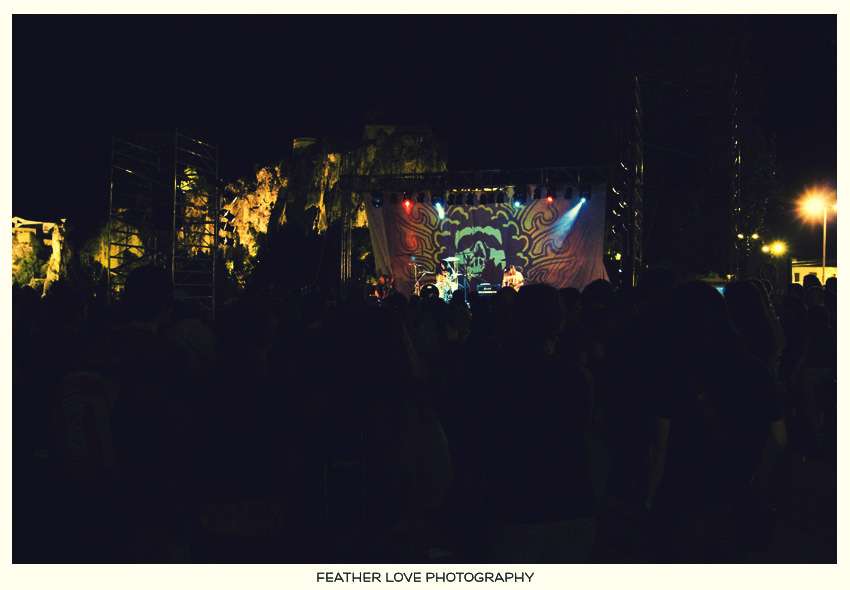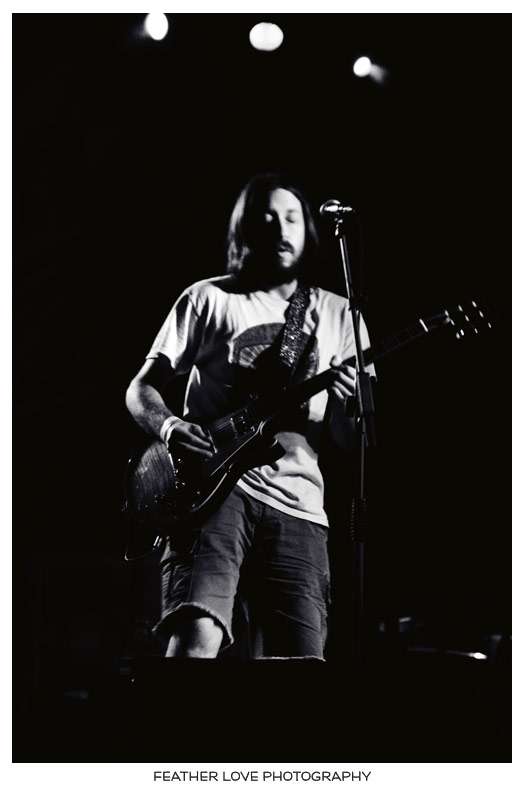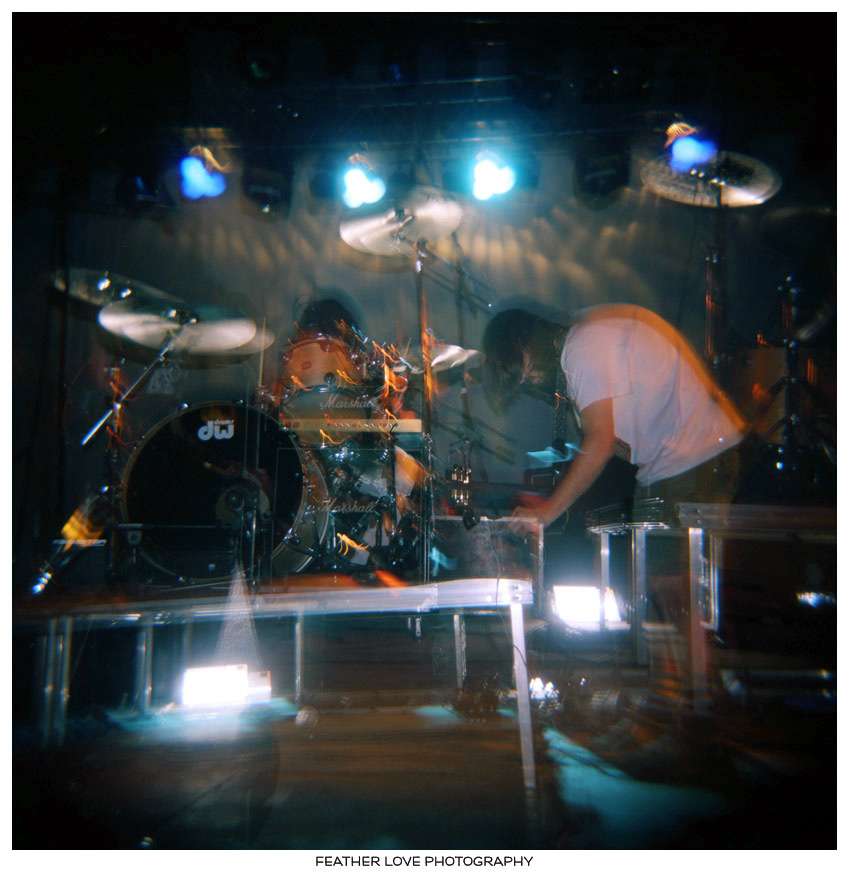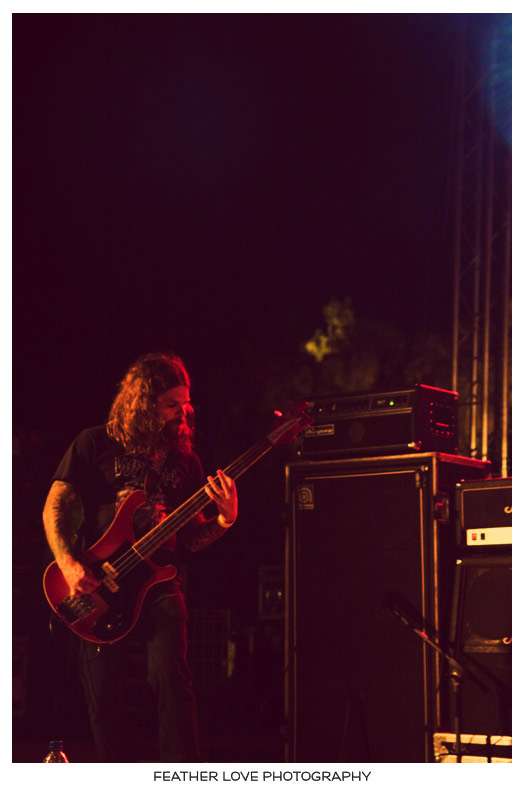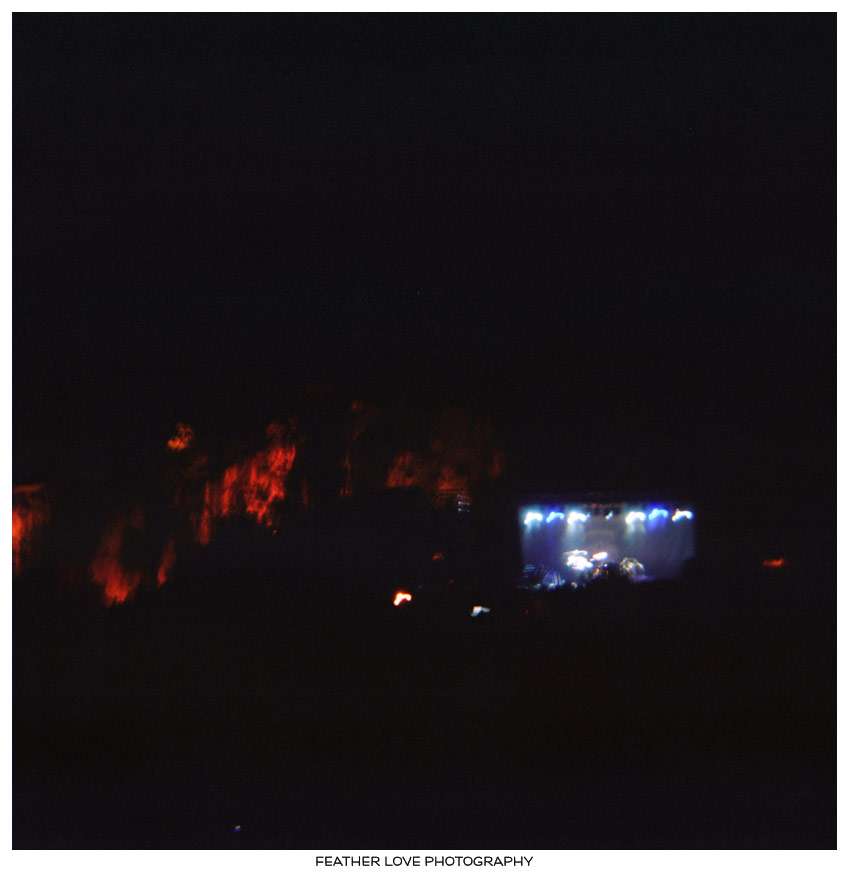 Festival doggie!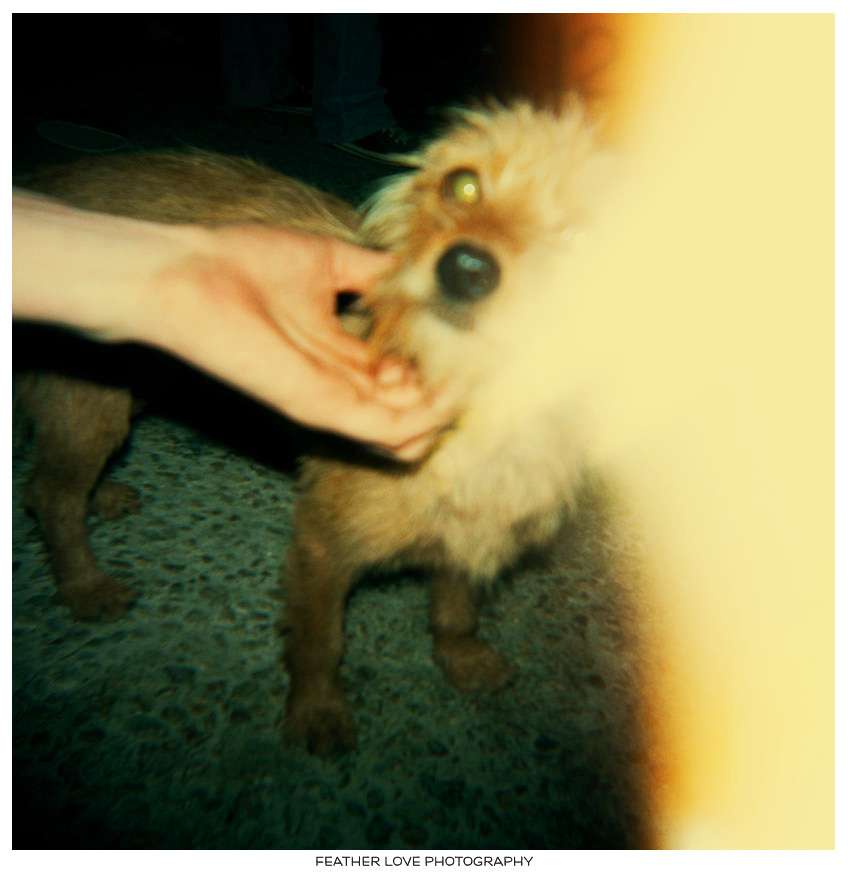 Back at the Hotel Rambla… we partied with the Swedes (Witchcraft) & Earthless by the astroturf-lined pool.

Alicante is a tourist town. The food was gross. I couldn't find any authentic Spanish food for the life of me….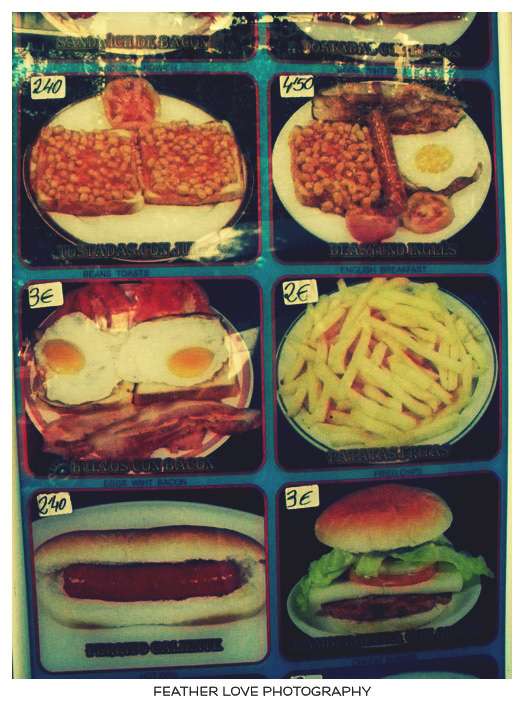 Stuart took this.

Beach Holgas. I tried to avoid taking any pictures of the topless tanning ladies, didn't want them to think I was some sort of perv.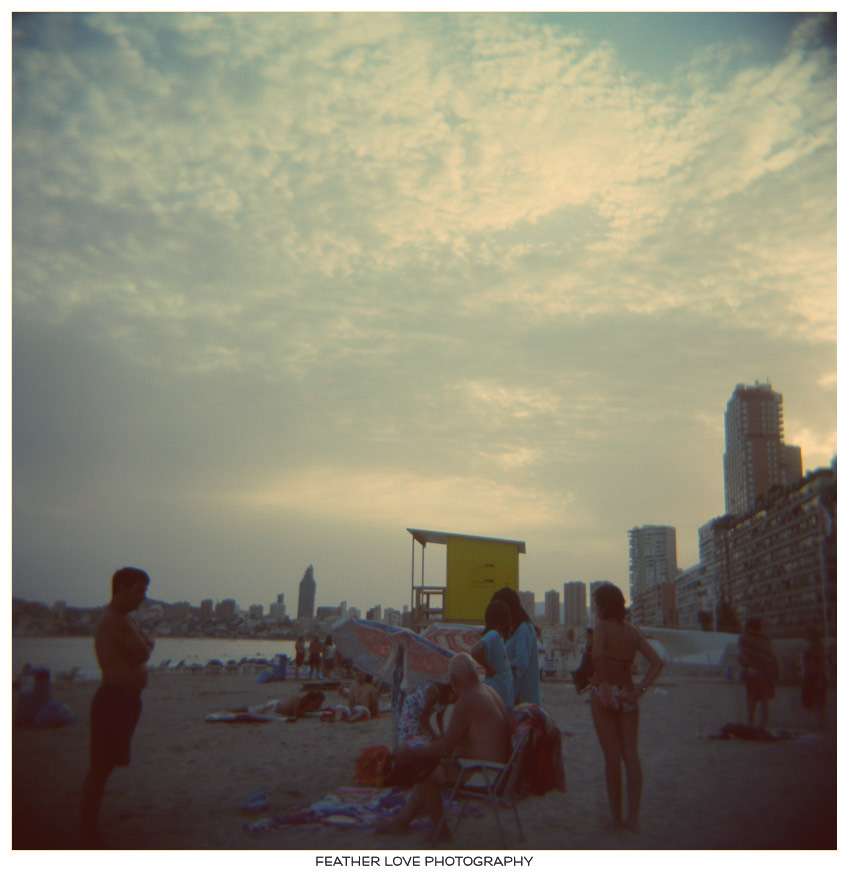 Exactly.


Nap time!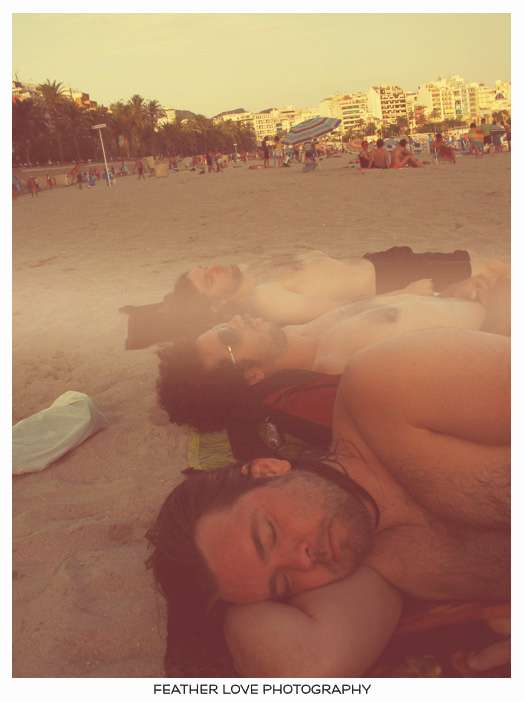 Then we went out dancing the next night at some super-touristy nightclub named "Richard New Look"… (I don't get the name either). But we danced for 5 hours straight, non-stop, we got that club bumping! and somehow during the process, we also managed to turn Brian Ellis into the most famous person in Alicante that night. He didn't even have to play any music, he just WAS. Dave unknowingly entered him into a "striptease" contest. which Brian TOTALLY won amongst a bunch of Calvin Klein-looking boys. He blew the roof off the place. Everyone screamed. Everyone took pictures with him, they even took pictures with us because we were his posse… it's so hard to explain what actually happened that night but I will just say it was one of the best nights of our lives. so much fun. so random. and at the end of it all we walked right out of the club and skinny dipped right into the Mediterranean waters at 5am. I couldn't think of anything better. You must must MUST check out some of what Brian Ellis does when he's not playing with ASTRA. Firstly he recently released one of the best dance albums I have heard in a long time, Yellow Light District- under his project Brian E. Check out the official video for Sinistyle here. Plus he recently co-produced M.I.A and is working on some other VERY interesting (& big) stuff…

This was his break dancing routine to the song "pretty woman" during the strip contest. WINNER!

we had the BEST TIME EVER! Espana! Te Amo! Next time it's Andalucia, where my grandmother's family is from….