Damn that was rough! You guys sent in the best, most original and gorgeous wedding ideas I have ever seen! I am so inspired. But there can be only one couple. And our lucky WINNERS are Emily & Royal who are getting married this July. I will try to summarize why. First of all, this photo.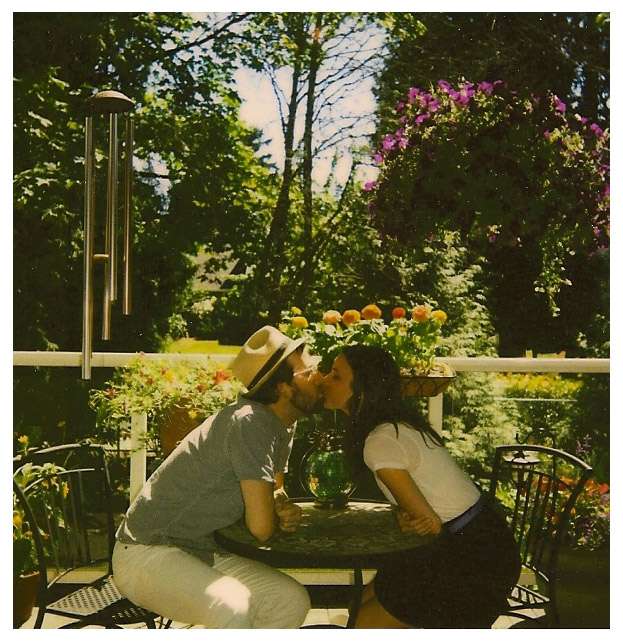 & some more darn good reasons:
– Oregon is one of my favorite places
– I have actually been to this cafe (the photo above) when Stuart and I traveled in Oregon a couple years ago.
– the wedding is on a private property that belongs to a family member (I LOVE weddings at home!)
– it's ultra-boho/ garden theme/ "nature elegance"
– tons of DIY stuff from the Save-The-Dates to the beer (which Royal is brewing himself), to the decorations.
– Mediterranean food (which friends are making)… yum!
– flowers, candles, lights everywhere. dreamy.
– they are making a wedding map for the guests to explore the property because there are tons of little sweet areas; picture: a trail to the creek that is a tunnel through the trees, tables & chairs in the rocks at the shore, floating decorations, (think, tea party!), tree house decorated with flowers and candles & blankets and pillows etc.
– handmade decorations like paper chandeliers, ribbons w/ flowers hanging from the trees, romantic, magical, outdoor elegance…. sold!
– guests make a circle around the couple during their creek-side sunset ceremony, friends playing music.
-last but certainly not least, she compared the intimacy of the wedding to "Fiddler on the Roof"… and I fell in love.
Actually, they had me at "Royal" but whatevs.
Congrats guys, you deserve it.
HONORABLE MENTIONS!!
A couple of amazing honorable mentions, for you guys I would like to offer you a special 10% discount off of my rates if you choose to hire me for your glorious weddings!
Cori & Zach because of these most-awesome Polaroids they took of themselves mid-air, I love you guys. And their GORGEOUS and unique invites and "silent-film" themed wedding which would "put the Great Gatsby to shame" ; ) Also, she is wearing a 1920's style indigo blue satin gown for her wedding dress… love.


And another honorable mention (and 10% discount offer); last but certainly not least Tara & Jorge. Galician Bagpipes, bluegrass singers, the family vineyard's wine, a young lady who fell in love with a Spaniard and their insanely stunning wedding at the oldest hotel in the world (constructed in 1499 – I love how she asked if that counts as "vintage" ; ) in Santiago de Compostela, Spain. I dream of being there. Please hire us to shoot your wedding. No, seriously. Please do. You won't regret it.


I also want to thank everyone for such srsly creative ideas, and for sending pics of your cutie-pie pets, made my day… And mostly, for continuing to help break the mold of traditional weddings so that we can breathe fresh life and new ideas into this industry! And an extra shout-out to those who used my photos in their inspiration boards, thank you!! It means so much to me.
I got entries for such amazing weddings in Colorado, Vermont, Georgia, New York City, Upstate New York,  Northern California, Southern California, Mexico, Oregon coast, Washington, Chicago and tons more! Weddings at home, on an island, at a nature conserve, in farmhouses and barns, near Guatemala, organic, green, vegan weddings, Geranium centerpieces, mini chalk-boards for wedding menus, doggie flower-girls and ring-bearers, & Tango-dancing parents.
I got hippie astronomers, musicians, poets marrying philosophers, teachers, collected vases,  pig-sanctuary honeymoons, tree-logs for vases, Mariachi bands, bonfires & s'mores, equinox weddings, 3-day cabin celebrations & glamping, giant new-york-times crossword puzzles, potted herb favors, gorgeous little weddings in lovely little vintage bakeries (divine!), Ju-Bu ceremonies (jewish-buddhist), contra-dances, people who buy old little farms in Upstate New York & have their wedding there totally rule!
There were no golf courses or uptight hotels, all of these wedding have their heart and soul put into them, they are intimate, loving, extremely original and so real and warm… I wish I could go to all of them!
Thank you everyone again for your wonderful entries, I really enjoyed them all so much & I consider myself extremely lucky to have gotten a little piece of your day and a little piece of your love story. xo