Just got back home. I shot most of my travels on film so waiting to get the images back from the lab and then I'll post them here. In the meantime, here's a summary of the past month.
(Below: self-portrait in Valerio's apartment where we stayed in Turin, Italy)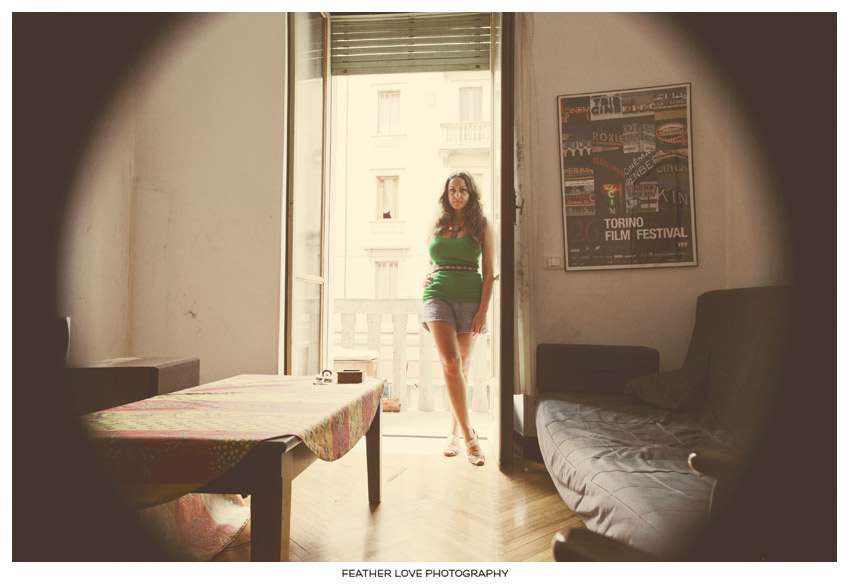 I'm back home, physically, I think, although not quiet in my body yet.
My mind is floating around in the international universe, hanging on to some of the new and greatest memories of my lifetime so far… Lost in fresh, bitter-sweet emotional nostalgia over all the beautiful people I spent time with: old dear friends, and the new cherished friends I have made over the past month of my journeys…
My heart was definitely left in Italy. I'm in love with Italians and every single thing about their beautiful country, how they live, what they care about. Italians do it right.
My soul needs at least a couple of weeks to figure out what it's been through.
My brain is doing it's best to stay awake- filled with millions of tiny disjointed scenes and fragments of this crazy whirlwind trip, all swirled into a jet-lagged haze of a psychedelic dream: Romanian strippers in Torino. Gypsy pickpocket children dressed as clowns. A lazy mime. A satanic sculpture of epic intensity built directly over hell. An obelisk built over the most negative energy point on earth. Eating the official "best pizza in Italy". Drinking illegal blackmarket wine. Pink flashing bunny ears. The "I love you" fan. Gelato. Menton! Mediterranean waters. Hole-in-the-ground toilets. Baby Mila telepathically asking me to be her official Auntie. Drinking wine with new friends while watching Irene's raging flood of a river rise. Photographing a beautiful couple in a Catskills hurricane. "There are 50 000 different words for 'slut' in Italian". Huge French windows that open up to sweet Italian Pasticcerias in the morning. Brioche & Cappuccino. Listening to ASTRA while driving through the Alps. Small, hidden villages. GRAPPA that gets you stoned. Homemade Limoncello. Markets. Antiques. Twerking with UK's finest photographers. Narcolepsy. Busted lens. Elderly Italians dressed to kill! Taxis, planes, busses, trams. The exact location where Nietzsche lost his mind after petting a horse. Epic churches. Watching the sun rise. Canals. Singing French driving songs to an upset baby "Un kilomètre à pied ça use, ça use, Un kilomètre à pied ça use les souliers." Homemade pesto. Beautiful windows & their accompanying clotheslines. Rimbaud. Doodle the 3-legged dog's magical grave garden. The incomparable Lady Jane and her art & soul! Antipasto. Ancient castles. Family saves the day. The locals of Crown Heights, Brooklyn. Iced cappuccino in Williamsburg. Noise. Quiet. Bad smells. Wonderful smells. Teo's plants. Noelle & Brandon's indigo wall. Kat's pink hair. Patrick's purple shirt. My seafoam green designer dress getting destroyed by Balsamic vinegar, coffee and wine all in one meal. PappinNurse/ PappinMom/ Pappinating/ Pappin's first coffee/ Pappin's last night. Lidia's cooking. Teo's cooking. Stuart devouring Pâté. Mila's special "dance". Patrick's humor! Antlers. Fur. Skulls. Smoking fags in London. Hanging out with fags in Italy. Discussing fags in New York. The 70-yr-old haunted busted-spring mattress that we slept on at Patrick's beach house. Seeing a collection of posters for a museum showing of old paintings and realizing all the subjects where loaded on Laudanum or other Opiates "Hey, Grandpa's on the nod, someone take a painting real quick!". Our grand 'last supper' the night before we left… As for the Italian leg of the adventures, my bestie-bro Patrick likes to summarize: "We drank Barolo and Barbera in Piemonte (where it comes from); Ate Pesto in Liguria (the region that invented it), and if that wasn't enough, drank PASTIS in the South of France where Serge Gainsbourg fucked Jane Birkin."
Oh My God.
My eyes have seen ultimate beauty on the Italian and French rivieras.
Italy is perfection. Visually, auditorily, olfactorily and especially gastronomically, I have never been so fulfilled. I thought I had eaten tiramisu before, but I hadn't until I ate it in Italy. I thought I knew what wine tasted like, or what food should taste like, but I didn't… I knew nothing until I ate and drank in Italy. What do I eat and drink now? Anything would be a sad attempt at merely satisfying hunger now that I'm back home. Italy destroyed any chance for me to ever eat an enjoyable meal again, unless, of course, I go back to Italy. Which I will, often. I brought back 5 extra pounds of weight on my body – every ounce was worth it.
Besides learning one ultra-important, survival-dependent phrase in both Italian and French: "un vino bianco per favore/ un vin blanc s'il vous plaît", respectively; I also learned that French people really DO walk around in the streets holding that quintessential French baguette under their arms… I learned a few other things which may be too difficult to remember in my current state of mind.
100 bruises. 1000 mosquito bites. 2 sprained ankles. A fingernail bent all the way back, and having to bend it back into place. Travel-related back pain. Caught in hurricanes and escaping floods. Sadly missing my job in Fiji because of Irene. Losing luggage in London. Losing a diamond from my engagement ring in NY… And a plethora of other assorted little difficulties. My bones and muscles hurt from running around the earth, airports, cities. But my body also feels so warm, remembering every hug and kiss from every beautiful person I met everywhere I went… I have taken a small piece of each person, place, and thing, and brought it back home. I feel different. I feel more.
I realized I was finally home when Stuart and the cat and I all snuggled in our bed last night. Exhausted, I remember sighing "ah, home" before drifting off to sleep. But, ironically, this morning was the first time in a month where I woke up confused as to where I was…
Travel. IS. Home.
Always has been.
I need some time to gather my thoughts, catch up on the massive pile of work that awaits, and ease back into my life, but all I can say right now is THANK YOU: To everyone that crossed my path in the last few weeks… To all those who made my London workshop so amazing- helped organize every detail, shared their hearts and minds with me that day, and after-partied like true Artists…! To everyone who has awaited patiently for me to respond to emails due to my lack of wifi access over the past few weeks… To everyone who spent any time with me in the past month, who took care of me everywhere I went, helped me, fed me, gave me a place to sleep, put up with my jet-lagged-lack-of-sleep existence & babble, and who opened up their hearts and homes, shared their families, their time and their love, shared their wine and their humor, and made the past month of my life one of the greatest & most significant fragments of my 34 years so far- I love you so intensely.
From my brain, heart, spirit, mind, body, soul, and each of my senses; I am the luckiest person on earth to know you. From every corner of myself, my appreciation and love for you runs deep and wide. Thank you.
Sincerely,
Noa