IN MY CONSTANT PURSUIT TO COMPREHEND THE "ARTIST CREATURE", I HAVE BEGUN A SERIES OF CONVERSATIONS AND INTERVIEWS WITH ARTISTS WHO I PERSONALLY HAND-PICK FOR THIS NEW SECTION OF MY BLOG. THESE ARE CREATIVE PEOPLE THAT I AM INTRIGUED BY AND WANT TO LEARN MORE FROM. THE INTERVIEWS WILL BE SHARED HERE UNDER "ARTIST INTERVIEWS" AND WILL SOMETIMES BE IN WRITTEN FORMAT, SOMETIMES VIDEO. THE PURPOSE OF THESE INTERVIEWS IS TO LEARN MORE ABOUT THE ARTIST'S PROCESS, HOW THEY FUNCTION, WHAT INSPIRES THEM, HOW THEY WORK, HOW THEIR WORK AFFECTS THEIR LIVES AND VICE VERSA, ETC. MY FASCINATION WITH THIS SUBJECT IS EXPLORED IN MY ARTIST WORKSHOPS, AND THIS IS AN EXTENSION OF THAT RESEARCH. WE CAN BE TAUGHT THE TOOLS, METHODS, HISTORY & PRACTICES OF ALL ART FORMS, BUT I HAVE FOUND THAT LEARNING HOW TO BE AN ARTIST AND WHAT THAT MEANS, IS RARELY DISCUSSED –  BUT, IN EDUCATING OURSELVES AND LEARNING FROM OTHERS ABOUT THE SPIRIT OF THE CREATIVE MIND, THE CHOICES ARTISTS MAKE, WHAT IT TAKES, AND WHAT TYPE OF PEOPLE WE ARE IS ESSENTIAL IN THE DESCOVERY OF OUR OWN PROCESS AND IN LEARNING TO WORK WITH IT. THESE INTERVIEWS WILL ATTEMPT TO DELVE INTO THE TRUTH; I WILL BE INTERESTED IN HONEST AND REVEALING QUESTIONS, ANSWERS AND CONVERSATIONS ABOUT THE WORK & LIFE OF THE INTERVIEWEES SO THAT WE CAN FURTHER TAP INTO THE TRUE UNIVERSAL MIND FROM WHICH ALL ARTISTS WORK. MY INTENTION BEHIND THESE EXPLORATIONS IS TO SERVE 3 PURPOSES: 1) FOR MYSELF TO CONTINUE TO LEARN AND GROW FROM OTHERS FOR THE DEVELOPMENT OF MY OWN WORK 2) TO EXTEND MY KNOWLEDGE OUT BY TEACHING AND PRESENTING THIS INFORMATION TO OTHER ARTISTS AS A CONTINUATION OF THE WORK I DO AT MY WORKSHOPS. 3) TO CREATE A PLATFORM FOR THESE ARTIST TO FEATURE AND PRESENT THEIR WORK. THESE CONVERSATIONS ARE FREE TO ANY PERSON INTERESTED IN THIS TYPE OF SUBJECT MATTER. EVERYONE IS WELCOME.
—————————————————————————————————————————————————————-
Episode 1: Sarah Carter
I AM MORE THAN THRILLED TO PRESENT MY FIRST INTERVIEW WITH MY DEAR FRIEND ACTRESS/MUSICIAN SARAH CARTER. Sarah was in Europe promoting her show Falling Skies when I asked her to do the interview, so we decided on written format. You can see my shoot with Sarah at her house here. She will also be modelling for us at my next workshop in San Diego and will be offering up some q & a time as well!
SARAH'S INFO:
IMDB / LIFE AS ART / Facebook / Twitter / Itunes (Solo Album) Sarah Carter – Before Three and SanguinDrake – Pretty Tricks / SanguinDrake Video Single Brand New Truth /SanguinDrake Blog /YouTube: Before Three and SanguinDrake
(Photos above taken on our trip to Santa Fe Jan 2011.)
1. How would you define your relationship with your art/s? What do you feel you have learned from it about yourself/people/life?
My relationship to life is becoming the same as my relationship to art. I believe creation is our purpose. I believe art is healing, and I believe life is always on our side even, perhaps especially, when it presents a challenge. The purpose of life for me has come to be an authentic expression of my truth, the truth as I see it, which is usually some kind of a question or dilemma. Truth is a process. Life is a process. Art is a process. Ultimately, we each have an individual journey, with an individual spirit, individual desires, impulses, and needs to grow. Art, for me, is the result of a choice to attempt to master my life's expression through absorbing and connecting with others and information who / which inspires me, with an intention to create new life … touching other people's hearts and hoping they'll be inspired to do the same.
2. Artists often need to sacrifice. How do you feel you have needed to sacrifice on a personal level in order to truly give to your work?
Ha. I sacrifice everything and nothing at all.  My friendships aren't conventional. The friends and family I am closest to respect that my work will always be a priority, so that circle is smaller than it might be if I spent more time nurturing a lot of relationships. I love people, so I sometimes wish I had more time for them. Sleep. Sleep is often sacrificed in this line of work. Sanity. Structure, I guess.
3. What's your process before you perform (music/acting)- do you need time alone? Do you practice incessantly? Do you prefer to be around people, or relax, get a massage, sing, stay in character for a while?
It's always different, but dancing wildly is usually a part of my process no matter what I'm preparing for.
4. Do you feel like we need to take risks in art? Why?
Of course! Nothing valuable is without risk.  We're in the business of birthing what's never been. We have no idea what will happen in the process. What we'll learn, what we'll lose, and what it will bring.
5. Who would be your ideal character to play, fictitious / real, living / dead, and why?
Oh man. I hate that question. The answer changes every moment. In this moment, Alice in Wonderland, set in the mundane aspects of my life, intercut with tripped out dream sequences. Hey, that's good.
6. As a professional artist- what advice would you give to artists who want to make a living solely on their art?
Just do it. Do it well. Study. Know yourself. Be honest with yourself.  Don't try to figure it out. Never give up.  Life employs us when we're ready. Be patient.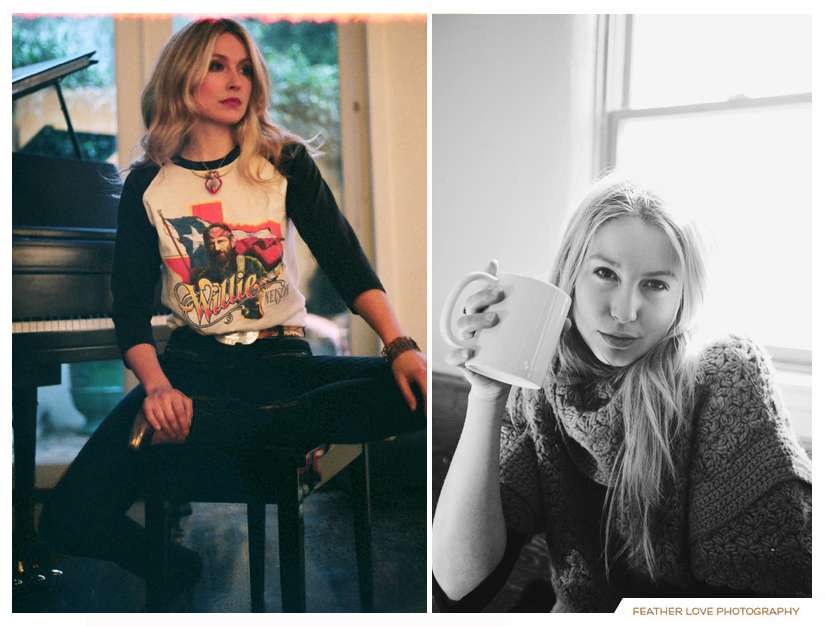 (Above left: 35mm film I shot at Sarah's home from this shoot Dec 2010 / Right: On our trip to Santa Fe Jan 2011)
7. What is the importance of "truth" in art?
What's the point of art if it's not true? I say that with the assumption we all agree truth is relative, truth is purity, truth is individual, truth is love, truth is subject to change, but yeah, valuable art captures the truth of a moment and can make it eternal without concern for how that truth may evolve.
8. I find that lack of confidence & self-doubt are common denominators for the artist- How do you deal with it?
A large part of life as an artist is living with no idea what the hell is going on, and being haunted by questions like why do I care so much, why do they care so much, what does it all mean, why am I here, what's my purpose, why did I spend every penny on my last project that nobody seems to give a rats ass about, what am I going to eat tonight, why did I take that money to do something that makes me feel like a fucking hooker, why can't I just sit and watch television like a normal person, why do I freak out all the time, why can't I sleep at night, why does everyone love me so much, why does everyone hate me so much, why does my mom worry about me, why am I calling my parents for money when I've already earned over a million, why do I want so much more from life, am I worthy… it's a trip. Having said that, great artists have more confidence than most human beings if they have found their center and are unwilling to compromise it. It seems.
9. Why did you choose acting? Why did you choose music?
It wasn't as conscious when I chose acting as when I chose music. Acting teaches me a lot about life. I'm good at it. It comes easily. I love letting stories run through my being and expanding my own life's wisdom as a result. Acting is a 'no brainer' for me. Music is a passion. It's far more intimate. It's more dangerous for me. It's exciting. I'm more inspired by music at the moment than any other form of expression, so I'm doing it.
10. I attended Larry Moss' Actors Masterclass workshop with you, thanks to your recommendation and my name-dropping abilities ; ) You have worked with Larry extensively and I find him to be one of the most inspiring people I have ever met. What have you gained from working with him and learning from him? Why is he such an inspiration to you? And how do you feel his work speaks to all artists?
Larry inspires deep work. He demands a keen understanding of the material being performed coupled with an expectation that you take responsibility for your limitations as an artist / human being. He encourages his students to seek therapy so that they have full access to their instrument's emotional triggers and awareness of their neuroses to better inform their process.  He calls you on your fears, your laziness, and pretty much any bullshit keeping you from doing your best work.  It can be tough to swallow his harsh criticism, but when you realize he's fighting for you, you can't help but feel enormous gratitude for his plight to create strong actors who are capable of executing the best material. I don't think there's anyone alive out there who is a better acting coach. His book 'Intent To Live' is like a bible.
Click below to watch Sarah's acting reel.
11. You also have a background in dance, musical theater, and debate. Do you find it difficult to choose which art you want to focus on? Do you miss one form of art when you have to dedicate yourself entirely to another?
I'm always wondering what the hell I'm doing with my life and if I've made the right choices. Opportunity / demand is usually the deciding factor … that's why my journey with music is so liberating, it started inside of me, it's not the answer to an outside invitation like acting's always been. I'm grateful to be responding to callings inside and out, but, yeah, focus can be a challenge for me. I try to balance my work so I don't fall too out of touch with one project while I'm concentrating on another.
12. Were you given artistic freedom as a child and how did that affect you?
I was given artistic freedom to an extent, but I did always feel I wasn't good enough to just be and do whatever I was inspired to create time for. Creativity always seemed to be for the purposes of some end. I was always a successful dancer, singer, musician, writer, speaker, teacher, student, producer, but growing up I didn't give myself much time to just be without agenda, which is probably why my path as a professional artist started with acting. As an actor the map is almost always laid out on the page for you to follow, and there's a guaranteed pay check for the work you agree to do, but the product didn't come from you entirely and is ultimately not yours to claim, which is not as satisfying, but certainly safer. Now that I'm an adult, my desire to create purely is what turns me on and it's causing all kinds of turmoil in my film and acting career, not to mention my belly. Just this morning I turned down the opportunity to play 'Penny' in the remake of Dirty Dancing because I wasn't feeling it. That's a big paycheck and a lot of opening doors I'm not walking through … but I have to trust the right door is opening as a result. The door that won't be so mysterious. I'm looking to live the life that's just for me. Art has become a vehicle for that, but for most of my life art was the crazy train. Long answer, but there it is.
13. When performing live music- do you feel like you need to get into character? Or do you feel like you are just yourself?
Neither feel like getting into character, so much as opening up to what wants to come through me. Playing live music is about letting the song run through me, playing a character is letting another being run through me, and both require a strong connection to myself as a foundation. In both cases, I feel more myself than ever. My body is an instrument. I need to know it to play it.
SanguinDrake video single Brand New Truth
Thank you Sarah! For those of you attending my next workshop in San Diego, Sarah will be modelling for our shoot and offering up some q & a time with us too! Learn more here.