**UPDATE!** we just got a DOUBLE feature on Style Me Pretty!! Woo hoo! To see even MORE pics on their site, check out both features for this wedding. Part 1 is here, and Part 2 is here. Thank you Erin for the most awesome feature ever!
Remember our photo from Kestrin Pantera & Jonathan Grubb's wedding that made it to the New York Times on April 11th (online April 9th)? Well I finally got back from Europe (stuck in Amsterdam due to volcano- not the worst thing that could happen ; ) and sat down and edited like crazy, I couldn't wait to blog this! This was honestly the most amazing wedding/ event I have ever been to. Moe & I spent 4 days in Carmel & San Francisco for this 2-day gig & we shot the hell out of it… everything about it was just mind-blowing. Tons of pics and all the info you will need to know are below.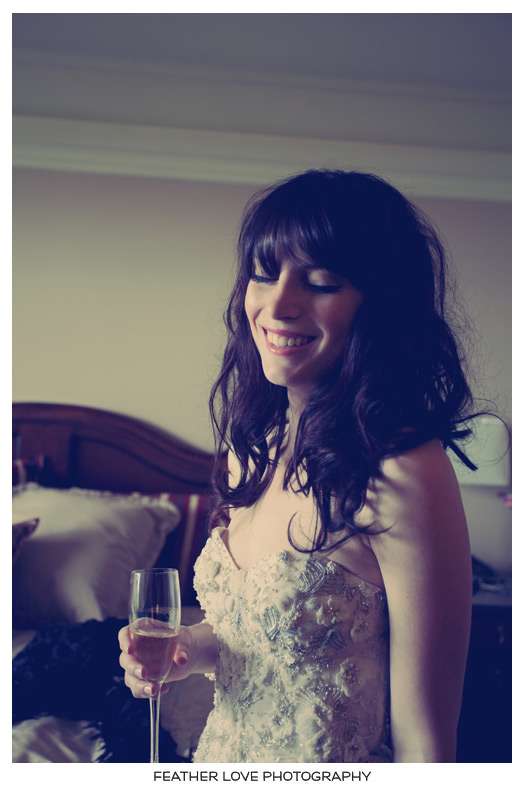 Firstly, the stunning bride is an actress, musician & event producer. She appears regularly in commercials, tv shows & films and will be starring in two feature films currently in production "Bonjour Nostradamus" & "The Golden Age"…  Kestrin also plays cello & drums in indie rock band his Orchestra (great stuff!) & has toured locally & internationally with a number of bands. She produces the RVIP Lounge, an RV-based karaoke lounge that provides free late night drunken transportation at internet conferences & film festivals. You can check out her web site here:  http://www.kestrin.com/
Handsome groom Jonathan co-founded web startups Get Satisfaction and Rubyred Labs. He designed many of the core mobile applications for Yahoo and Vodafone, and probably worked on the phone that is in your pocket right now. He is currently the Principal Product Manager at Lookout Mobile Security, a startup working to keep mobile phones safe from viruses, hackers, and thieves. He co-create and drives the RVIP Lounge.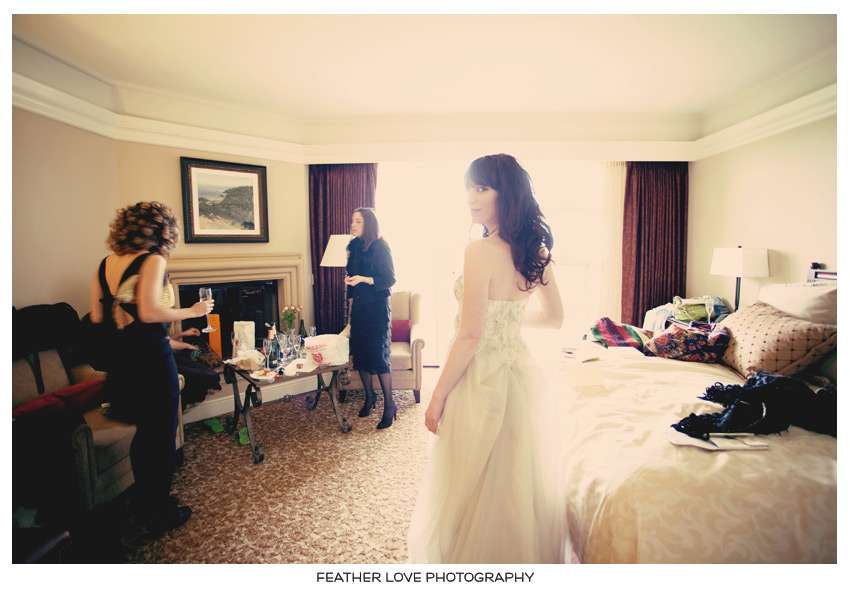 Day 1 started of at The Inn at Spanish Bay in Pebble Beach. Dress number one of three: Kestrin's wedding gown was by Monique Lhullier. It is based on Monique's "Poetry" dress, and Kestrin requested a change from the original silk tulle trumpet shaped skirt into an A-line with a bustled train. The designers worked with Kestrin to get the exact shape she wanted, accentuating her waistline and de-emphasizing her hips. Before and after the ceremony she added a vintage velvet pashmina for warmth. Kestrin was absolutely STUNNING!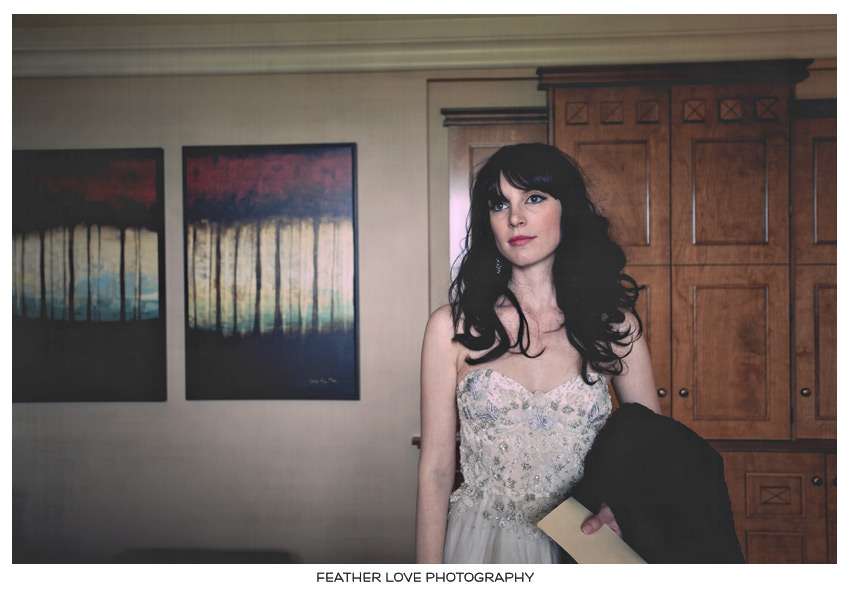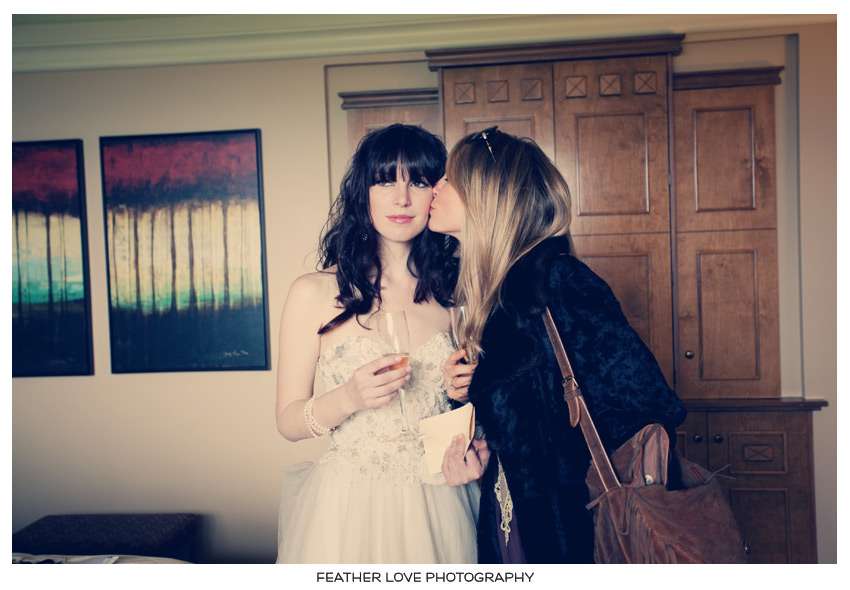 Kestrin with one of her best friends, the fabulous artist / actress / musician Sarah Carter. You may recognize her from TV shows such as Shark or Dirty Sexy Money, or a plethora of other work. But you MUST also listen to her very pretty music on her very pretty web site here…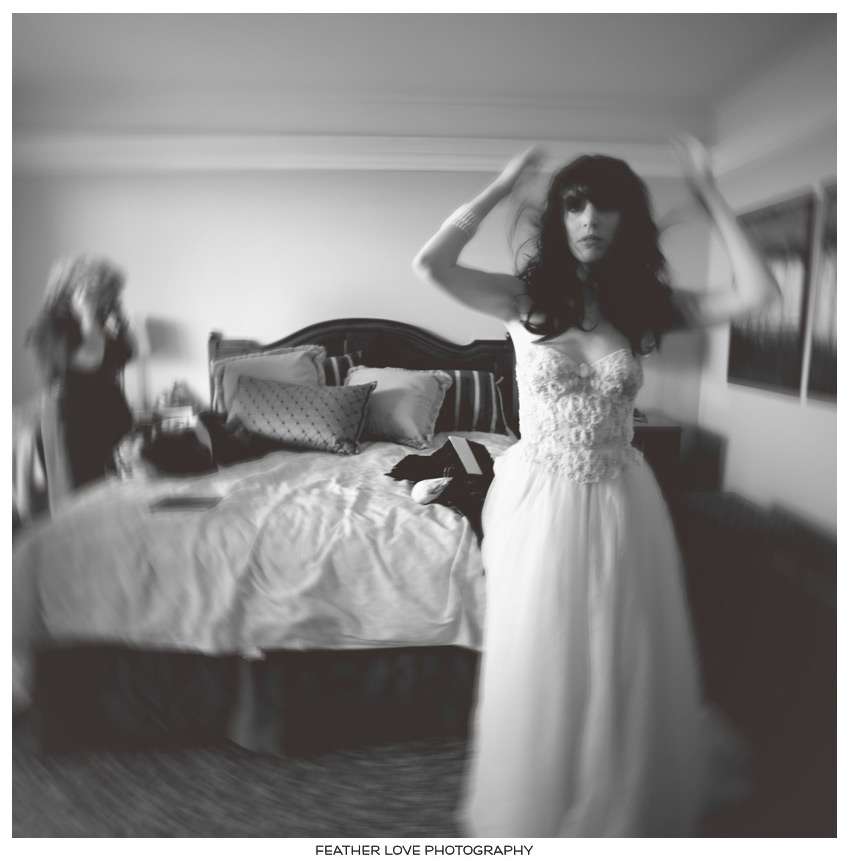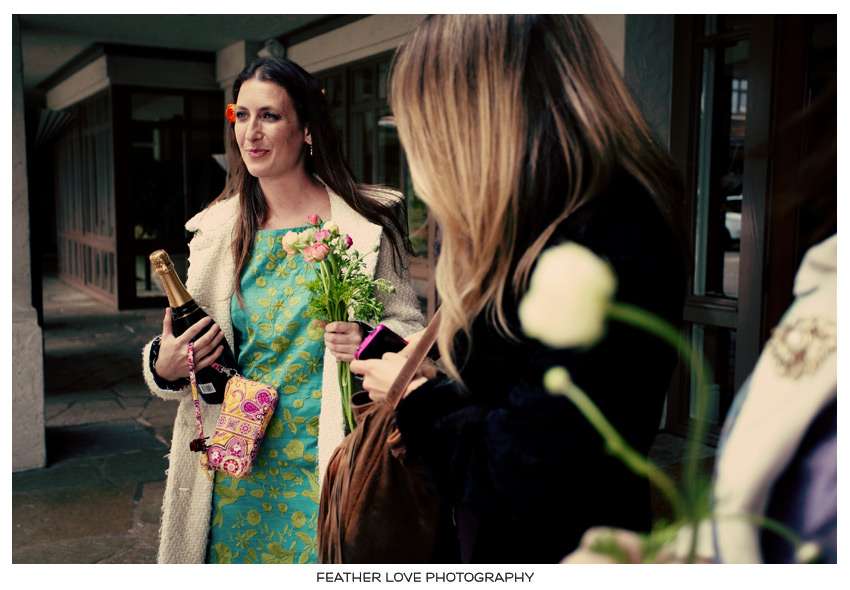 Outside of the hotel waiting for our limo ride, the most amazing thing happened: Kestrin is a MAJOR star wars fan, in fact you can read all about how Kestrin & Jonathan met at Burning Man where she was wearing one of her "15 hand-made Jedi costumes and wielding a glowing Luke Skywalker replica light saber" in the NYT article, its awesome.  So at this exact moment as we were getting into the limo- who should walk by but George Lucas himself! He was a guest at the hotel. Erin Schelcher (K & J's friend, ceremony officiant, stylist & problem solver) said of this moment: "His silver hair and beard flew past like a flock of doves released in Kestrin's honor. George was blessing the union, not with his words, but with his mere presence, and with it flowed the blessings of Han, Lea, Luke, and the entire Rebel Alliance." Oh man, do I love these people. I was surrounded by intelligent, witty, cultured, creative & hilarious artists for 2 days straight! The scenic limo ride.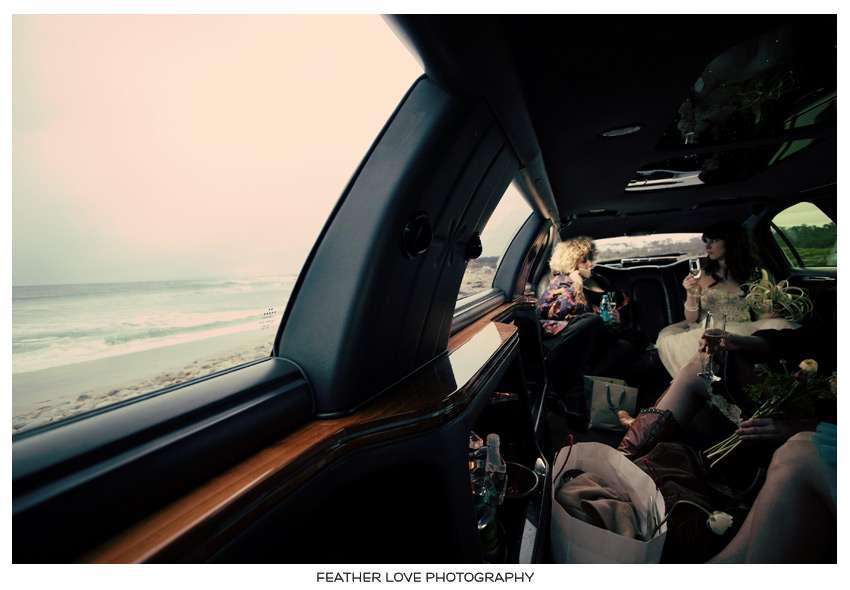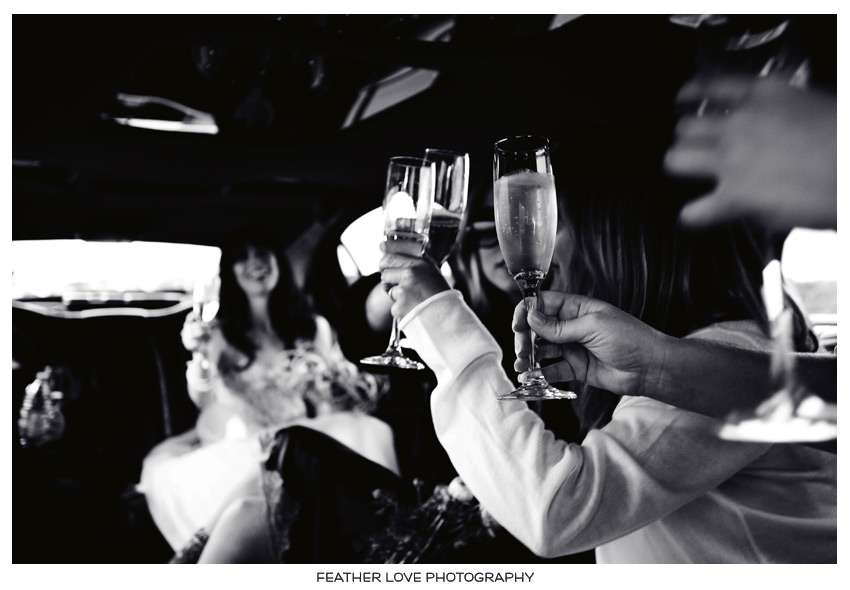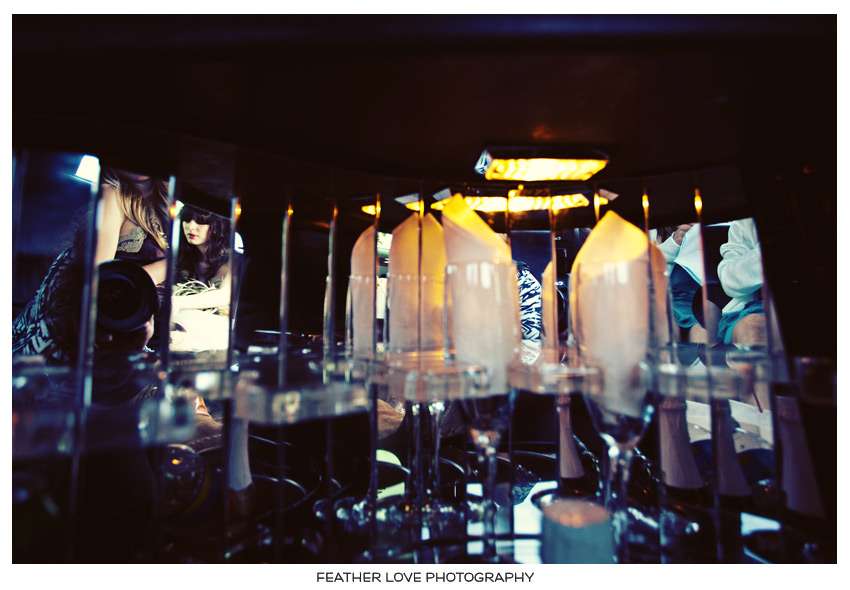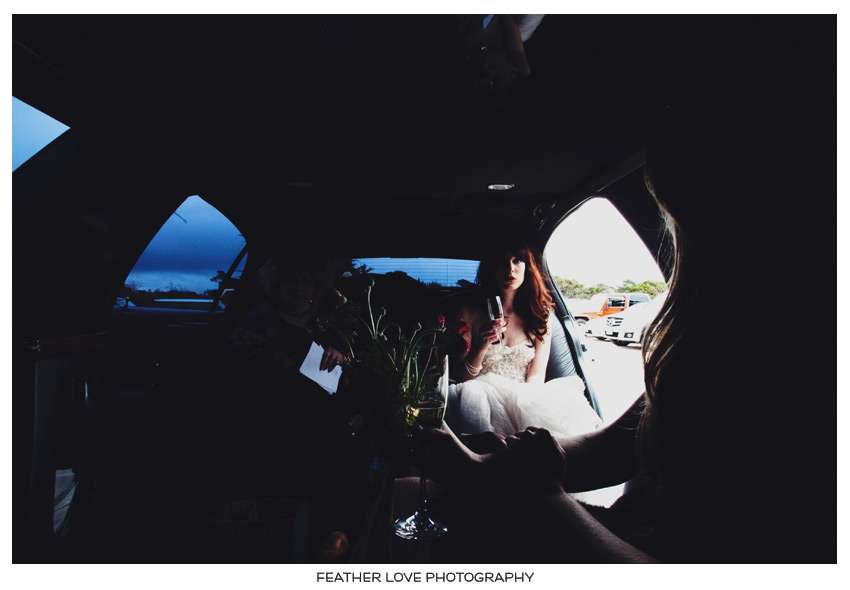 Above, one of my faves…


Jonathan wore a black slim fitting Dolce & Gabbana suit, a white Burberry shirt, a not-too-shiny silver tie with ostrich-leather texture,  and black oxford shoes by Prada. All are from Barney's in Beverley Hills, CA. (Jonathan: "If you live in Los Angeles and you're going to get a suit at a department store you might as well go over to Beverley Hills. Sure it's douchey, but the prices are the same, but the service is way better and they valet your car.") … That's Jonathan's dad below, with the ZZ Top beard and the mad style.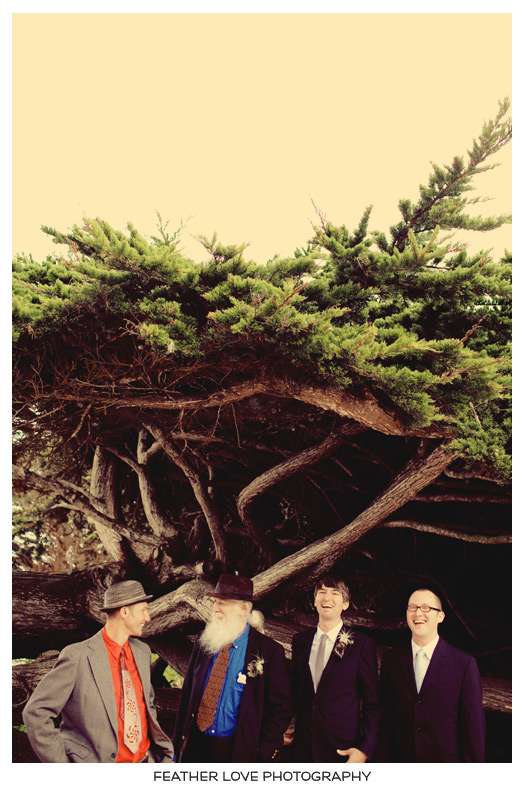 We picked up Kestrin's parents and I honestly couldn't stop laughing… her mom was so flippin hilarious! Kestrin's dad is nicknamed "Doctor Commander Pantera" on account of his dual role both as a neurologist & commander in the navy. I heard everyone calling him that all weekend & loved it. Doctor Commander!


So this is how I like to imagine it's going look like when I die and go to heaven. It's like they got married at The Shire… This was Carmel River State Beach, the location for the family ceremony. Kestrin's original wedding vision included 10 guests gathering in front of a particular rock on the beach near her Pebble Beach boarding school. When Jonathan pointed out that his immediate family included more than 20 people they agreed to expand to the parks-department-limit of 50.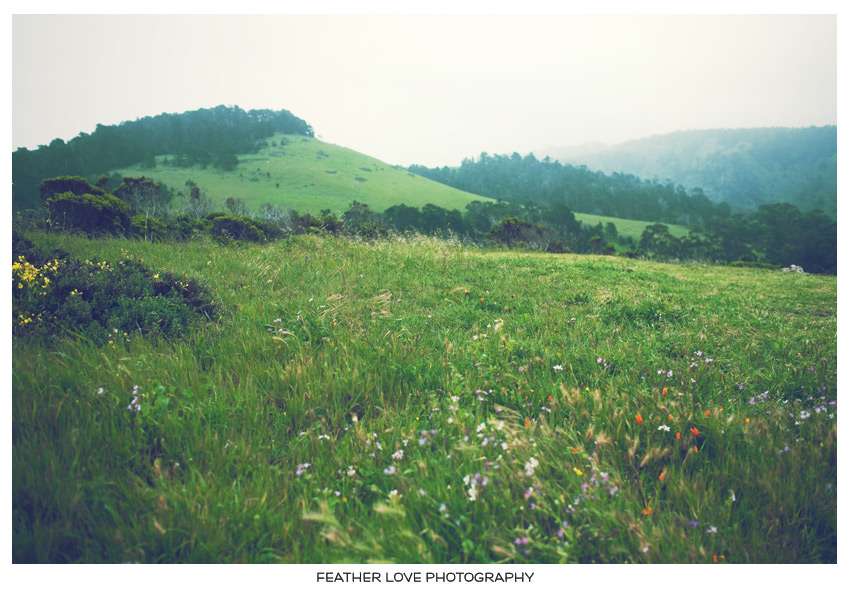 WTF? how beautiful is this? Moe and I took the 2.5 hour drive from SF and it was ALL scenic…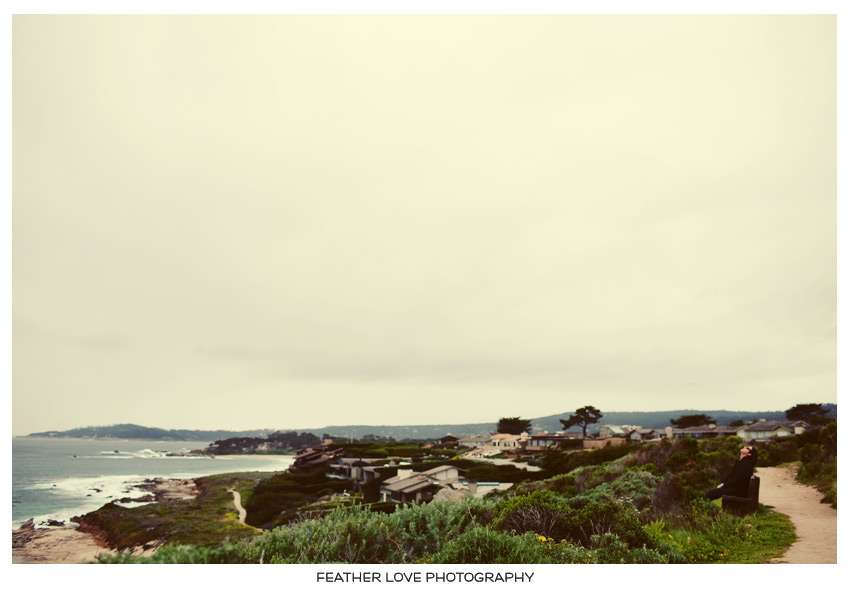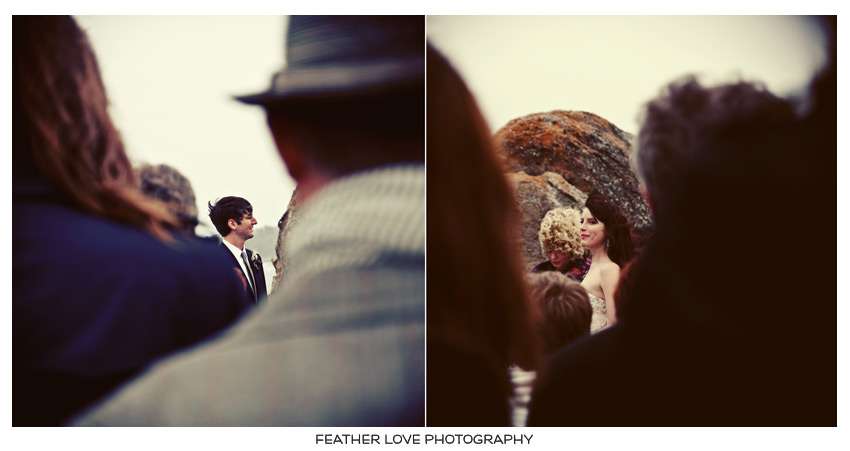 The bouquet and corsages were constructed from Tillandsia air plants by Susie Nadler at Flora Grubb Gardens. Their dog Batgirl acted as ring bearer, wearing a Tillandsia and moss decorated harness. She was a real good sport in the limo rides as well.



There was a fresh cold wind that just added so much more intensity to the entire thing. Plus Paul Cartwright, friend & Kestrin's band mate in his Orchestra played the most beautiful cover of Do You Realize (Flaming Lips) and everyone sang along. The ceremony was repeated on day 2 for all their friends… more of that further down.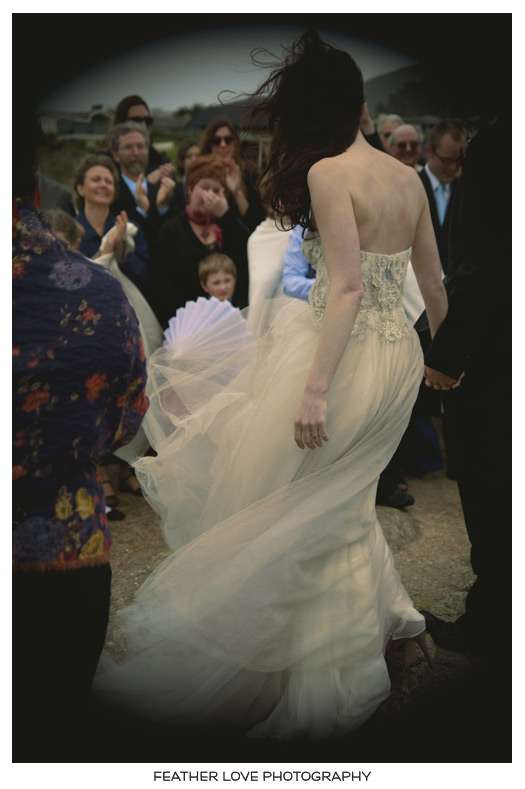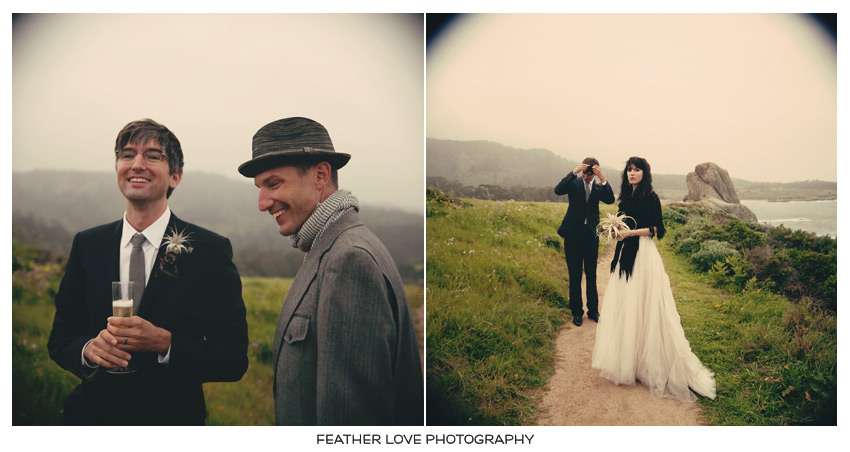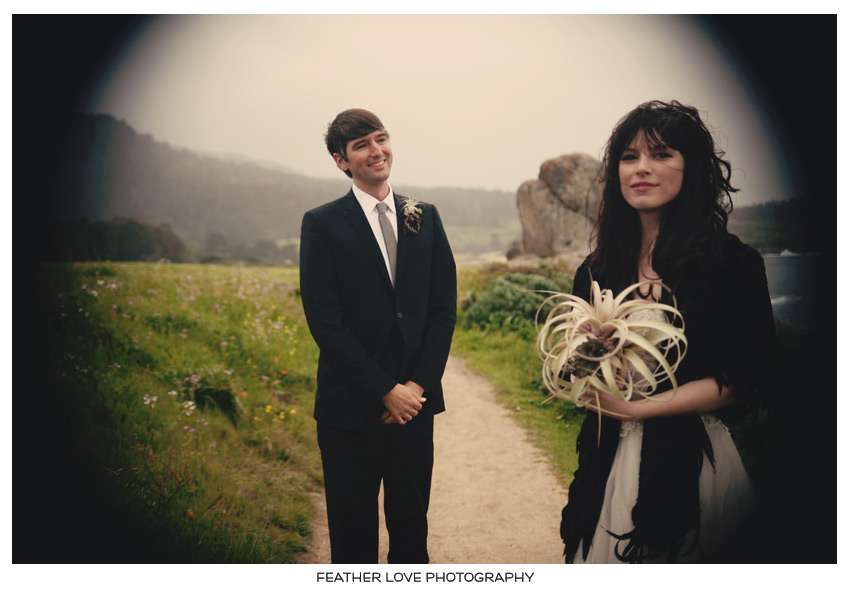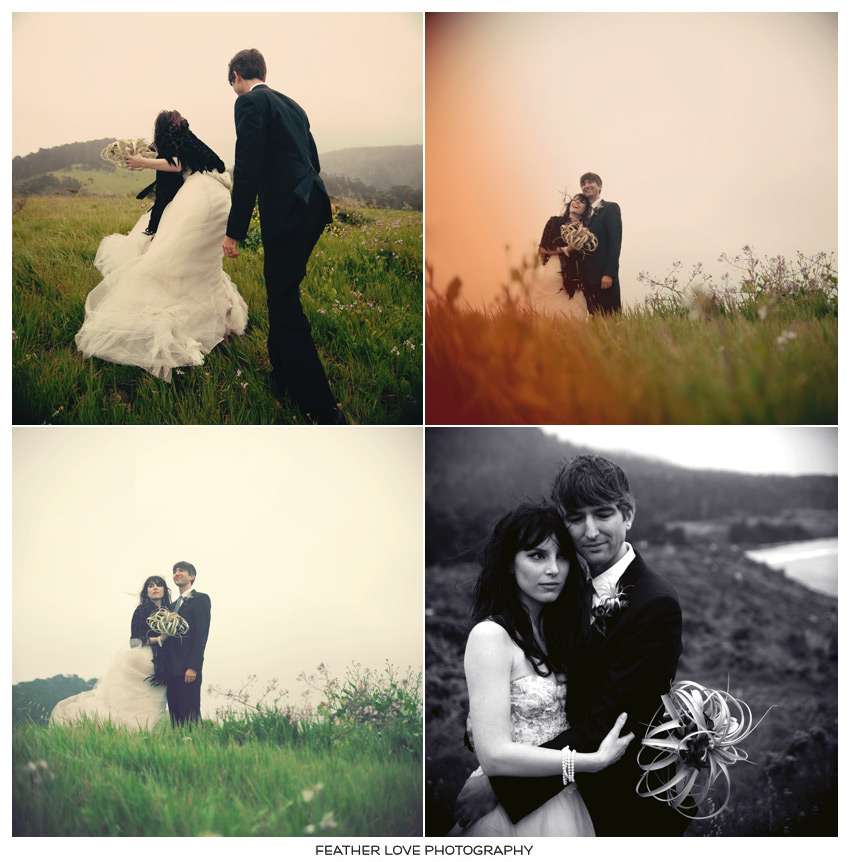 It was SO gorgeous out there…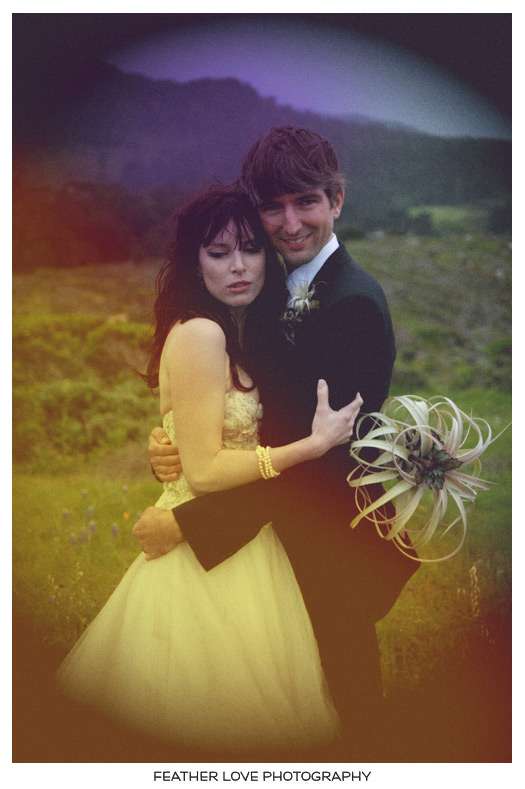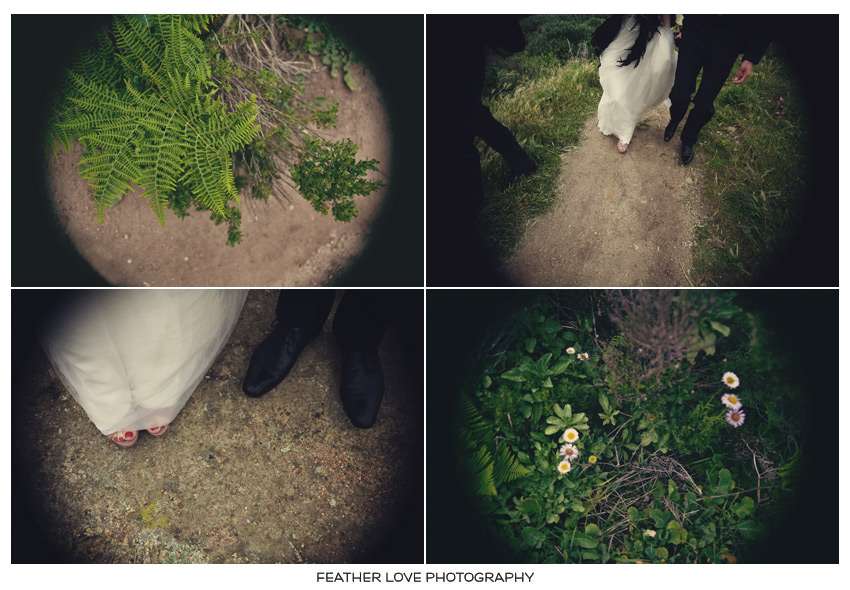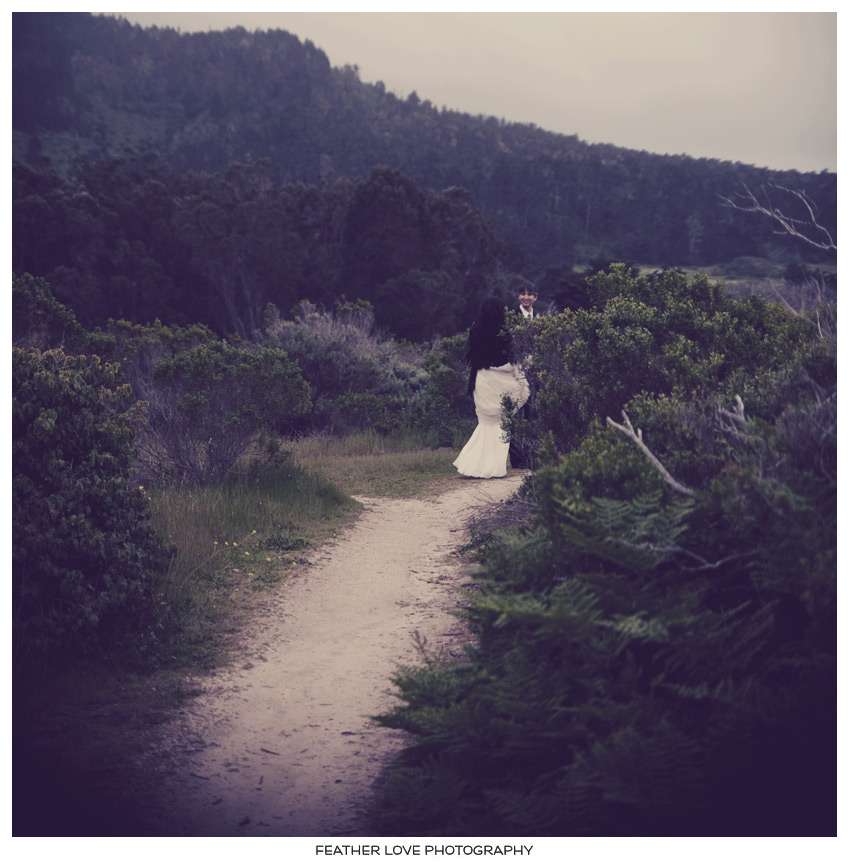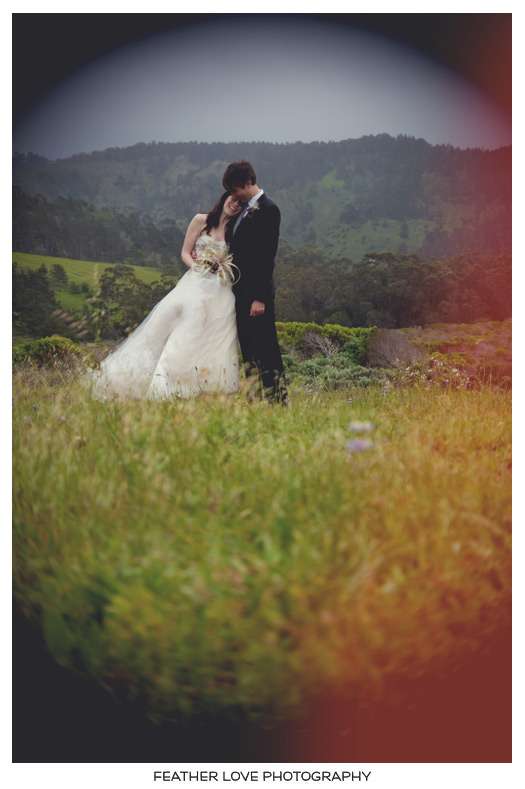 The bench where Jonathan proposed.


Their idea of a post wedding picnic did not sit well with Kestrin's mother Jan, who wasn't about to "fly her family all the way out here from North Carolina and give them some god damn box lunch," so they upgraded to a small banquet venue for a post-ceremony dinner. The area is filled with ideal venues, but none can match the stark beauty of the rocky beach and restless waters at the Monterey Peninsula Country Club Beach House.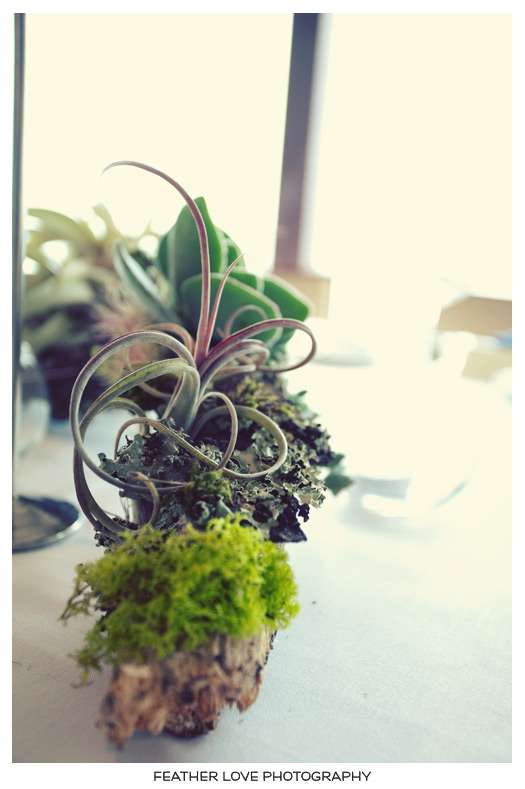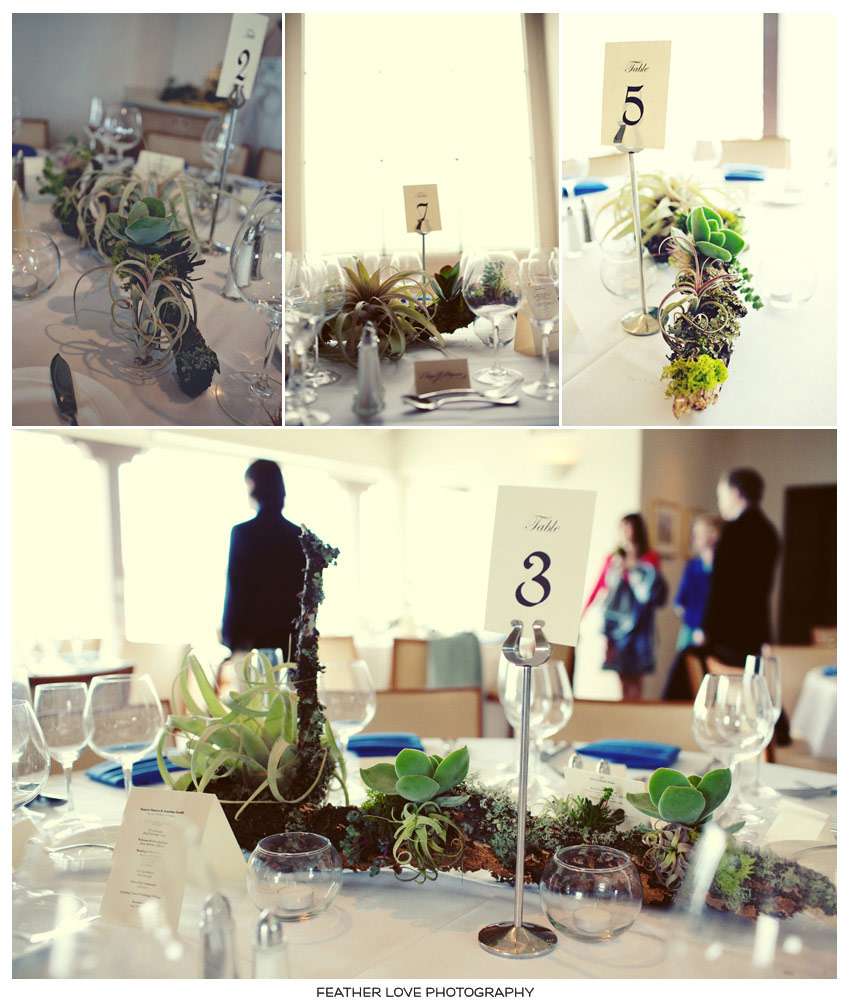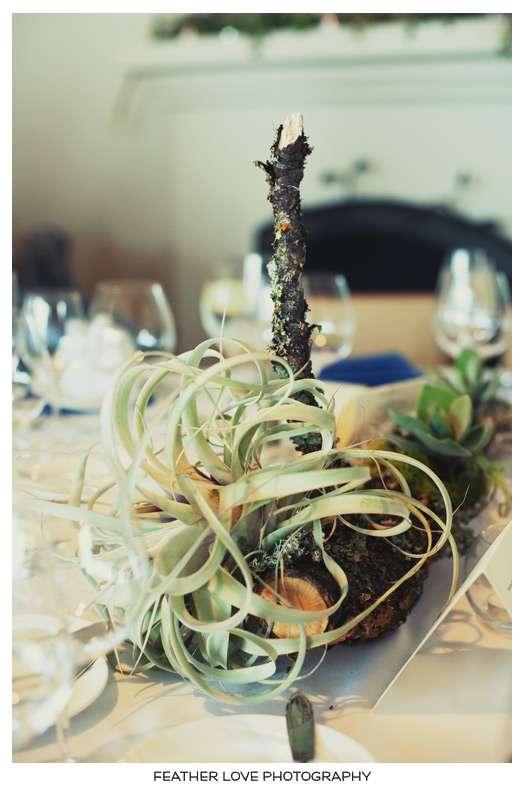 All the gorgeous centerpieces, bouquets, corsages, cake decor etc were created by Susie Nadler of Flora Grubb. (Susie also writes for Apartment Therapy)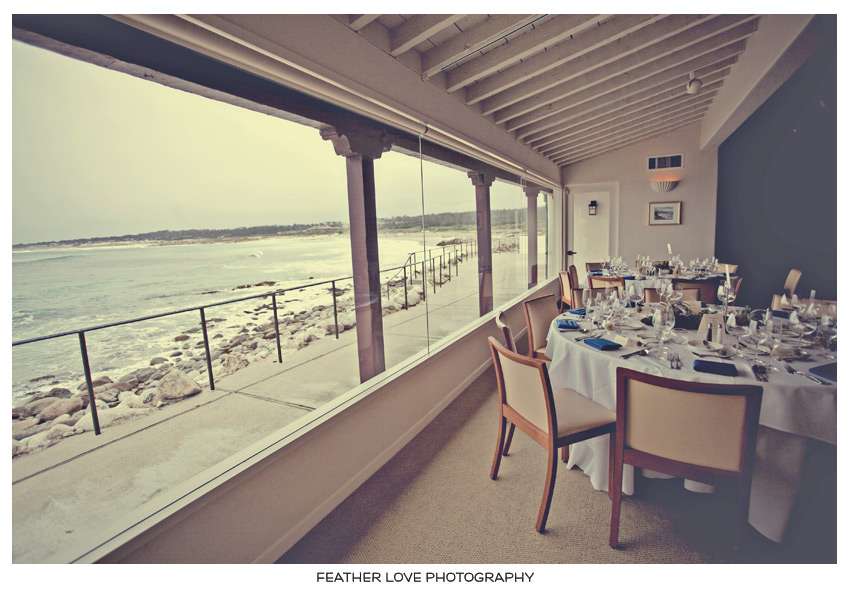 Stunning view out onto the water, above. Pretty windows, below.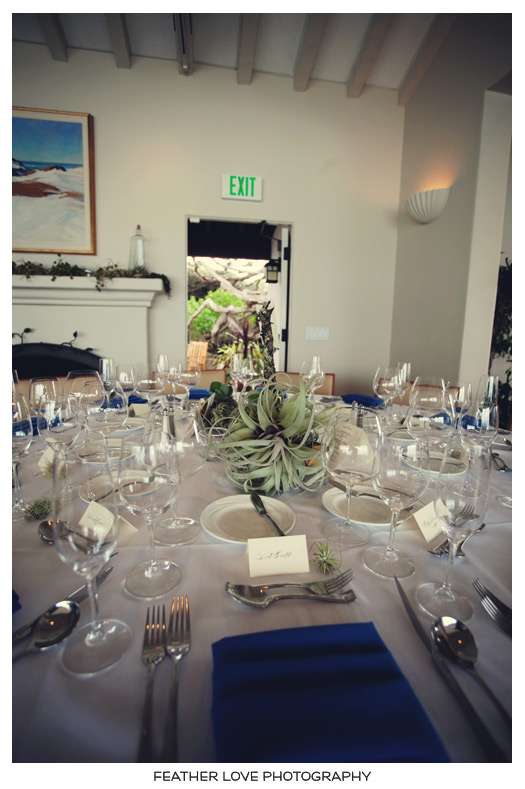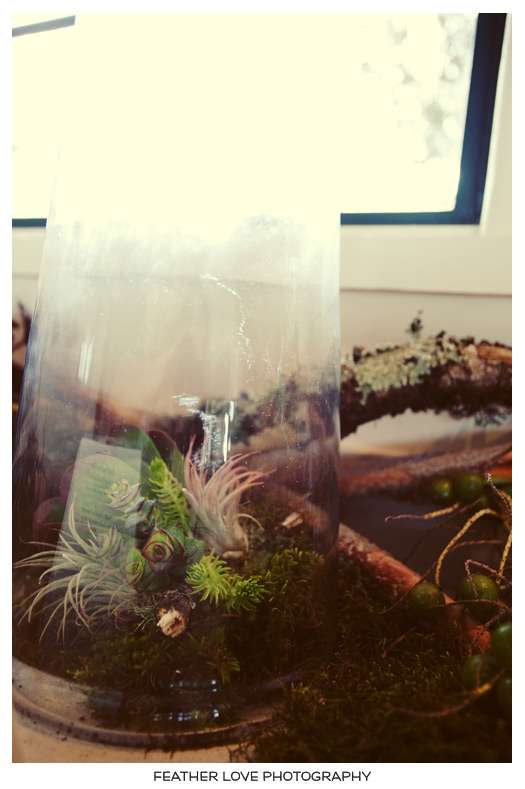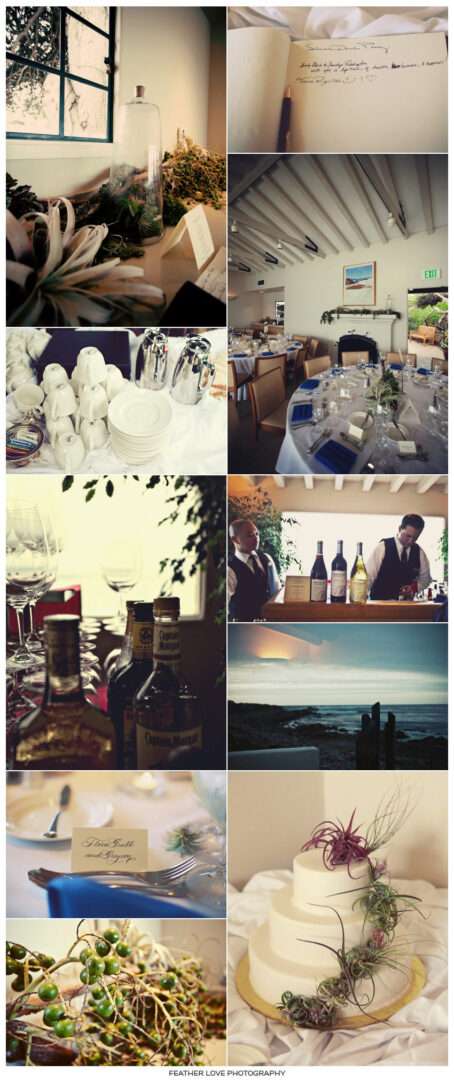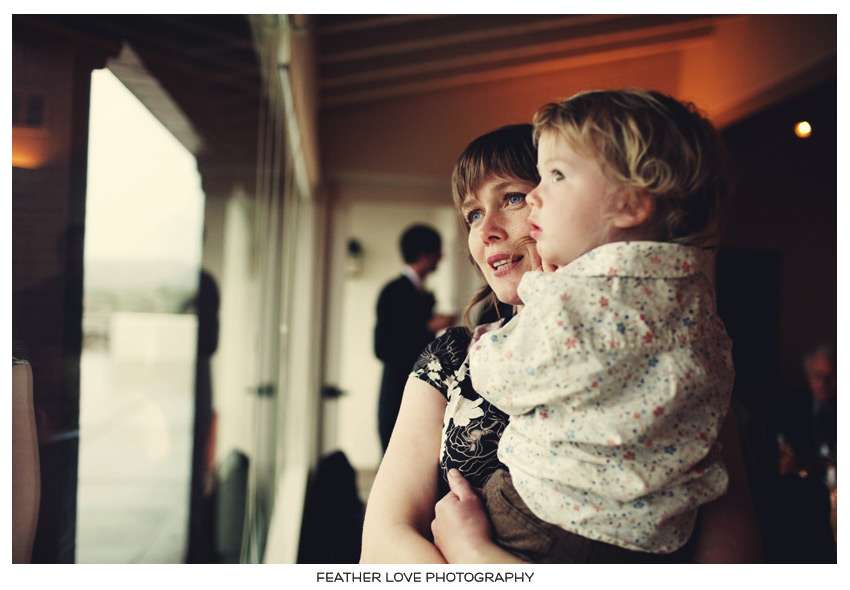 Right above is the beauty that is Flora Grubb, the groom's sister and genius behind Flora Grubb Gardens… with her son Grayson.

Get a load of dress number two!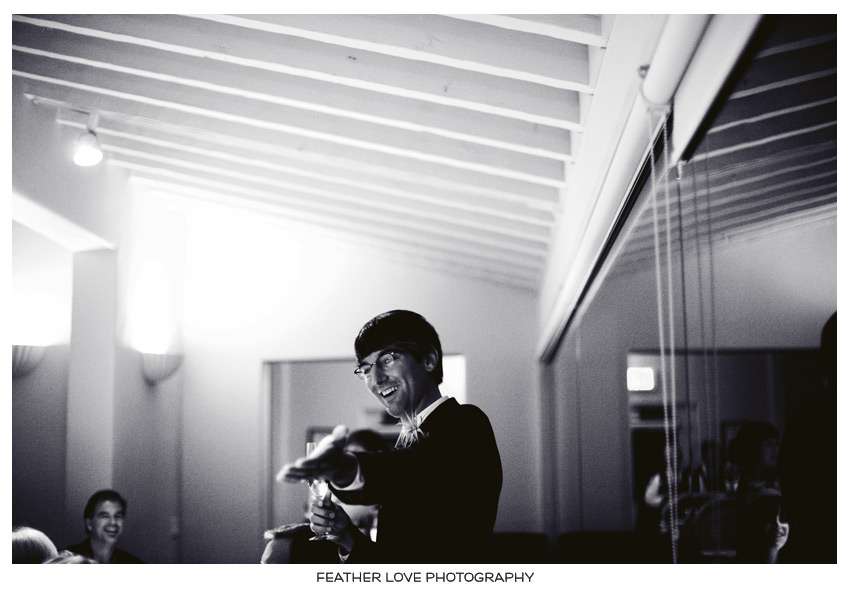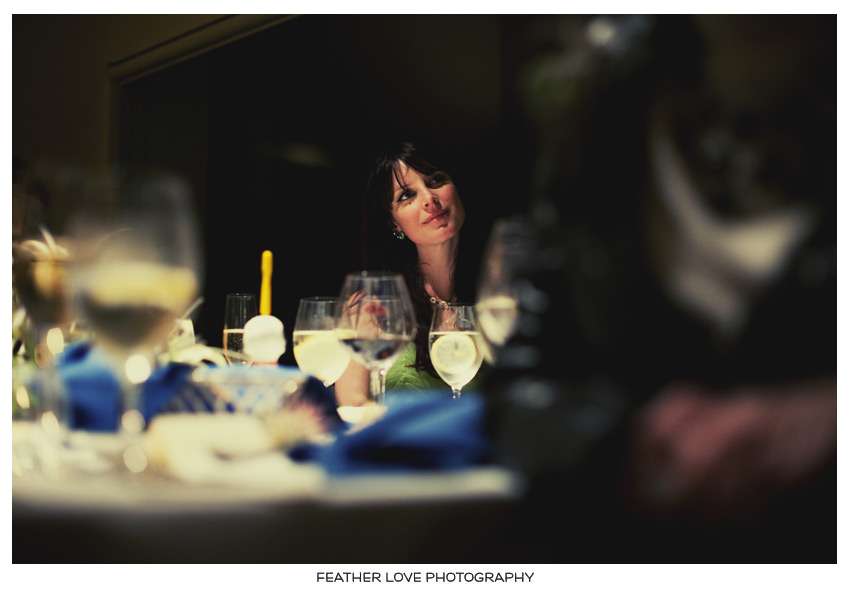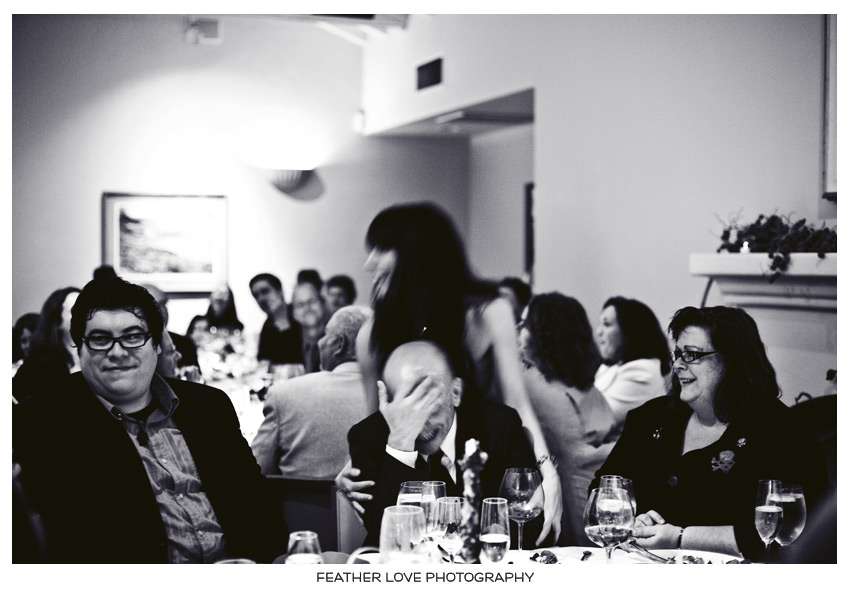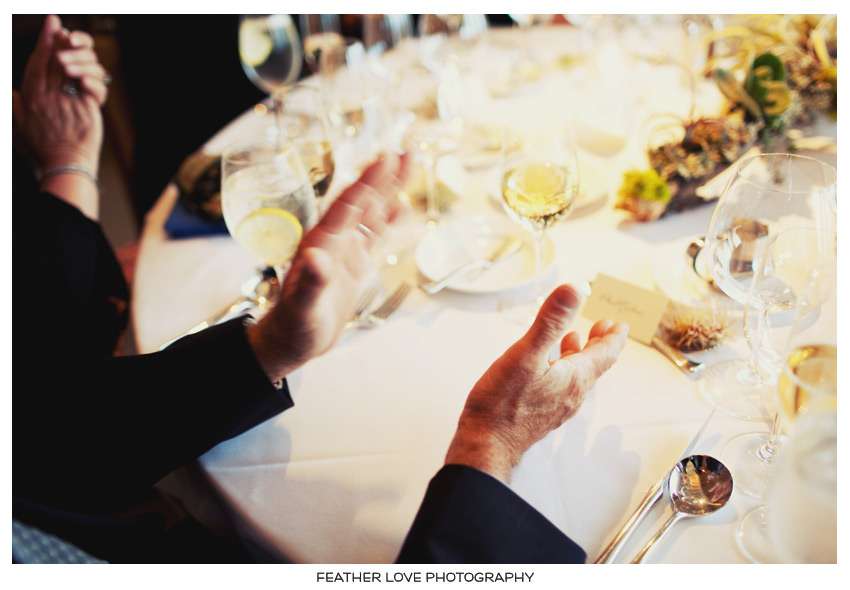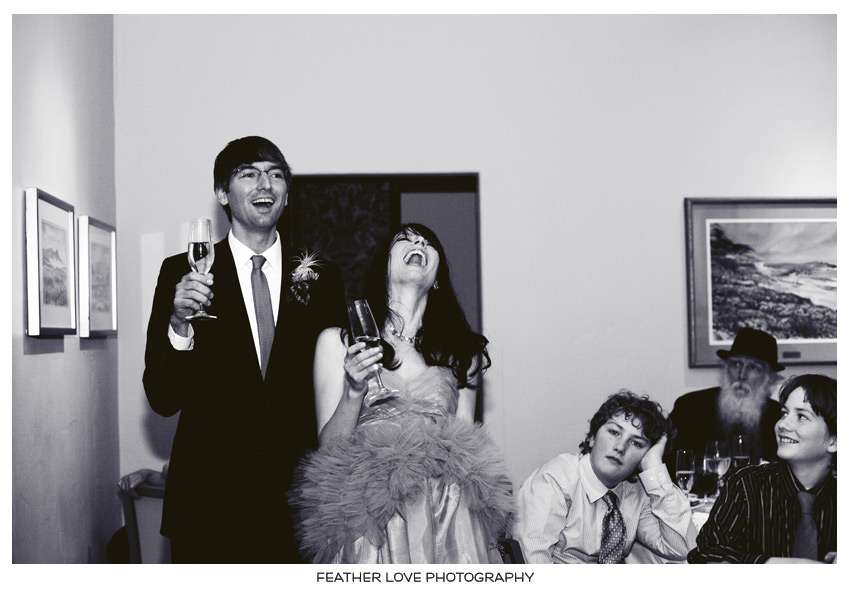 I could shoot this chick for HOURS. how gorgeous is she?
I LOVE this precious little vintage green dress!! Made by Rebellion Dogs, Kestrin said: "It felt like I was wearing a ladybug tutu, an absolute dream." She found it on a whim, just before the wedding, at Tavin on Echo Park Blvd in LA.

Right at this moment, Kestrin was telling me about this amazing photographer that shoots wild animals and humans in unison, sustaining incredible poses. And she couldn't help but get descriptive… !!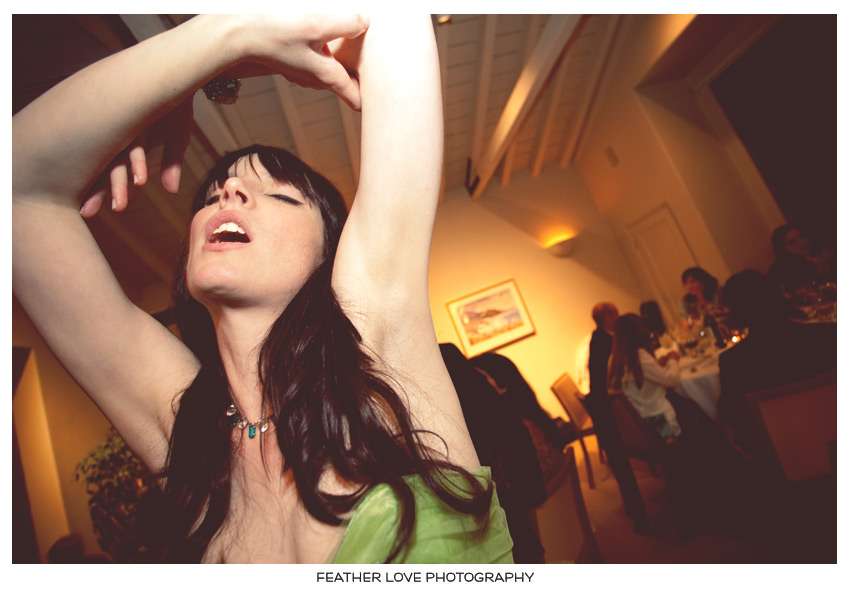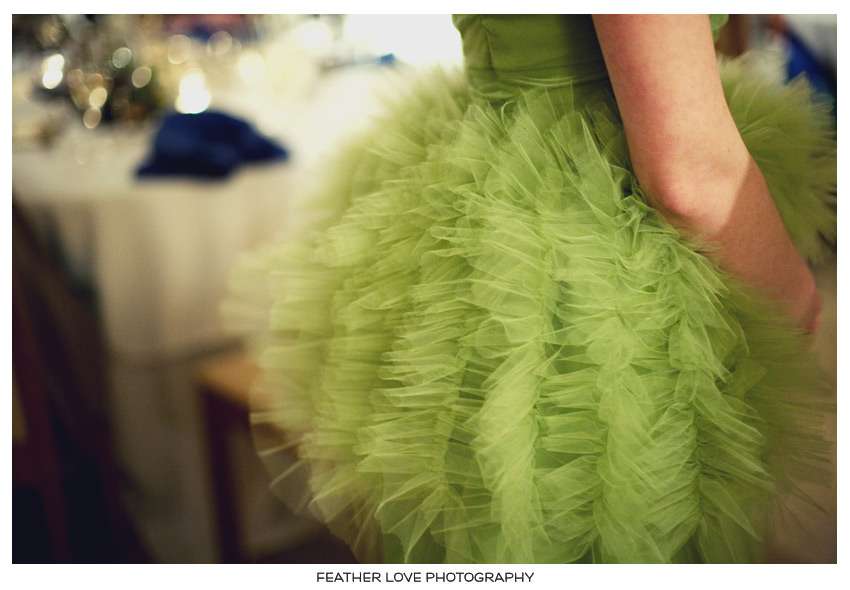 End Day 1… Day 2 started out at their hotel at the Palace Hotel, San Fransisco… beautiful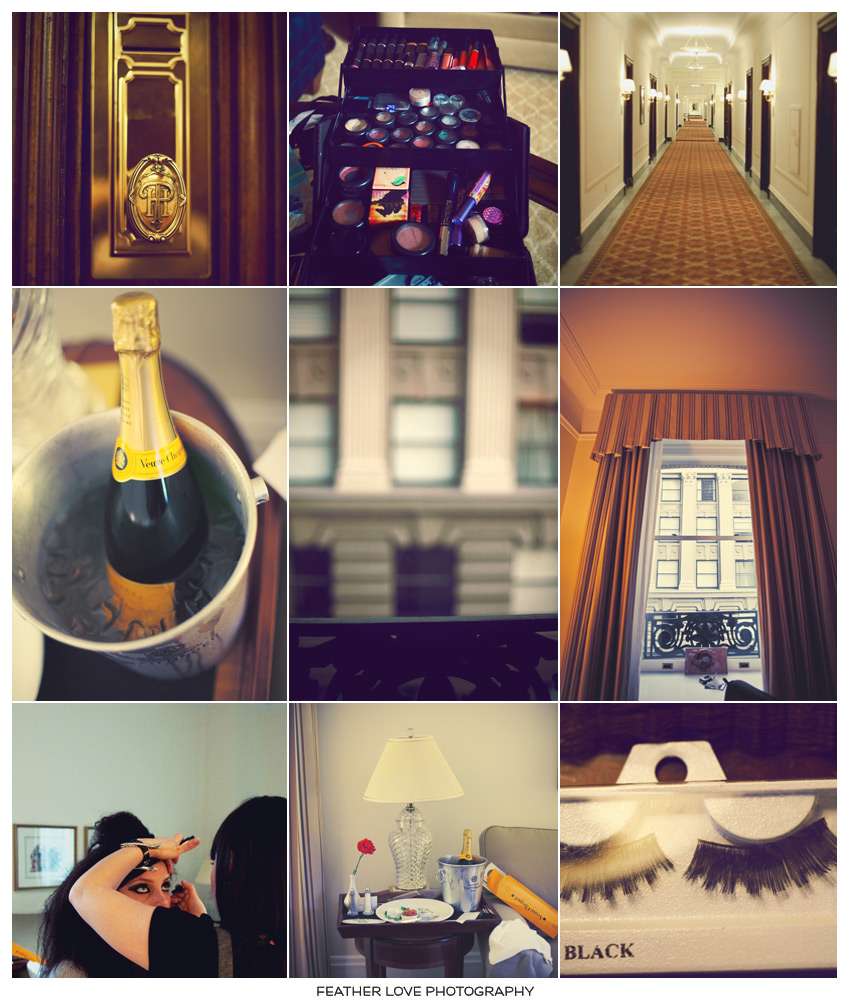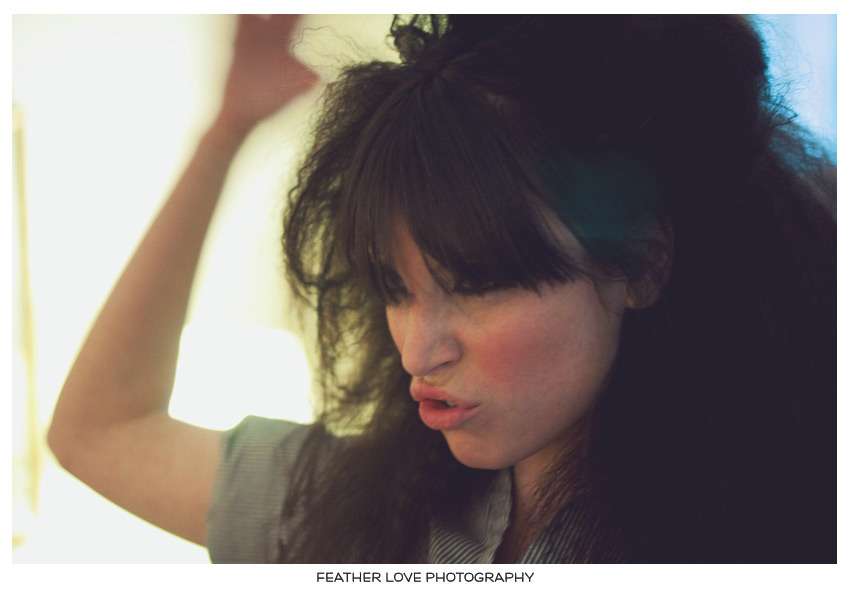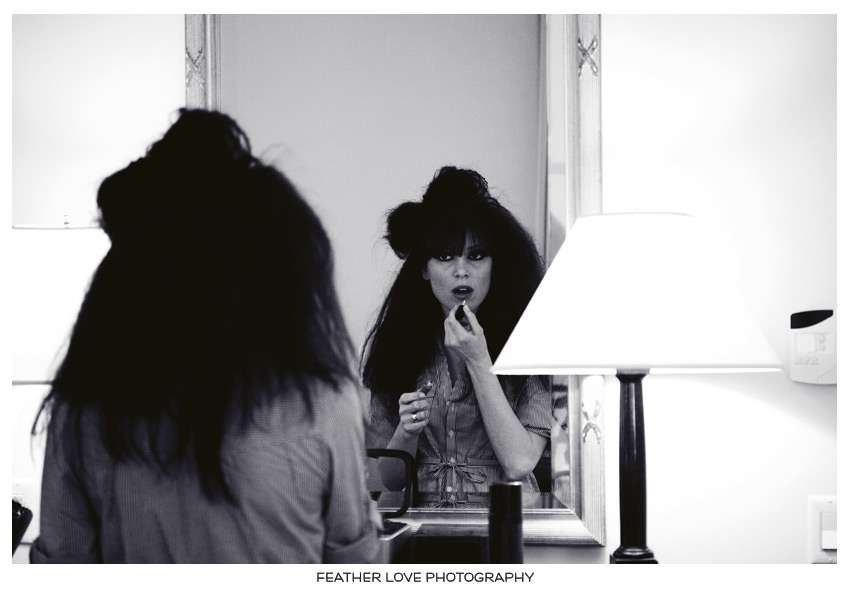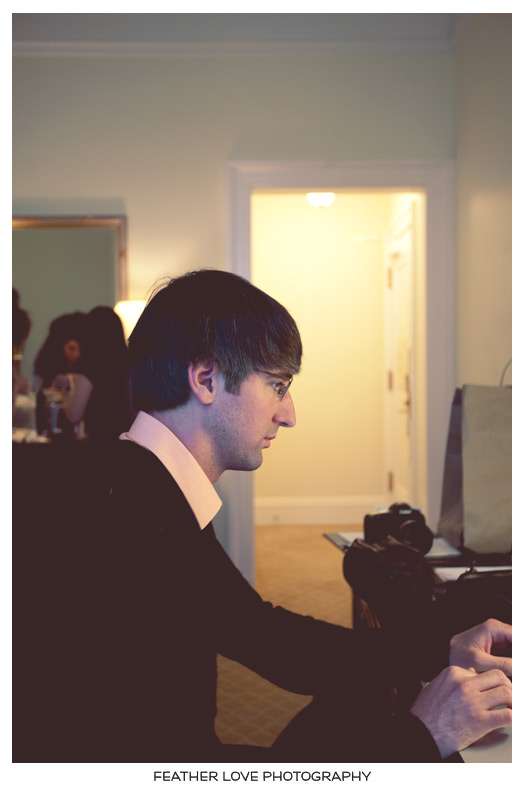 Kestrin found some cute vintage pantaloons and asked for an impromptu boudoir-ish session (we had 10 minutes). I was like Hell Yes!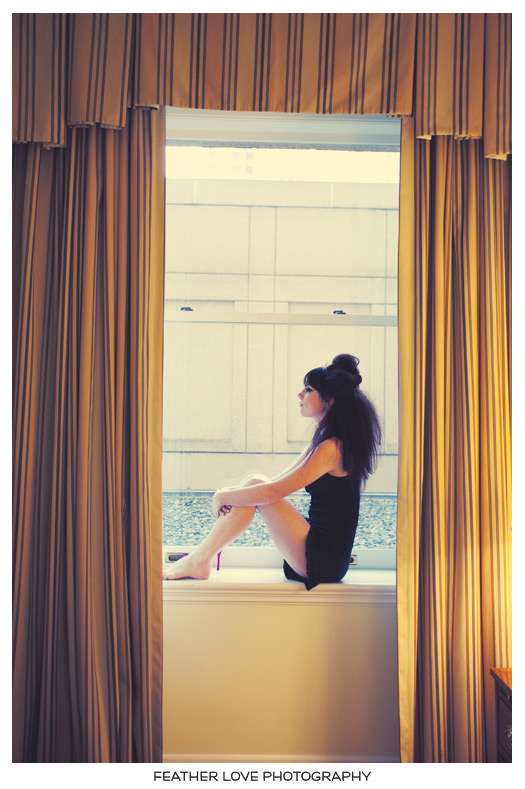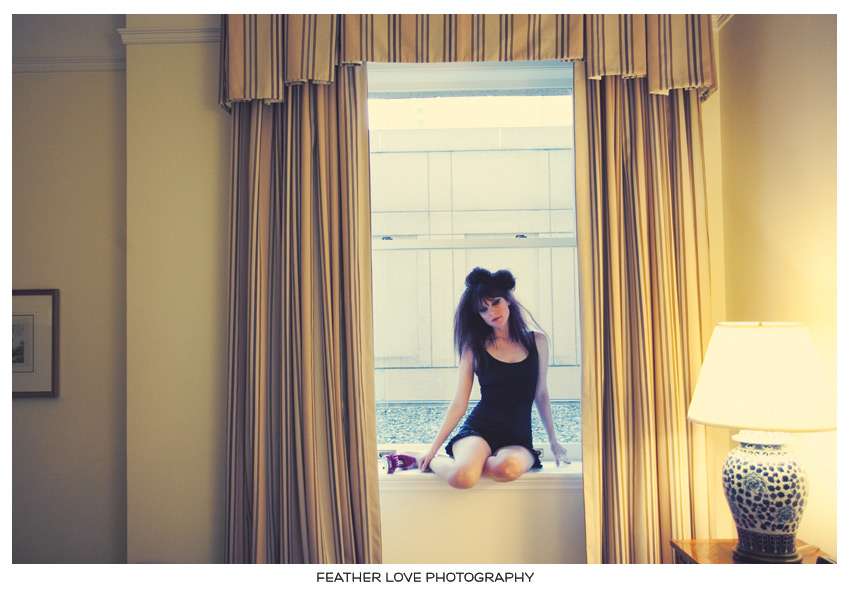 I love how "French" these turned out…
Moe was shooting from outside the bedroom door and I'm obsessed with how beautiful his angles were!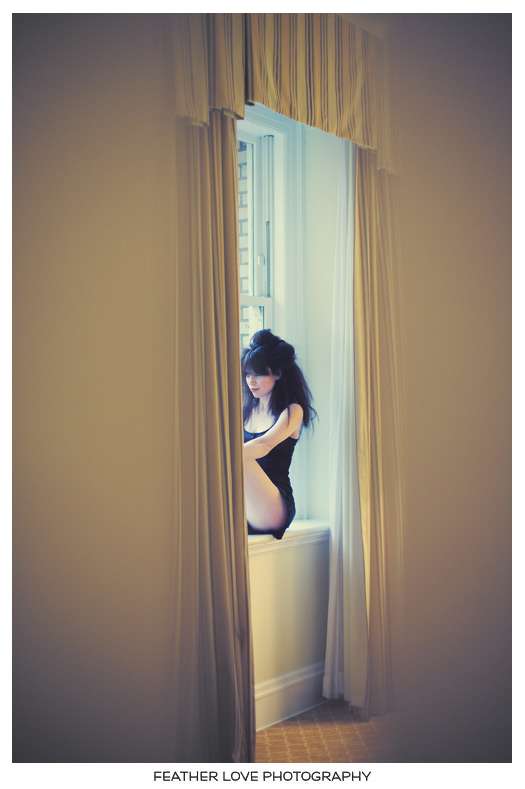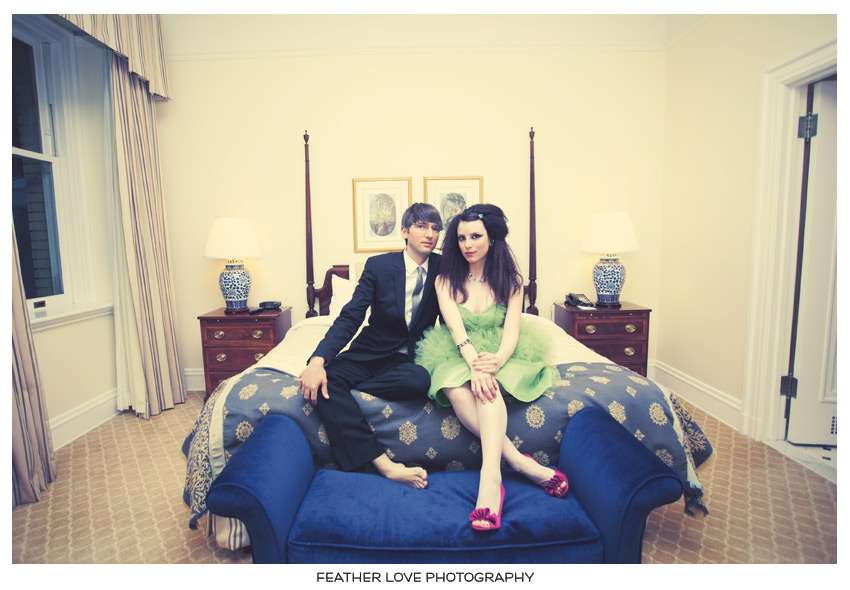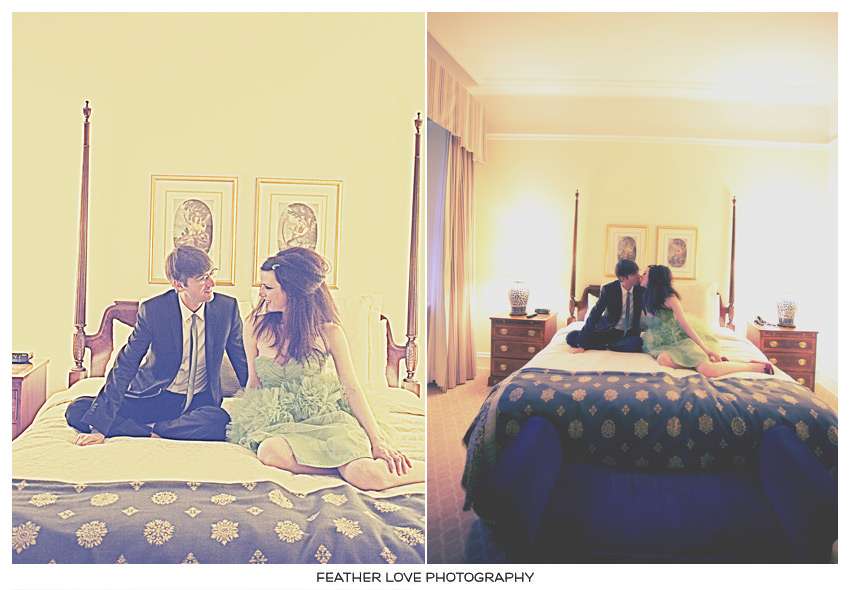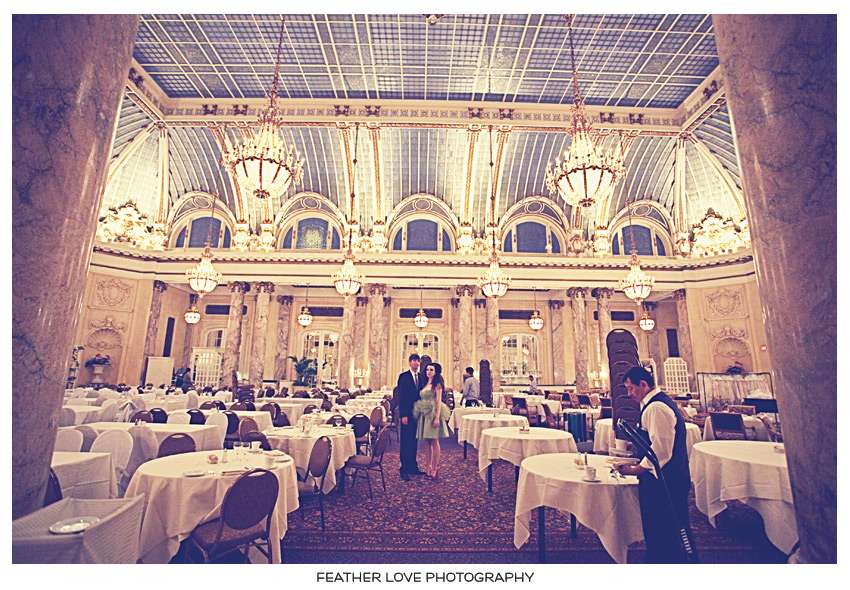 This room. Is insane!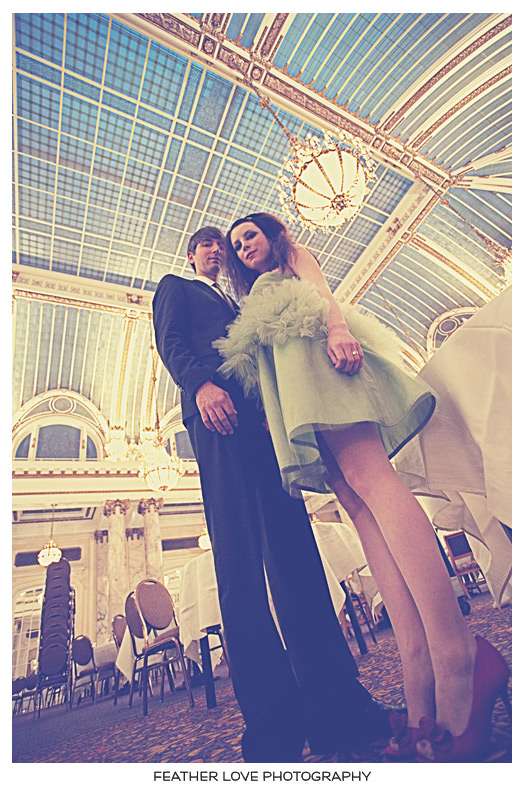 I guess Moe spotted McLovin over in the lobby while we were shooting… He's back there on the left somewhere… ha!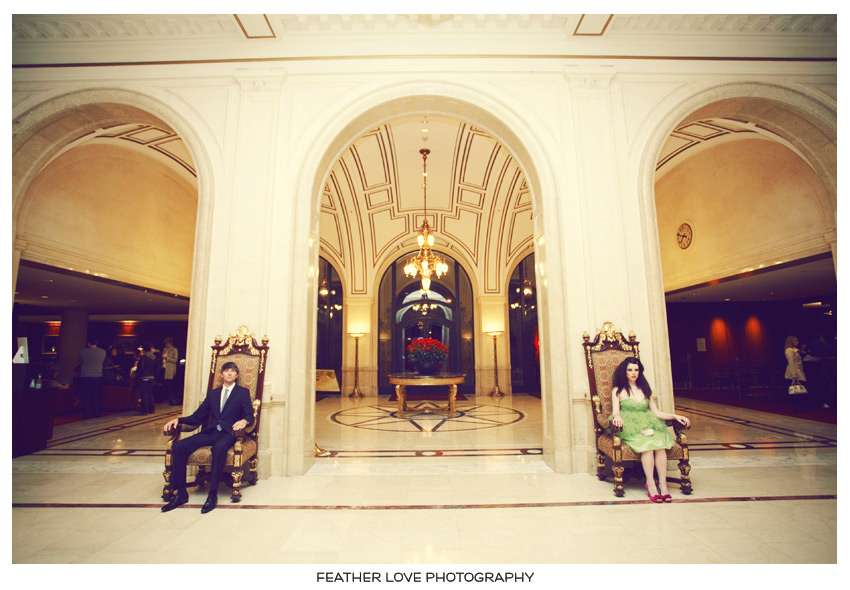 these beauties… I couldn't stop photographing them, and this hotel was so pretty!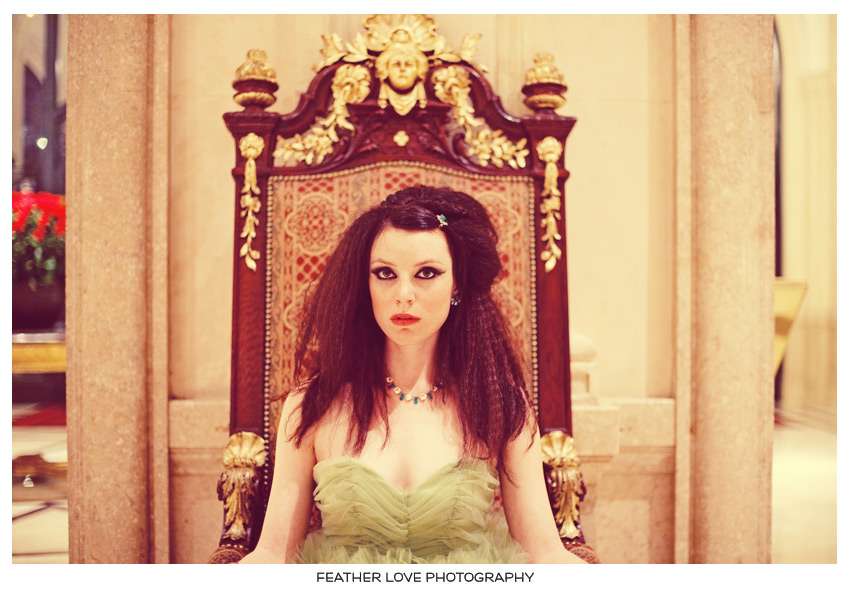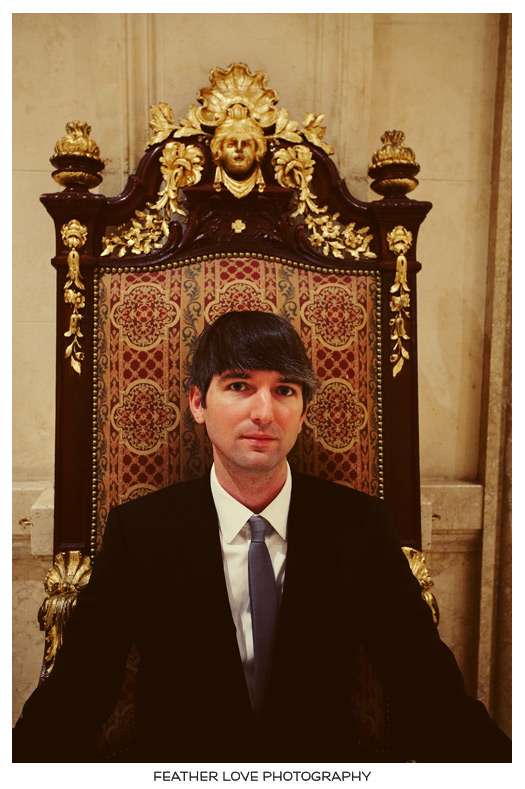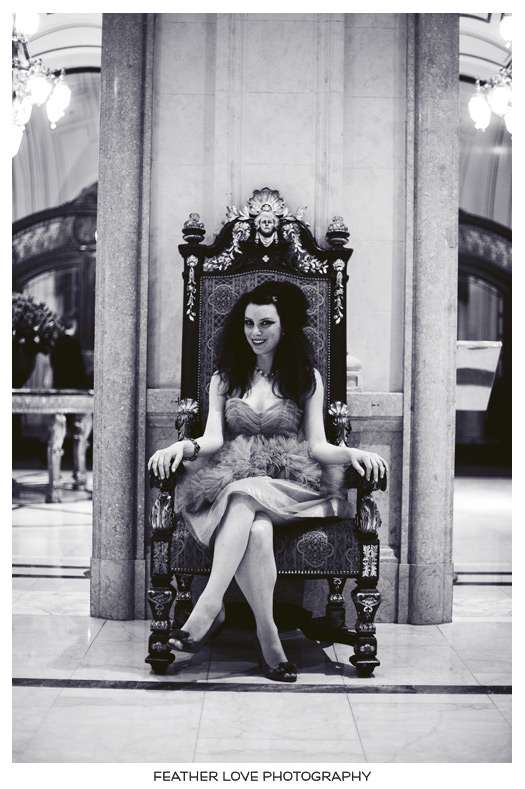 So then we headed off to the Day 2 reception which was held at Flora Grubb Gardens in San Francisco, an exquisite plant and tree store run by Jonathan's older sister. About 300 guests attended.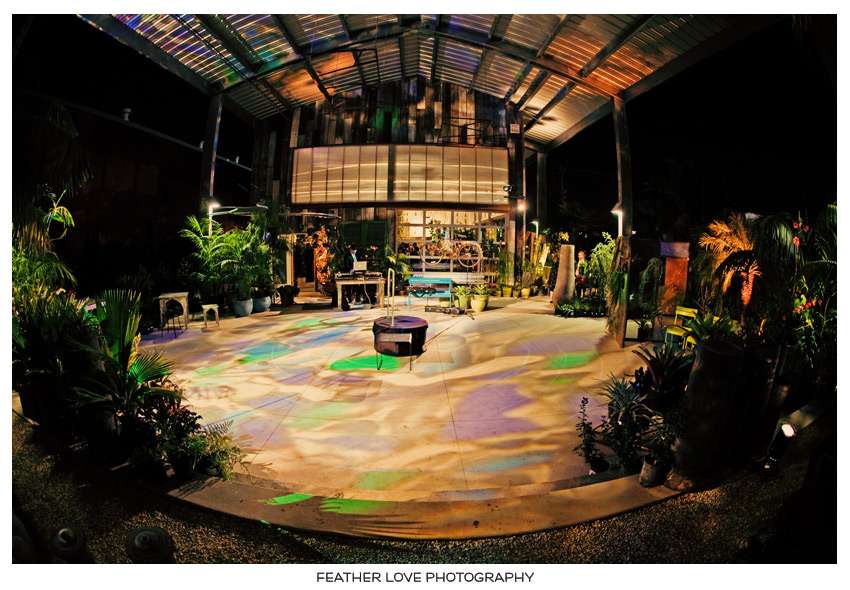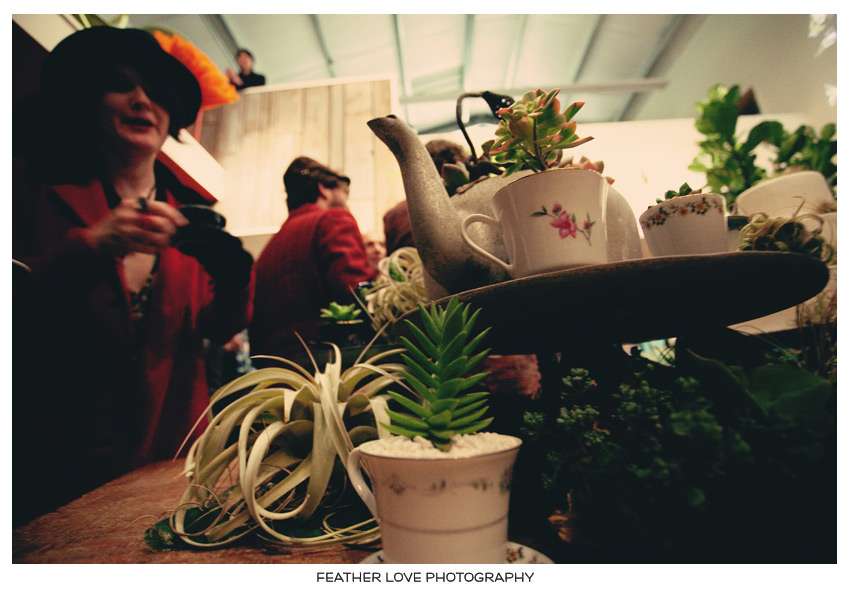 Guests wore formal attire to both the ceremony and the reception, but were free to interpret the word "formal" as they pleased. Jonathan: "We originally thought it was pretentious to tell people how to dress, but having over and under dressed for friends' weddings we decided to send some guidelines." An email sent the week before the wedding included these notes:
• Attire is creative formal. Dress for an audience with Alice in Wonderland's Queen of Hearts. It will get cold, so an extra jacket will be nice.
• Gents: One can't go wrong with a suit, from tweed to tux. Feel free to overdress in strange and unexpected ways.
• Ladies:  This is your opportunity to get wonderful and wild.  No ball gowns required, but you can easily get away with wearing a funky one if you happen to have it.  However, if your style is more subdued, a nice cocktail dress will be perfect.
• One should avoid dirty old Burning Man costumes and clothing items with the word "sweat" in their name, be they shirts, suits, pants, or bands.

I had read so much about this place and seen so many photos and bloggers going gaga over it… now I know why. When in SF, you MUST make a stop over at Flora Grubb! And all the lighting was so great!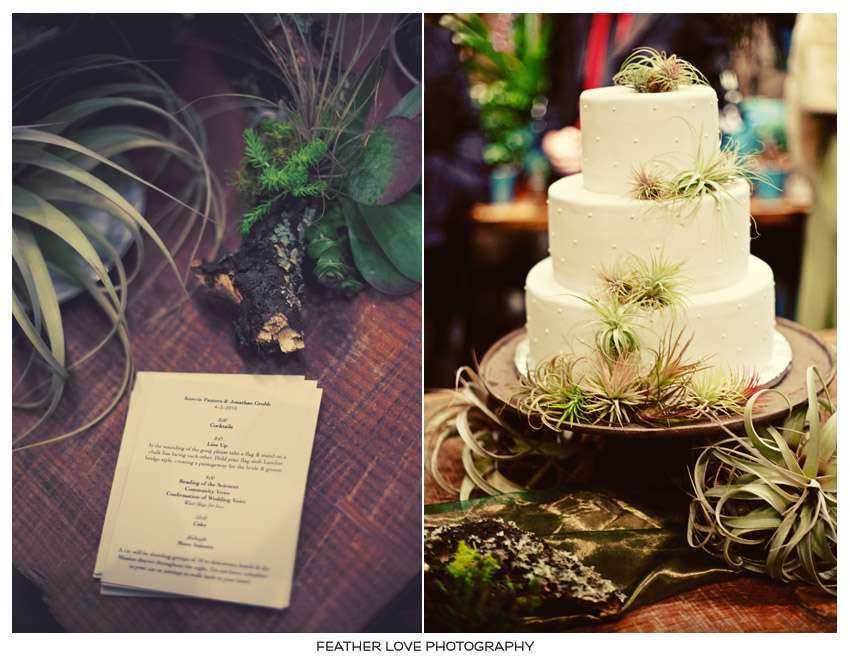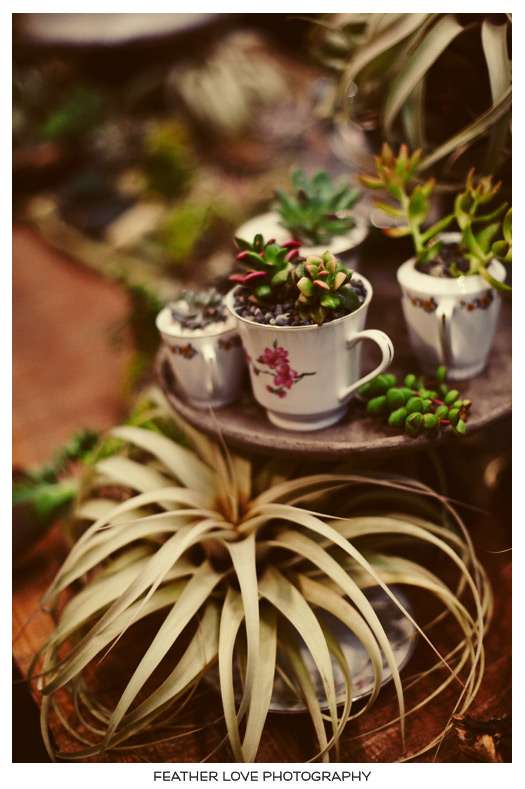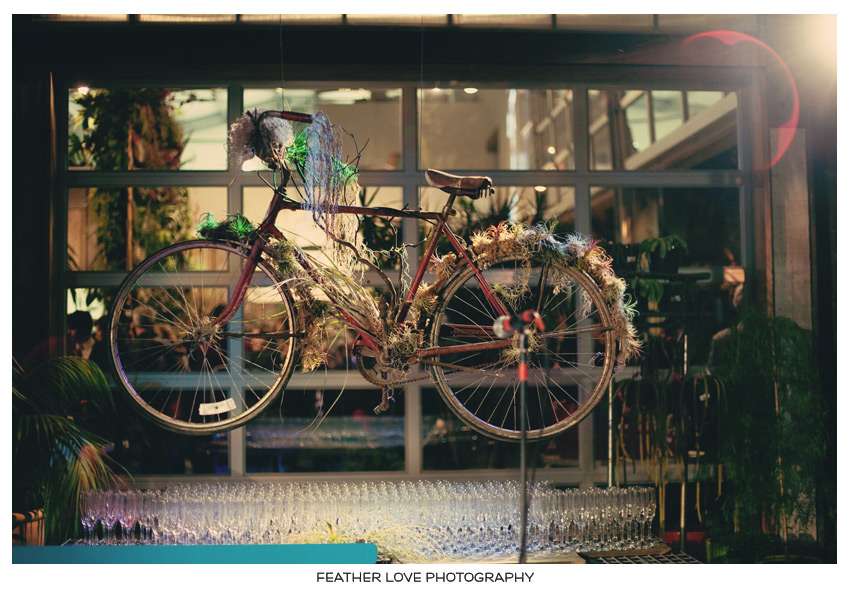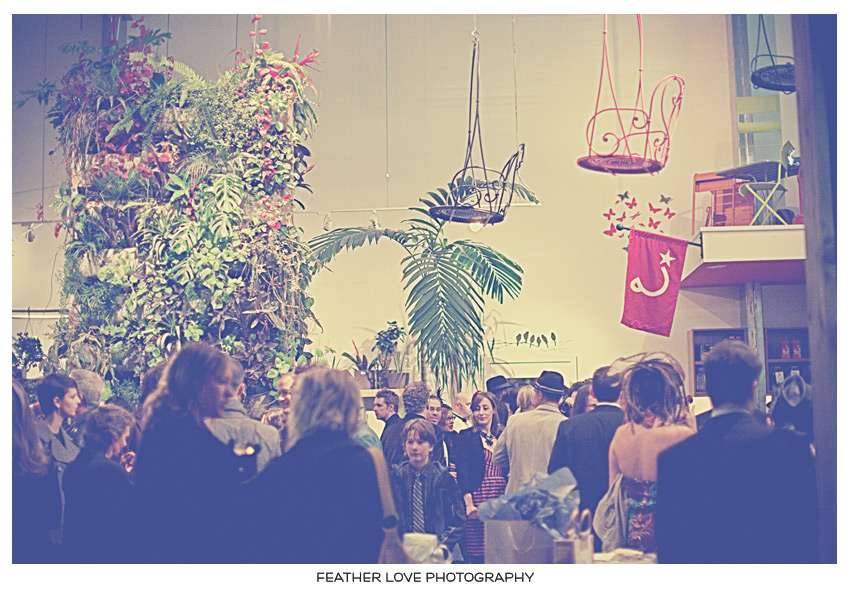 I was like a kid in a candy store. The combo between this lively space and everyone's outfits was overwhelming… It was (& excuse my French here) a total color clusterfuck!!… which is pretty much my favorite thing in the world. EVERYONE dressed up.

If you are a hardcore Big Love fan (HBO) as I am, then you'll recognize Douglas Smith who was there with his lady friend. He plays in a band (his Orchestra) with Kestrin.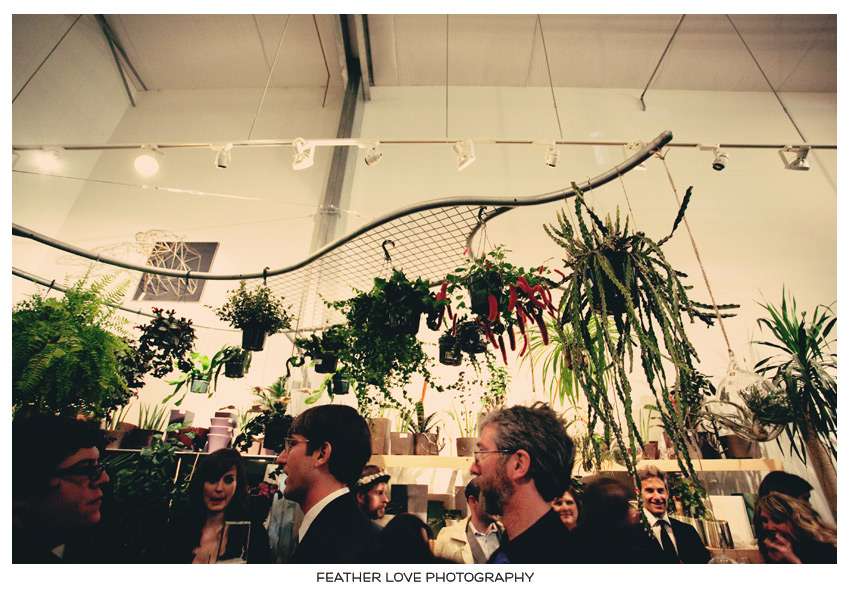 Each guest was given a yellow or saffron-colored flag that Kestrin hand-made in the weeks before the wedding. They created an aisle through the crowd, holding the flags aloft like a giant game of London Bridges.
Jonathan: "We expected it to feel like a processional of Tibetan monks in space, with gongs and gentle flag waving, but our guests had already had a few strong drinks by the time we started. They were, screaming, dancing, and waving the flags like they were inciting a revolution. It was way better than the monk thing." Kestrin: "We had intended to make it mostly a party with a short set of toasts, but even our less intimate friends were asking for some ceremony. It was a little like my mom's sentiment: I wasn't going to have my friends drive all the way up from Los Angeles and give them some god damn boring speeches. We ended up making it a full second wedding."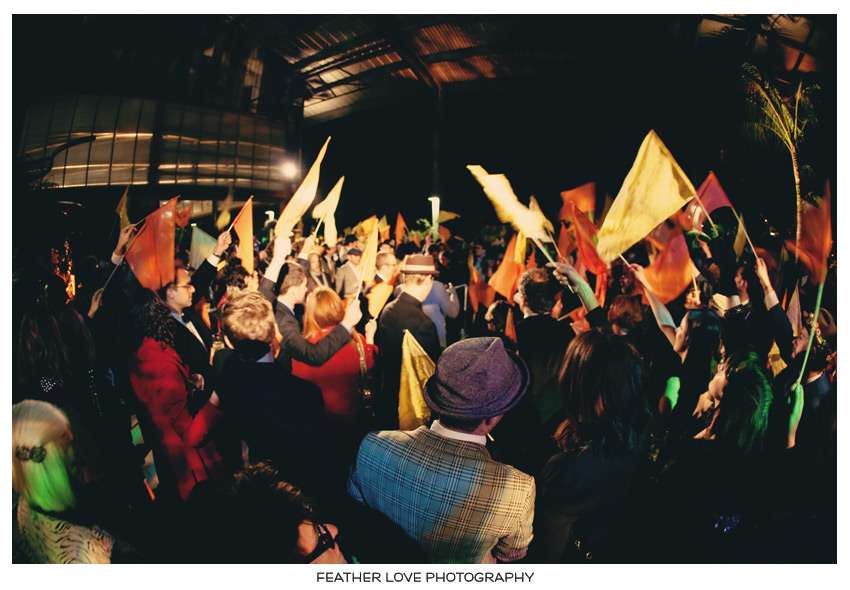 And I'm sure Mr. Adrian Grenier (Entourage) doesn't need much introduction… All the flags flapping together sounded like a flock of birds flapping their wings…

I can't describe how exciting this was, everyone was screaming when K & J walked in!

The couple stood on a "spinny-platform" that began turning slowly while they read their vows, and by the time they kissed they were spinning at a dizzying speed above a sea of waving flags.
Kestrin: "I strongly recommend any bride (or couple) with a clear vision to do exactly what they want to do and deviate from the plan as much as necessary in the 11th hour. All of my favorite interactive and simple elements came to me in my dreams (literally), just days before our wedding. If you have done your homework, are well organized (ie, the checks to vendors are already written), then you deserve to construct whatever last-minute fantasies you desire. If you want to spin in the air surrounded by your loved ones, it's completely possible. Don't let anyone tell you differently… but be very nice to them."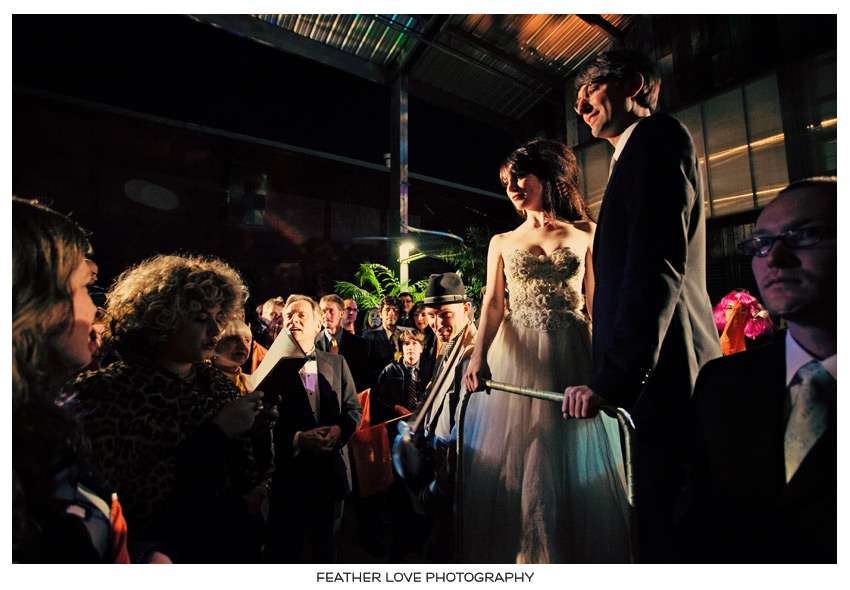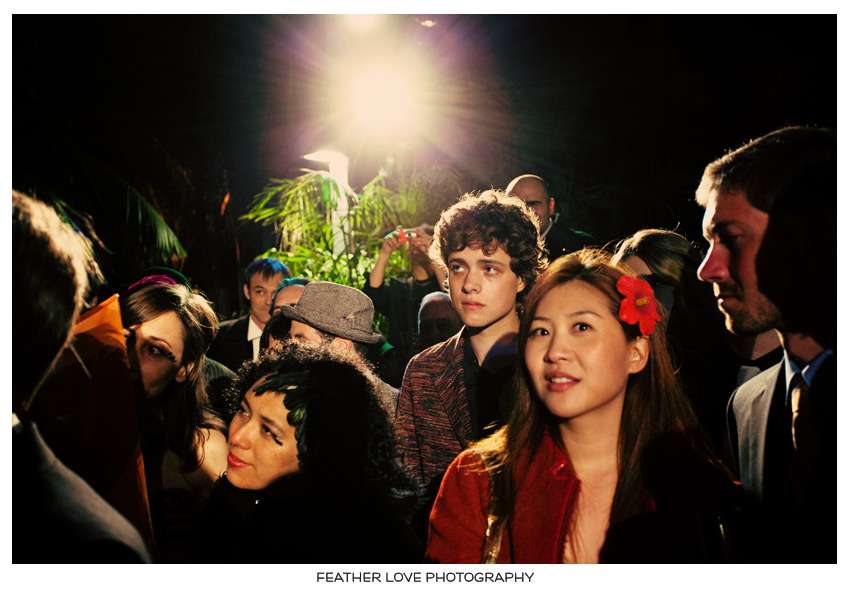 My absolute favorite part of the entire ceremony was the readings. The couple is non-religious – he is a staunch atheist and she falls somewhere between agnostic and new age – so they looked to science and music to find inspiration and greater meaning for their ceremony. They read thoughts on the universe and love by Carl Sagan, Stephen Hawking, Douglas Adams, Mark Twain, Buddha, and The Beatles, and combined the words and concepts into a few paragraphs that were read by friends and family at the ceremony and reception.
"The size and age of the Cosmos are beyond ordinary human understanding. Lost somewhere between immensity and eternity is our tiny planetary home. And yet our species is young and curious and brave and shows much promise. In the last few millennia we have made the most astonishing and unexpected discoveries. They remind us that humans have evolved to wonder, that understanding is a joy, that knowledge is prerequisite to survival. Our little planet floats like a mote of dust in the morning sky. All that you see, all that we can see, exploded out of a star billions of years ago, and the particles slowly arranged themselves into living things, including all of us. We are made of star stuff. We are the mechanism by which the universe can comprehend itself.  The world is so exquisite with so much love and moral depth. We should remain grateful every day for the brief but magnificent opportunity that life provides. The sum of all our evolution, our thinking and our accomplishments is love. A marriage makes two fractional lives a whole. It gives to two questioning natures a renewed reason for living.  It brings a new gladness to the sunshine, and a new fragrance to the flowers, and new beauty to the earth, a new mystery to life. Kestrin and Jonathan choose to enter this relationship before you, their community, and ask for your support and blessings."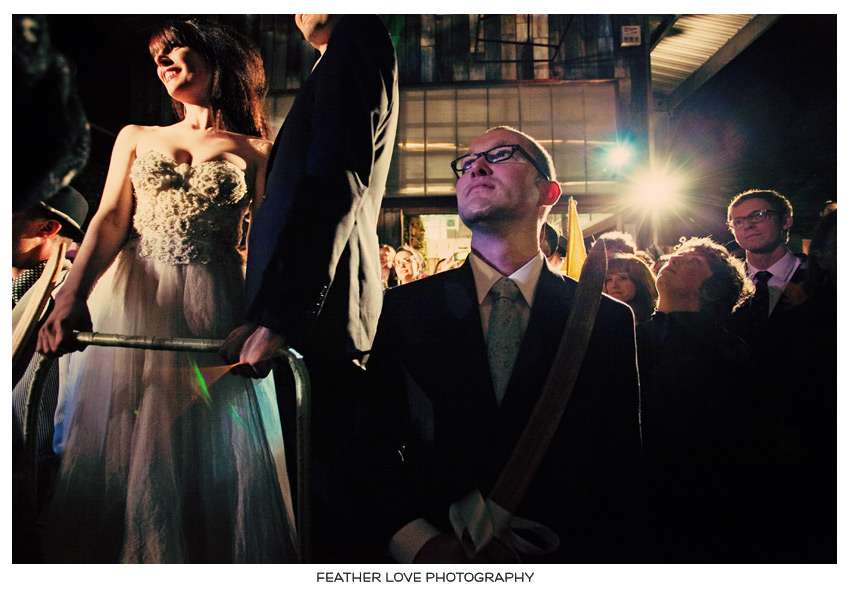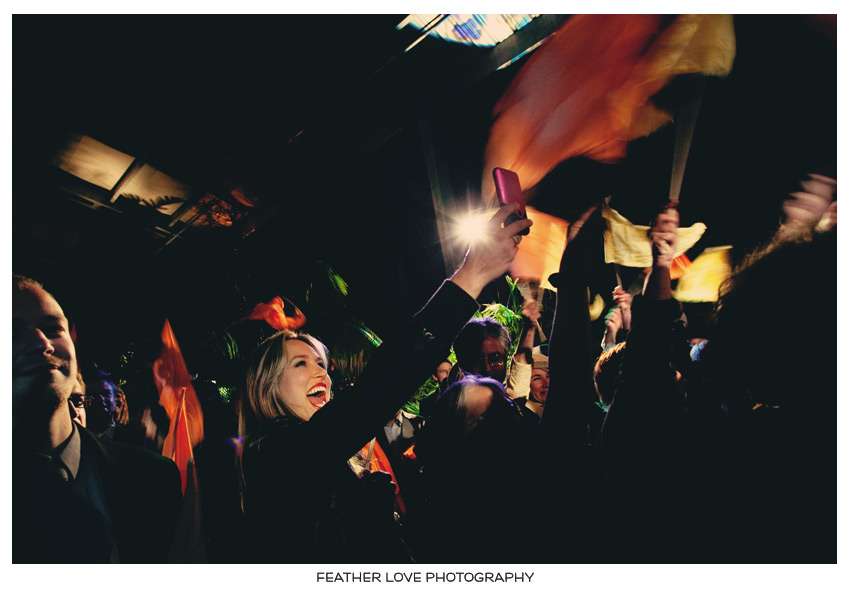 Teary-eyed beauty above, and I love this pic of Adrian & his pretty lady friend watching the ceremony, below.
When Kestrin described the colored flags & colored lights to me, she said it would be grand and visually stunning… but this was immensely rich & beautifully psychedelic!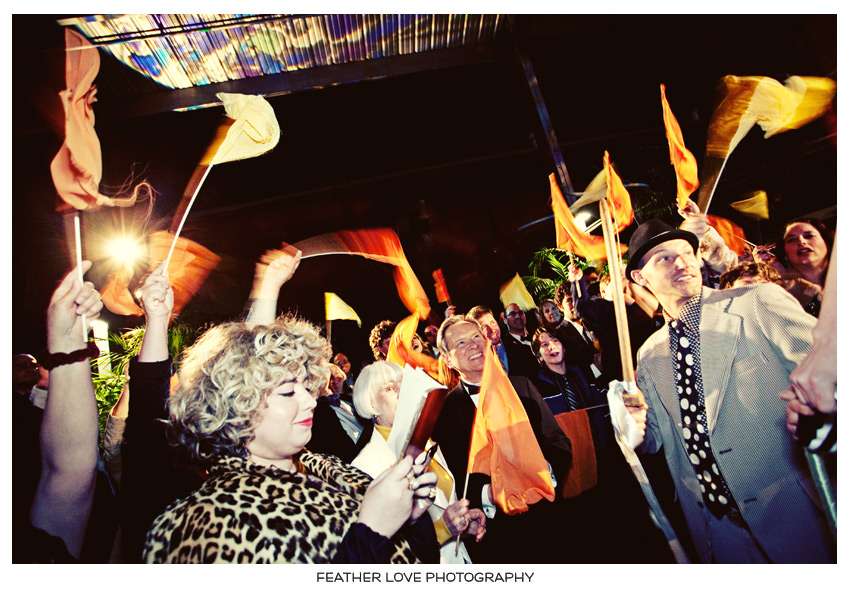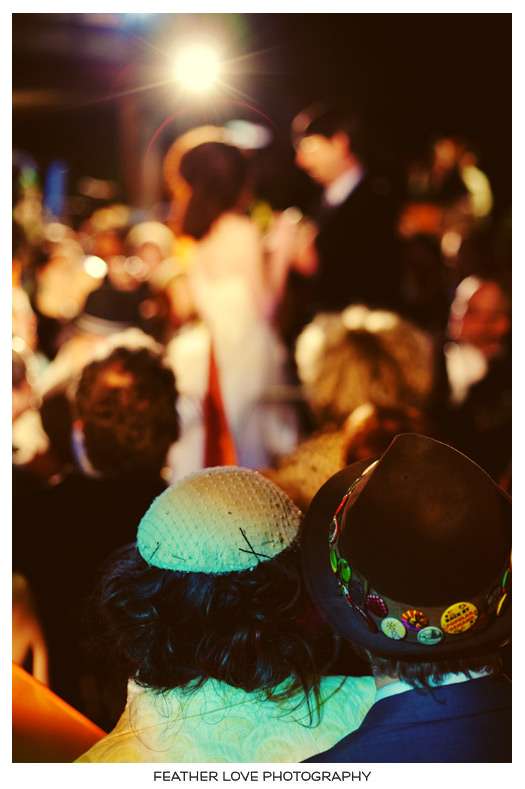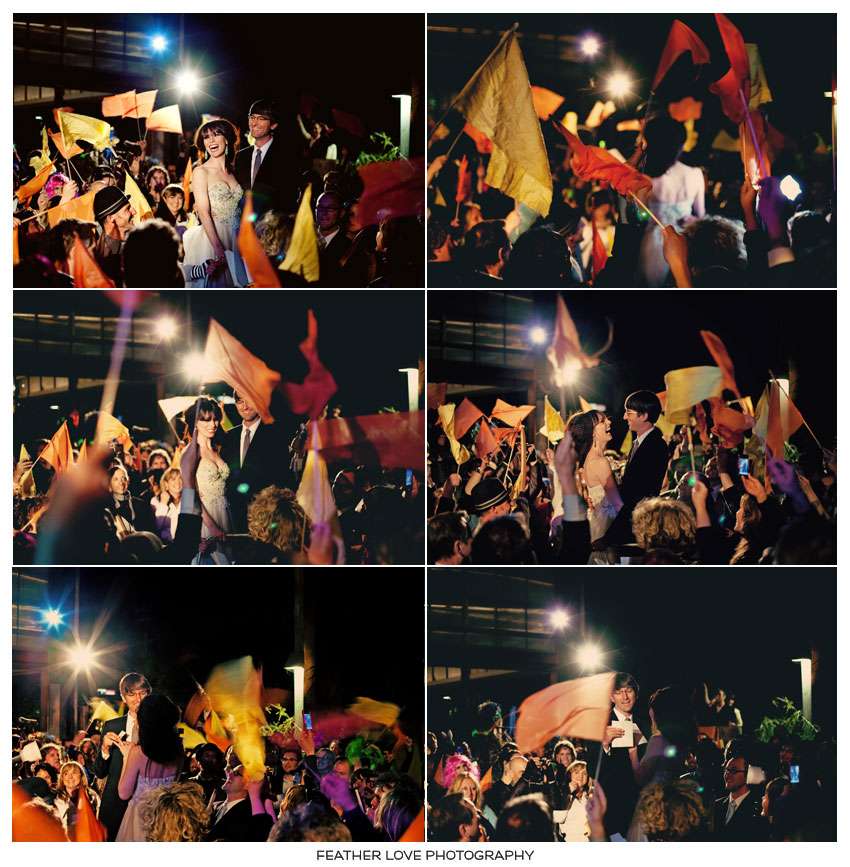 The vows were my other favorite thing about the ceremony. K & J were sweet enough to allow me share them here. Rather than repeating a set of traditional vows, the couple alternated speaking promises to each other. Jonathan: "We know that great relationships thrive because of the countless small things each person does for the other, the way they interact day to day, and we wanted our vows to reflect that. I've done enough project management to know that commitments should be specific and measurable, and these are the most important commitments I've ever made." Kestrin: "Our wedding vows have already become real guidelines for our relationship. I can actually reference them when he needs to take out the trash or I need to focus on solving a problem instead of getting quiet or resentful."
"Jonathan: I vow to love you
Kestrin: I vow to love you
J: to respect you
K: to always make fun
J: to be your best friend ever
K: to constantly generate a force field of awesome to guide and protect us
J: to do what I love
K: to actively maintain our relationship
J: to be lucky
K: to live a charmed life
J: to live as long as possible
K: to ask nicely for what i need
J: to communicate my feelings effectively
K: to live a life of hilarious bliss together
J: to provide for you
K: to solve problems
J: to make time for you every single day
J: to remain curious
K: to stand by my man
J: to put our relationship first
K: to build a community around us
J: to build a family life together
K: to give you babies
J: to change the diapers on those babies
K: to be great parent
J: to sing with you in the morning
K: to give you shoulder rubs, intermittently, for as long as we both shall live
J: to remember how lucky I am
K: to rock out with our great grandchildren
J: to take you on one hundred honeymoons
K: to maintain a menagerie
J: to clean up
K: to sing songs to you
J: to speak for you when you sing your voice out
K: to throw radical parties
J: to be faithful to you
K: to take joy in doing nice things for you
J: to be compassionate
K: to be devoted
J: to be committed
K: to be happy
J: to Listen to you
K: to support you
J: to stay with you forever
K: Do you vow to be my husband?
J: I do. Do you vow to be my wife?
K: I do."
I'll tell you what, from just hanging out with these two for a couple of days, I can tell you with great certainty that they really DO generate a forcefield of awesome around them… As well as a menagerie!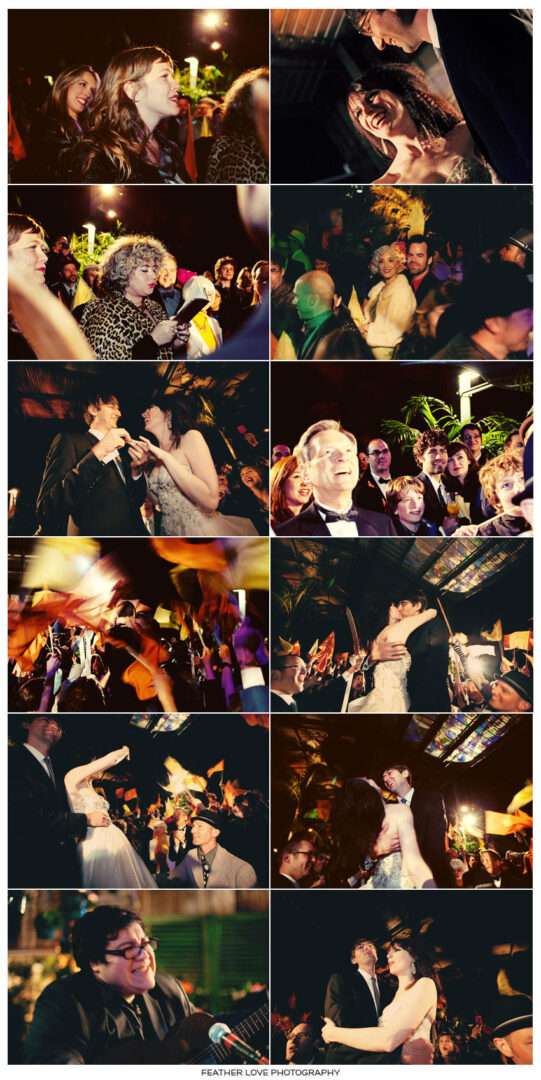 Then they spun around as Paul Cartwright played a version of The Flaming Lips' masterpiece "Do You Realize" during the ceremony. Kestrin: "That song made me cry the first time I heard it, and the second time I had a vision of someone singing it at my wedding. 'Do You Realize' was part of the ceremony years before Jonathan and I had ever met."
If you feel like listening to the original Flaming Lips version of this song whilst going through the photos, here's a link to the audio on youtube. Just imagine EVERY SINGLE person singing this at the same time. It was so powerful & moving that I was totally getting all emo… but once I looked around I realized that so was everyone else.
**UPDATE** click this link to see a video clip online that one of the guests shot! It will give you a little idea of the magic in this moment!!! Kestrin & Jonathan's ceremony video clip… (video thanks to Mark Trammell)
WE ARE MADE OF STAR STUFF!!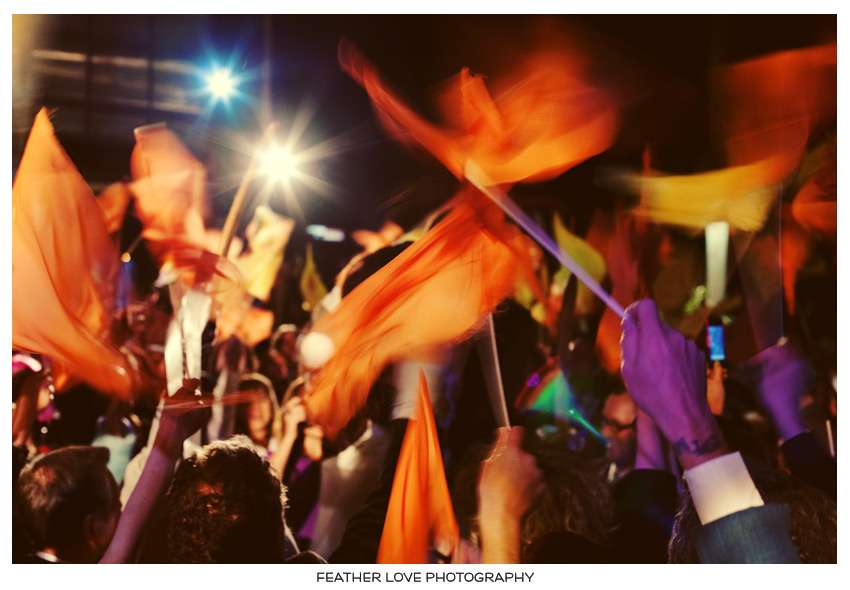 Party time.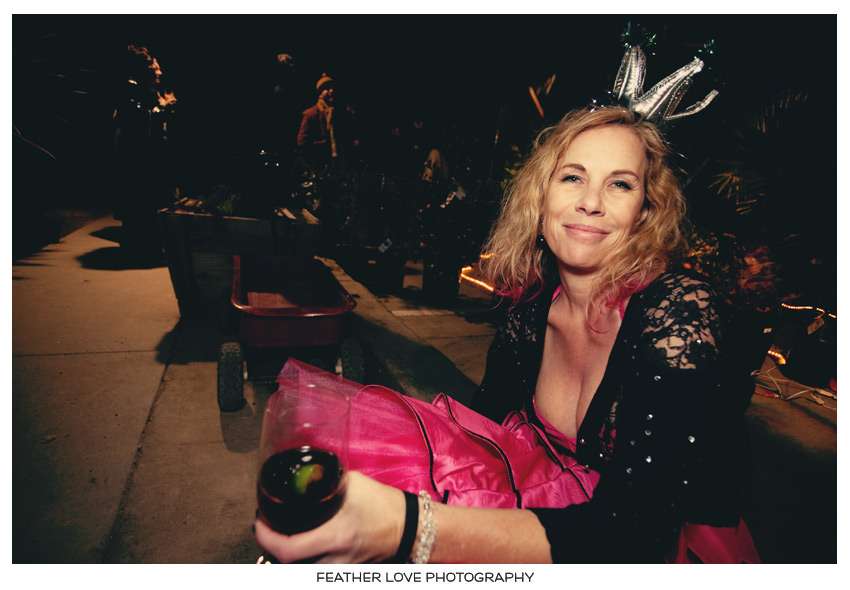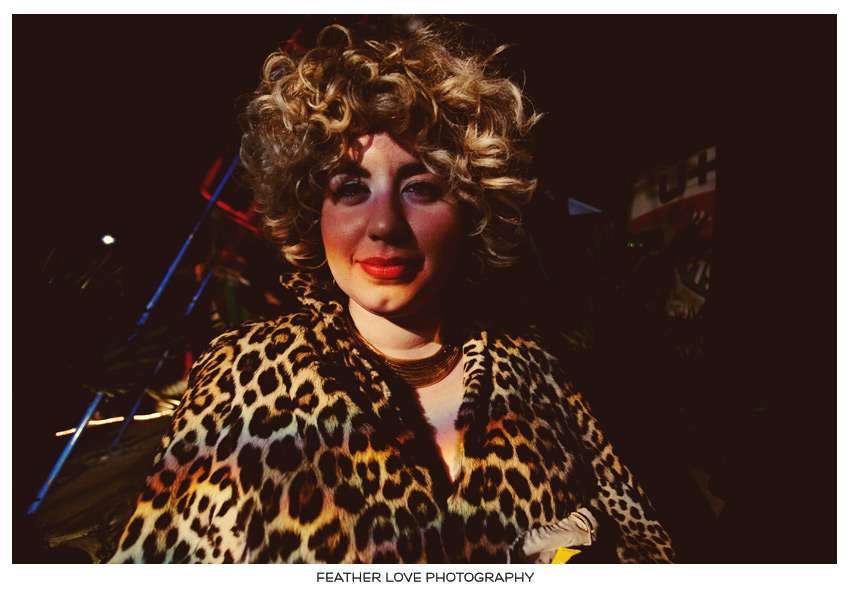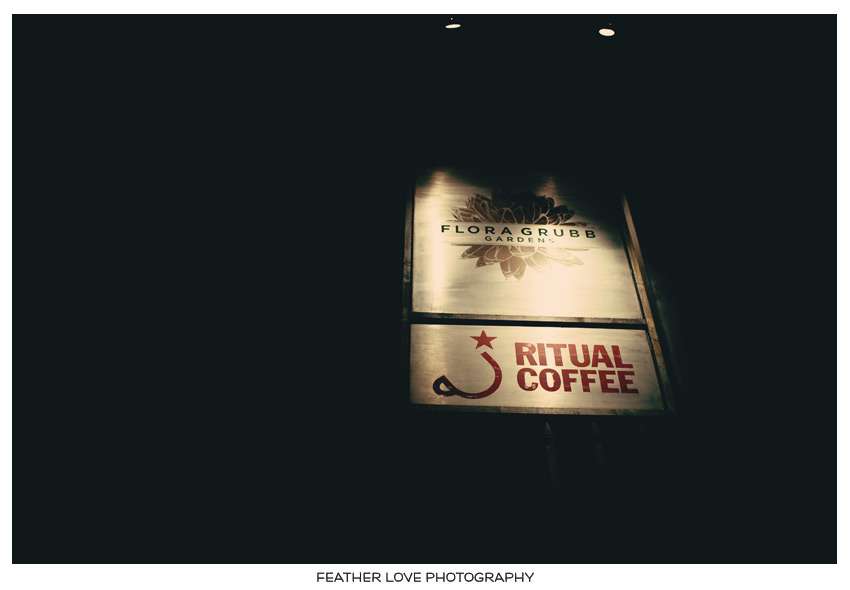 They rented this pedal-powered ferris wheel from Cyclecide Bike Rodeo.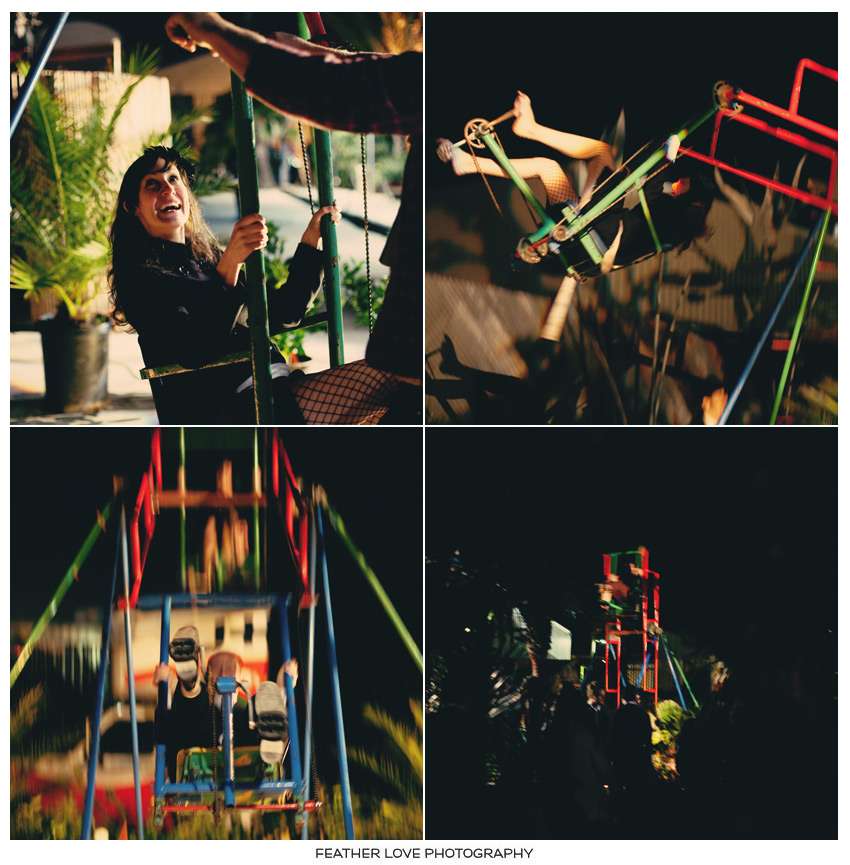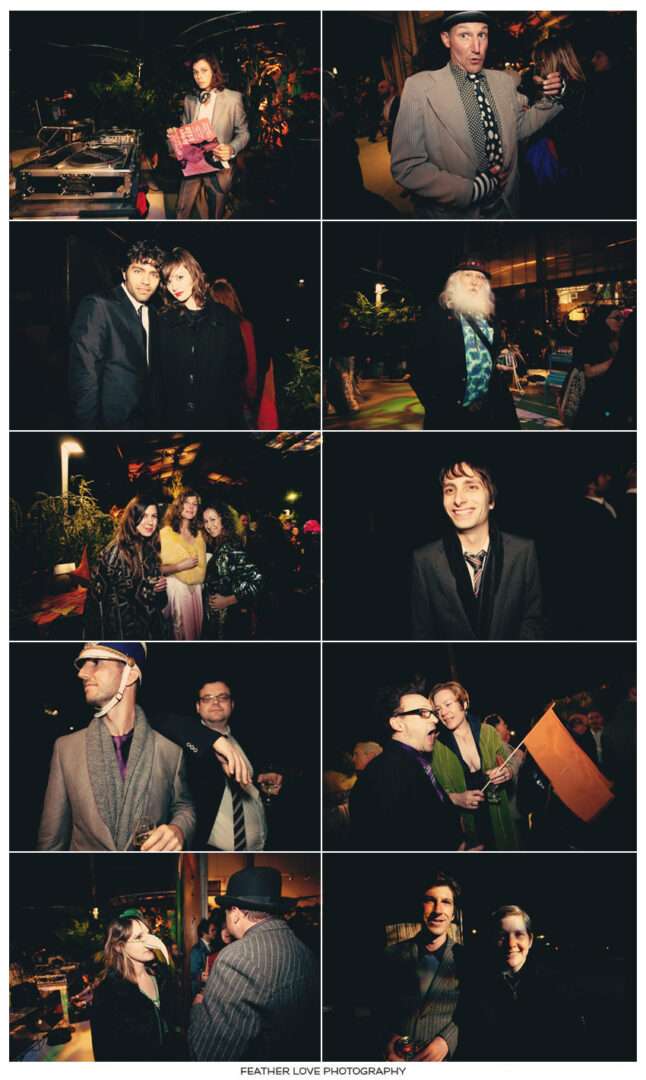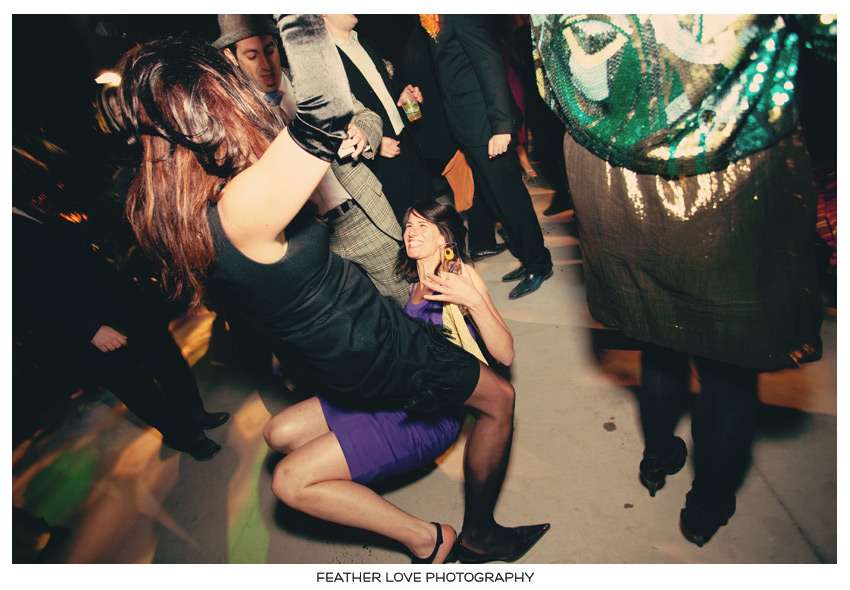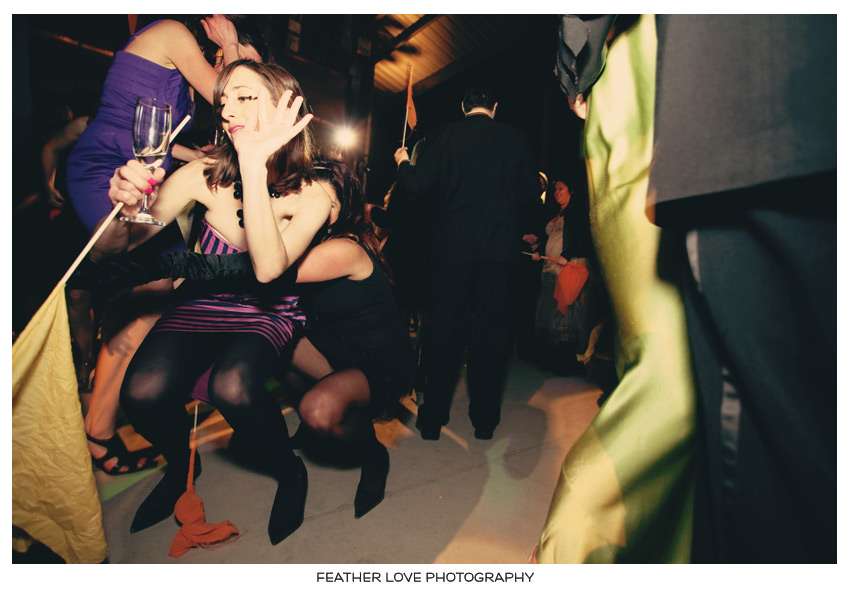 And here's a really strange coincidence. When I was 15 I went to this amazing hippie/ new age school called The Nizhoni School for Global Consciousness in La Cienega, NM. One of the most amazing experiences of my life. I lived with about 50 people from all over the world… one of them was Alexandra Fulton. My old friend is now a successful actor in Los Angeles. And here she was at Kestrin & Jonathan's wedding! I live in San Diego, she lives in LA and we run into each other at the party of the century in San Francisco!! It was so lovely to see her, wild & beautiful as always…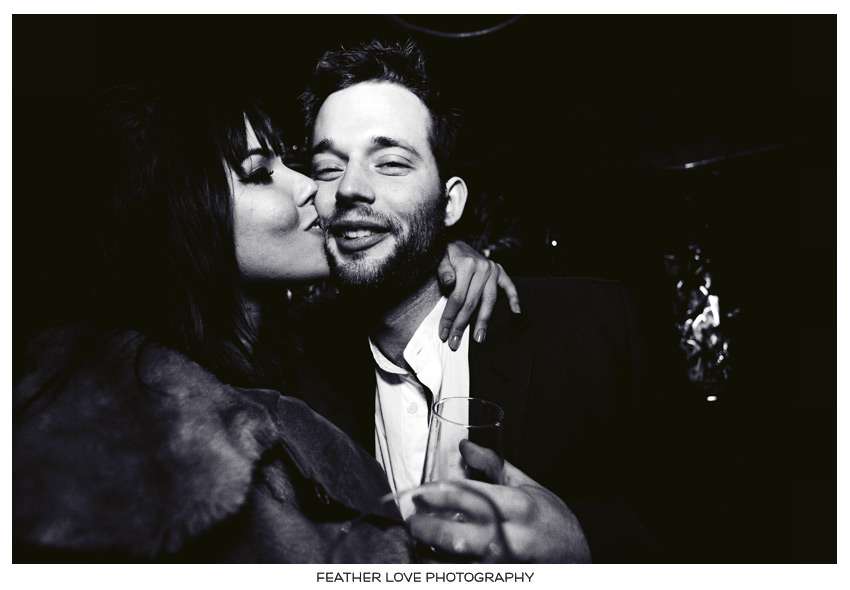 Then. THEN there was the carnival-style confession booth. Which I was practically forced into ; ) I walked in, a curtain opened, 2 people where sitting up on a platform behind a piece of plexiglass totally drunk, and started hammering me for truth! And before I knew it, they made me confess! ha… It was great.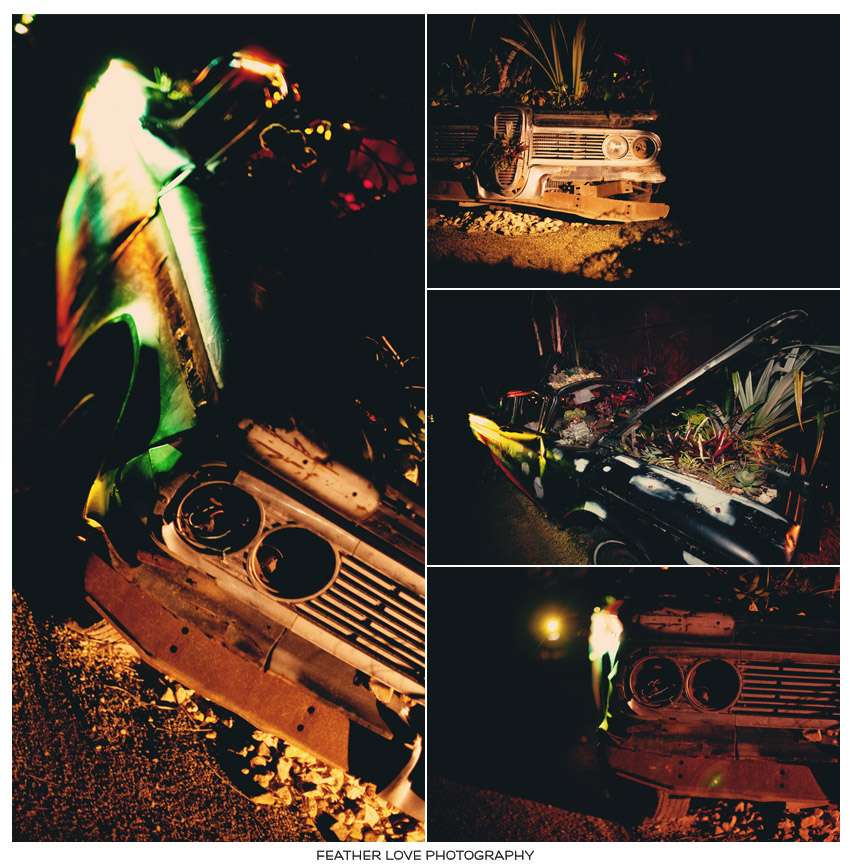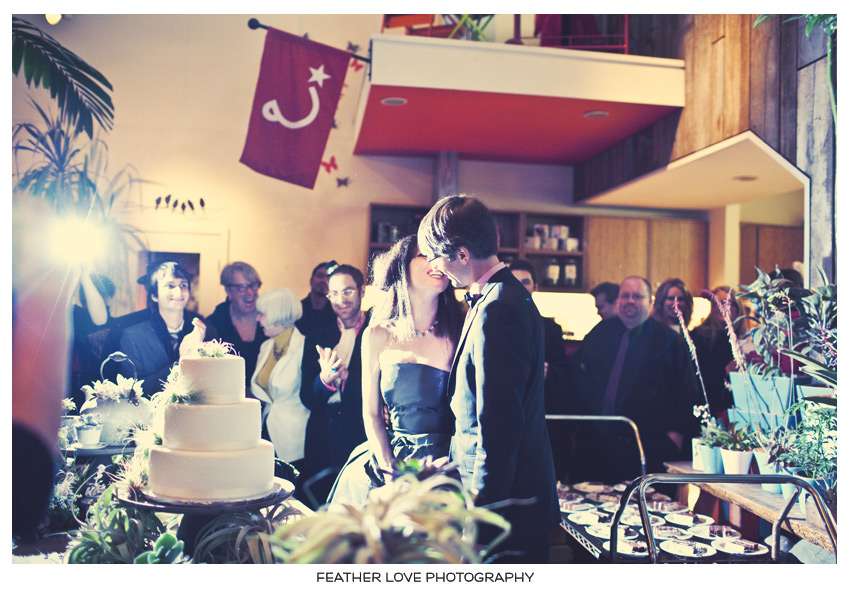 Kestrin wore a third dress (she likes to dress up) designed in collaboration with Sterling Capricio of Los Angeles. Kestrin: "I looked at his work and drew a picture of the dress I envisioned, something to make me look like Marie Antoinette on mescaline. When I returned to his shop the next week, there it was." The dress has poofy silver taffeta rising above the knee in front, cascading into a long flowing train in back. For the reception, Jonathan switched to a purple ruffled shirt and black bow tie from Ted Baker.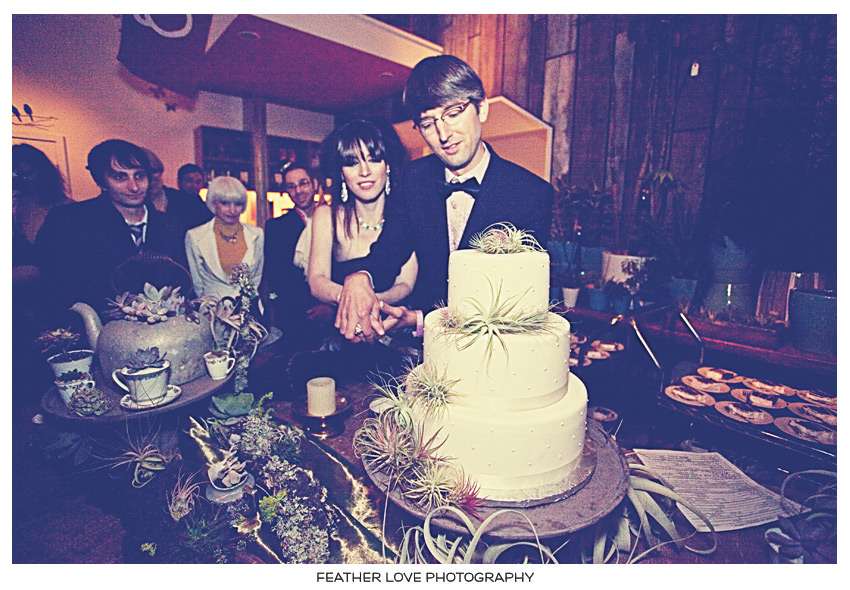 And here's one of yours truly with the newlyweds.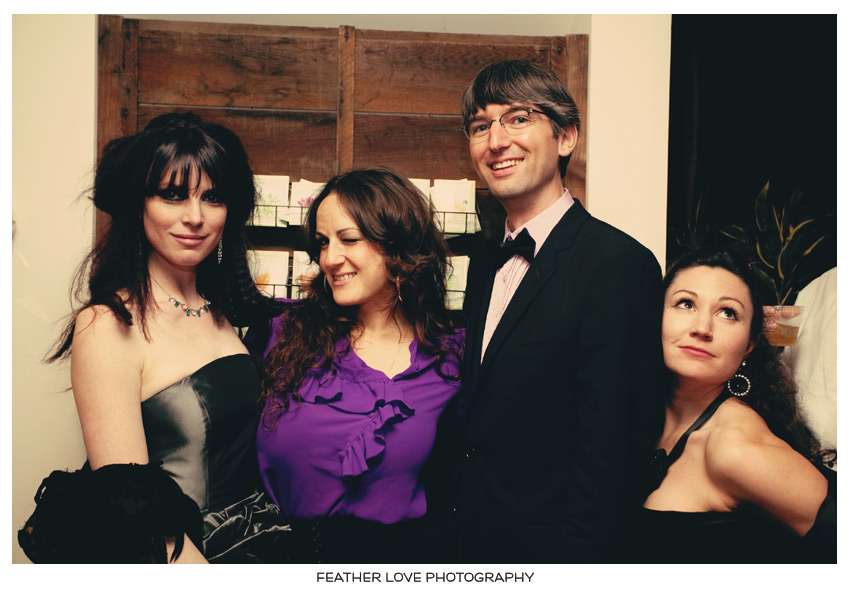 And this is Jenny & Luc! We're shooting their wedding this June… I can't wait. We've been emailing for over a year now & they went to see my husband (Stuart's) band ASTRA play in LA a few months ago. I fell in love with them instantly when I met them the night before at the Carmel ceremony. Then we all took stupid pictures together.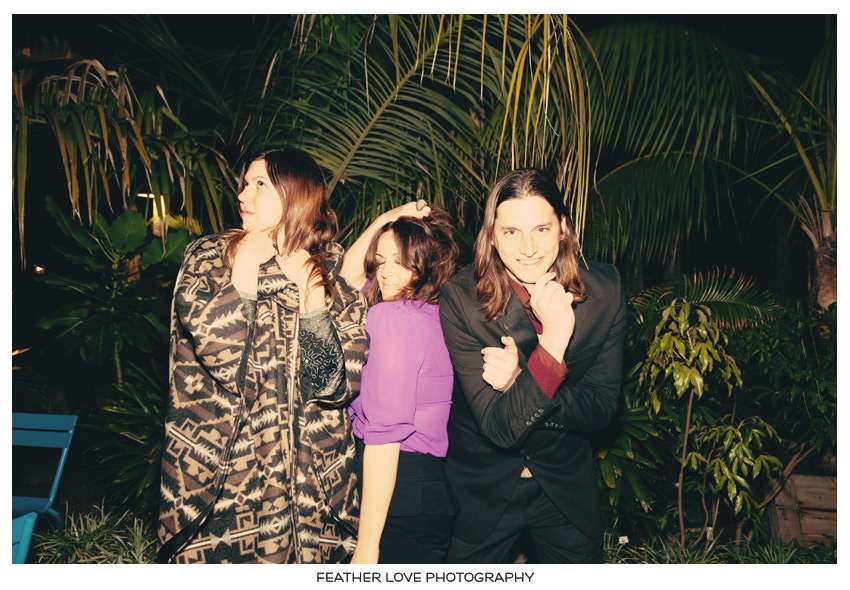 And here's the adorable Raviv Ullman, actor/musician/drummer for his Orchestra… he also DJ'd that night after the ceremony.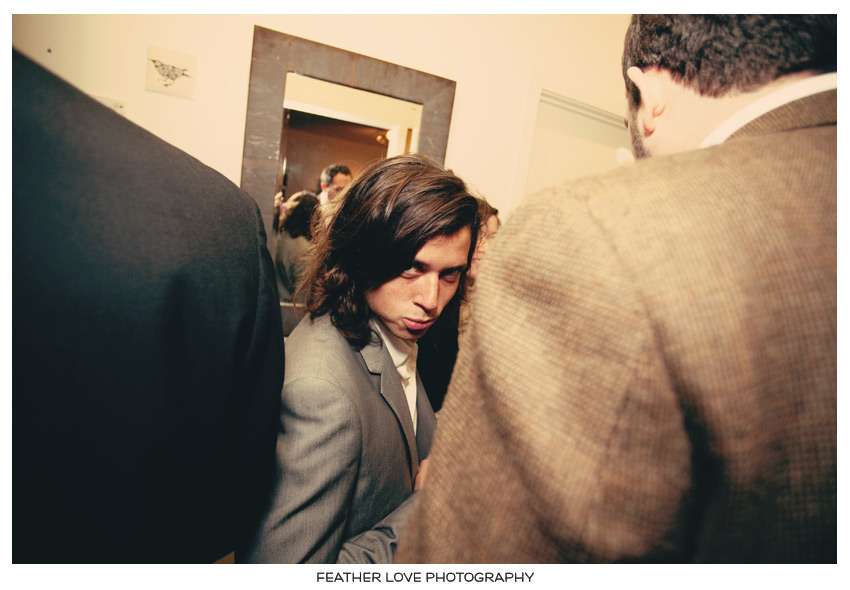 Jonathan: "We wanted to have so many things happening that nobody could possibly take everything in, and the legends would grow when guests later discussed the event."
There were four bars. The main bar served standard mixed drinks and champagne. The venue has a full Ritual Coffee Roasters café where guests could simultaneously caffeinate and intoxicate with Ritual's award winning coffee drinks spiked with top shelf liquor. A group of the couple's Burning Man campmates ran a Parrot Bar (a variation on their legendary Pirate Bar) that served fresh squeezed grapefruit cocktails. The last bar was simply a jumbo size bottle of Patron and a line if shot glasses set on a vine-covered 1959 Edsel sedan that sits in a far corner of the store.
There was a make-your-own grilled cheese sandwich station, a photo booth, a pedal powered ferris wheel, a dada peepshow (where a whole cast of performers put on a show for two people at a time), a tiny tea party, a dance floor, and a karaoke lounge. As usual, the karaoke stage was the last thing standing at 4:00 am.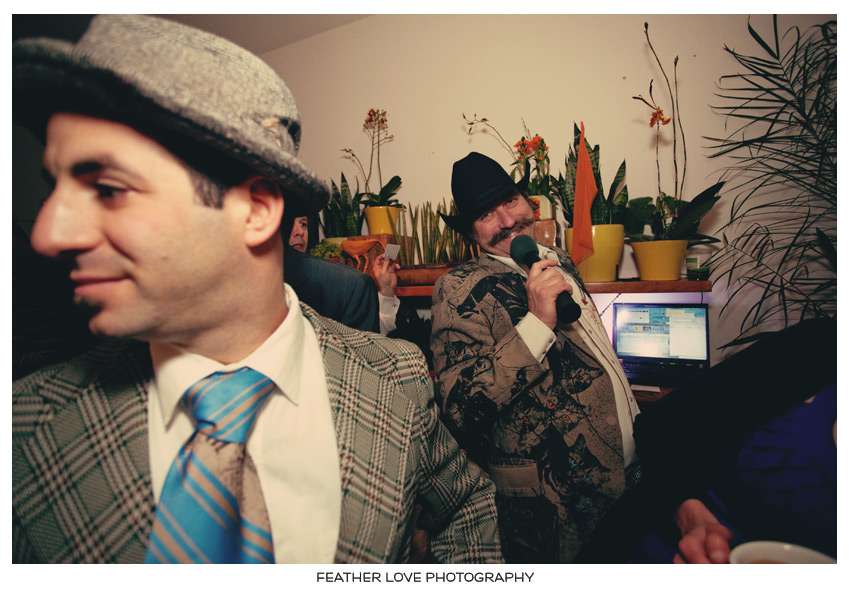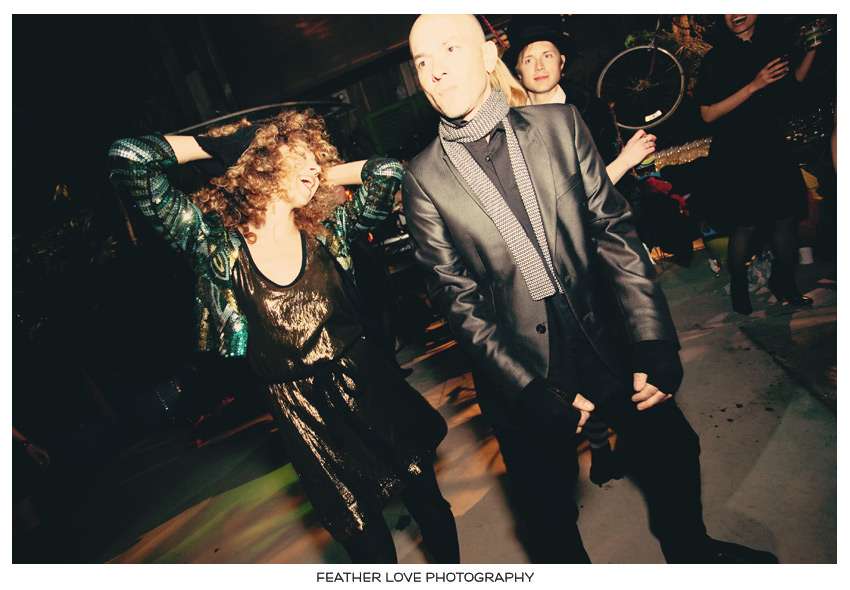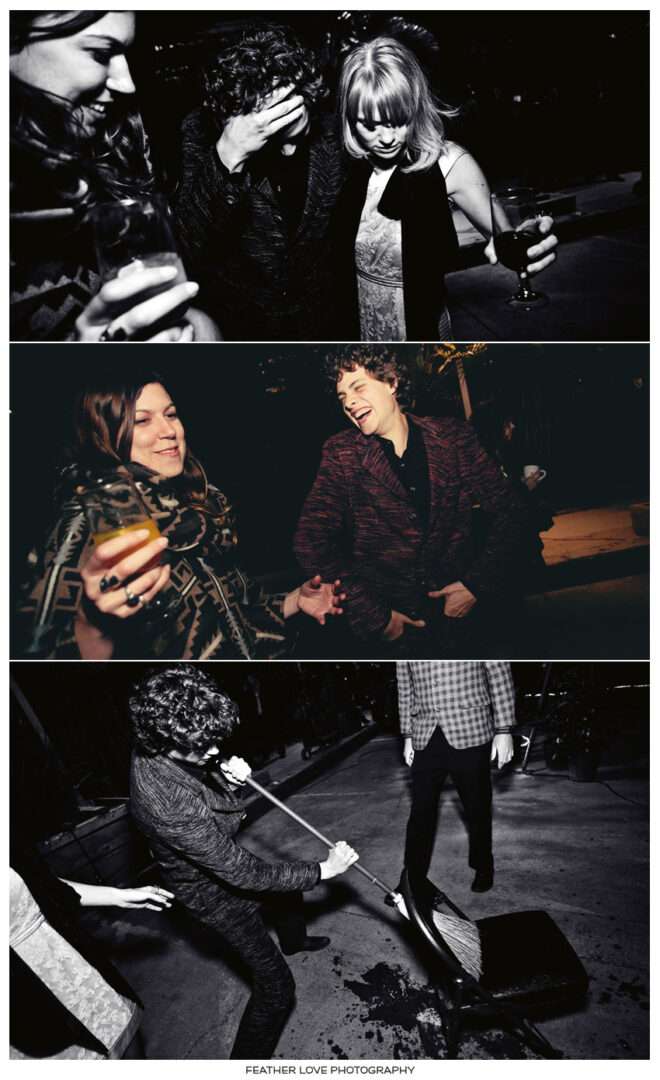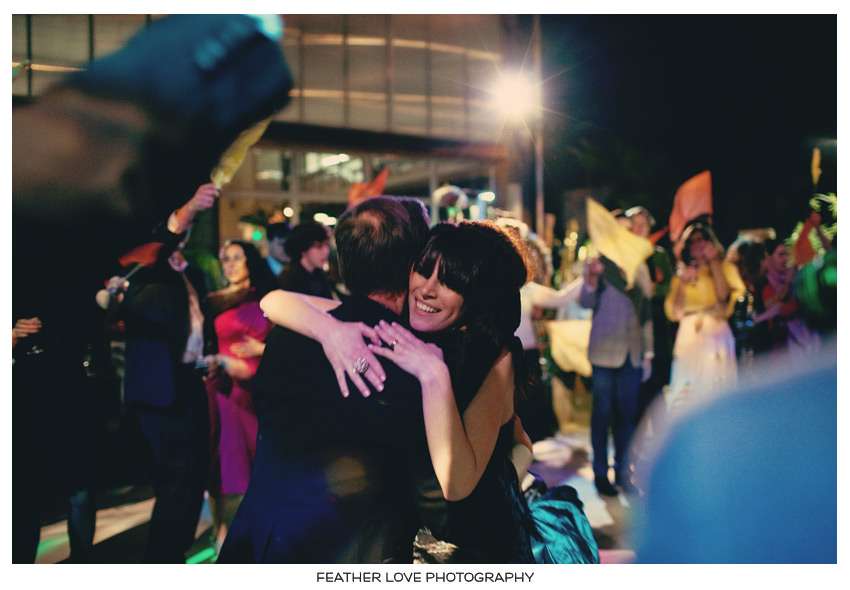 First dance with Doctor Commander Pantera!  (He was so sweet: the day before at the cliff ceremony, when I was cold outside taking family photos, he brought me his admiral coat and put it over me… what a lovely gentleman!!)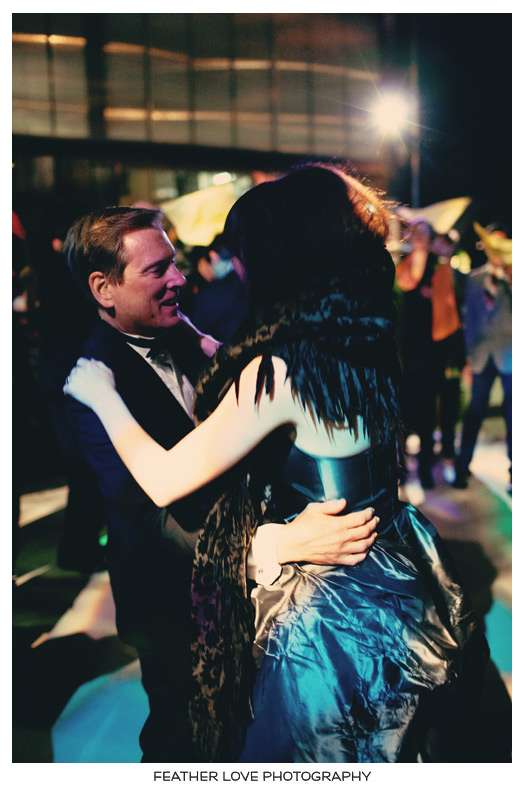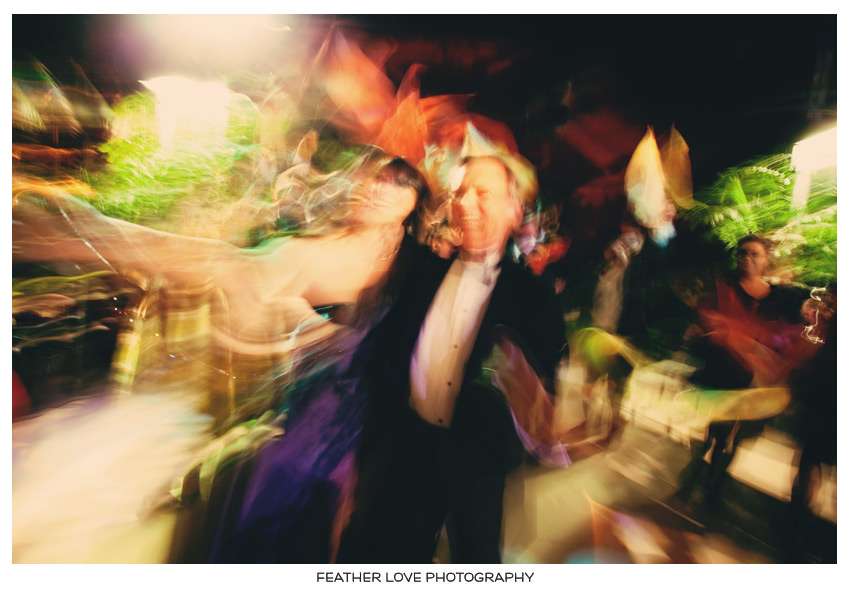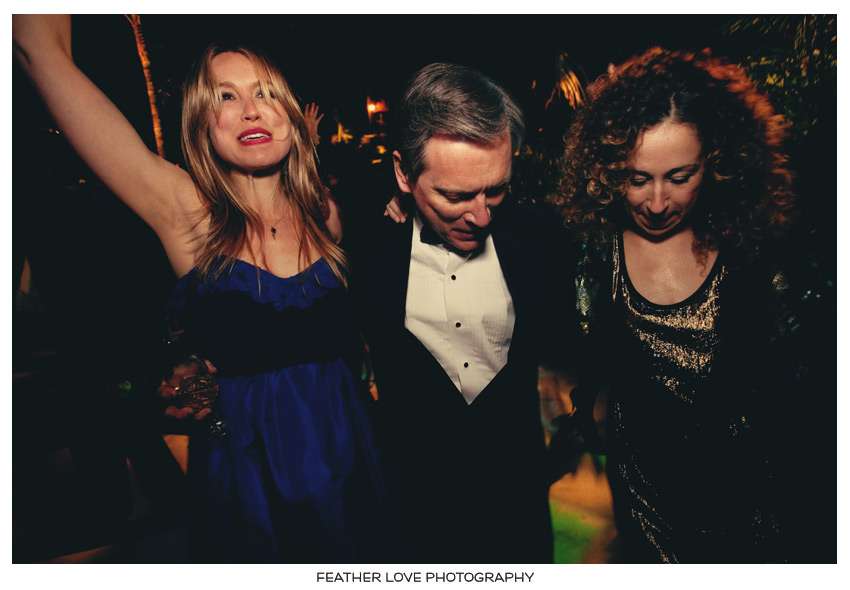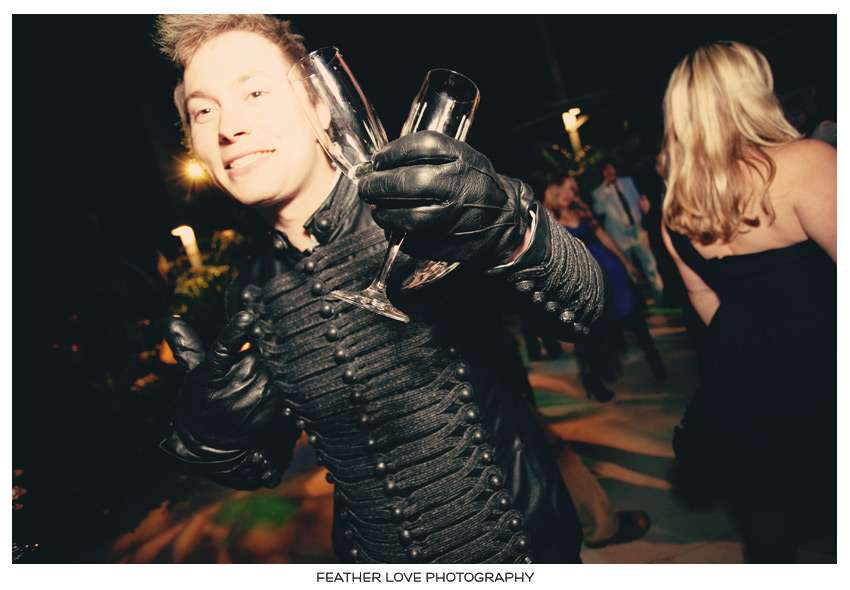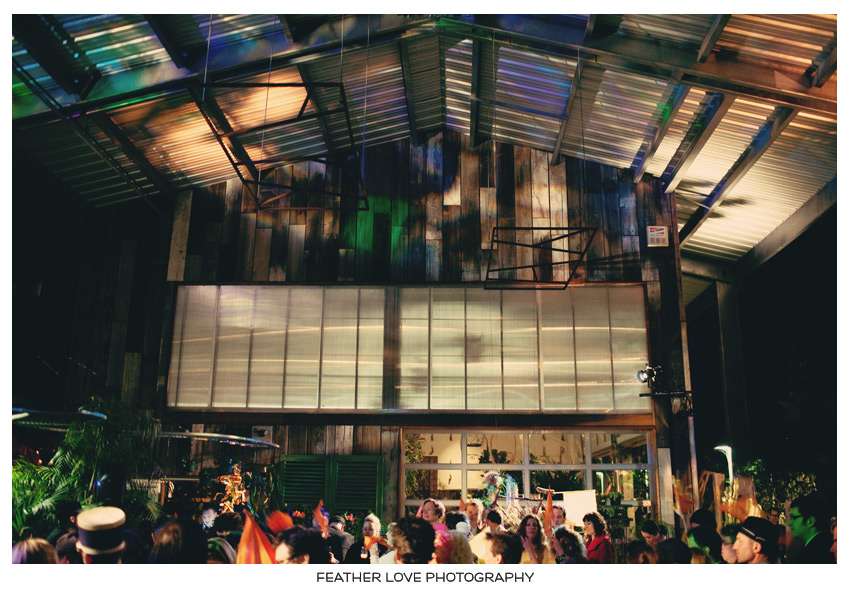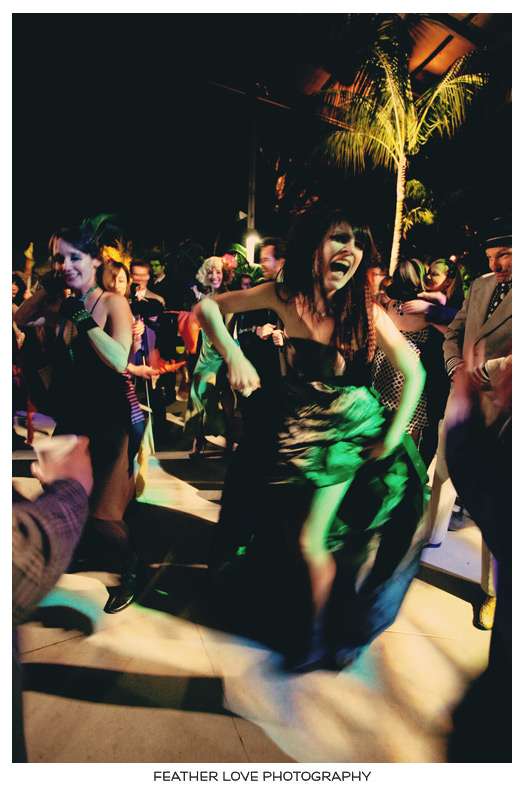 Overall I can honestly say that this weekend made it to my list of top 20 experiences of all time. Thank you Kestrin & Jonathan for choosing me to shoot this momentous event and for totally letting me be a crazy artist! You guys are seriously the best.  That was fully the wedding of the century / the wedding of the cosmos . we are made of star stuff… xoxo
**UPDATE!** we just got a DOUBLE feature on Style Me Pretty!! Woo hoo! To see even MORE pics on their site, check out both features for this wedding. Part 1 is here, and Part 2 is here.
Some more juicy vendor info & links… check these out!!
Flora Grubb Gardens http://ww.floragrubb.com Reception venue in San Francisco. Open everyday as a garden store and cafe, available for weddings and other events by reservation. Special thanks to owners Saul Nadler and Flora Grubb (Jonathan's big sister).
Carmel River State Beach http://www.parks.ca.gov/?page_id=567 Family ceremony site.
Monterrey Peninsula Country Club Beach House http://www.mpccpb.org Family ceremony dinner site in Pebble Beach, CA.
The Inn at Spanish Bay Wedding night hotel in Pebble Beach.
Sea Breeze Inn http://www.montereyinns.com/pages/seabreezeinn-pacific-grove.html Hotel for wedding guests near Pebble Beach, CA.
Hotel Triton http://www.hoteltriton.com/ Hotel for wedding guests in San Francisco, CA.
Palace Hotel http://www.sfpalace.com/ Bride & Groom's hotel in San Francisco.
Red House Café http://www.redhousecafe.com/ Excellent morning-after-wedding breakfast.
Gott's Roadside http://gottsroadside.com/ Late-morning-after-reception hangover brunch.
Vendors & Friends
Susie Nadler http://floragrubb.com/cutting/ Flowers for the ceremony, bouquet, table settings & corsages. She also writes for Apartment Therapy. http://www.apartmenttherapy.com/sf/author/susie
Jim Kumiega http://www.floragrubb.com/events Event planner & organizer at Flora Grubb Gardens.
Paul da Plumber Cesewski http://www.paulsrides.com/ Spinning platform.
Circle J Ranch Petting zoo for Jonathan's Los Angeles bachelor party. They brought a whole farm to the front yard: goats, ducks, piglets, a donkey, sheep, chickens, and an alpaca. Seriously.
Pâtisserie Bechler http://www.patisseriebechler.com/ Wedding Cake, Carmel.
The Cake Maker http://www.cakemaker.net/ Wedding Cake, San Francisco.
Peasant Pies http://www.peasantpies.com/ Reception snacks.
Costco http://www.costco.com/ Reception beverages. Huge cost savings over any caterer.
Christophers Catering 415.641.3850 Reception Bartending and food service.
Cyclecide Bike Rodeo http://www.cyclecide.com Pedal-powered ferris wheel, bus ride for Jonathan's San Francisco bachelor party. Special thanks to Laird Rickard, Jerico Reese, Paul Cesewski, and Moses Grubb.
Parrot Bar & Tiny Tea Party Fresh tropical drinks at reception by Milton Nolan, Samantha Garcia, Mason Carroll, Melissa Craven, Jean Francois Boudier, Katie Boudier, John Fast.
Dada Peepshow Noona Nolan, John Fast, and crew. Concept and structure by Noona Nolan, Spy Emerson, and Moses Grubb.
Photoboof http://thephotoboof.com Photbooth at reception, with online photos at http://thephotoboof.com/events/flora9
Louise Rafkin http://www.louiserafkin.com New York Times reporter.
Darcy Padilla http://www.darcypadilla.com/ New York Times photographer.
Erin Schelcher Ceremony officiant, stylist, and problem solver.
Wade Harpootlian http://tomorrowsbrightestminds.com/ Reception DJ & sound technician.
Paul Cartwright http://www.myspace.com/paulcartwright Ceremony & Reception musician.
Raviv Ullman http://www.myspace.com/hisorchestramusic Reception DJ.
Mark Laramee Reception DJ.
Greg Patterson aka "DJ Spacecat" Reception DJ.
Paul de Jong http://kjpaul.com/ Reception karaoke.
Rebecca Marshall http://thecatbirdnest.com/ Cake table succulent tea party decorations.